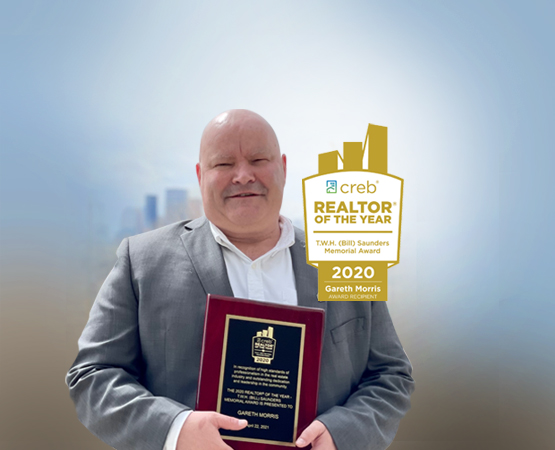 Gareth Morris
May 11, 2021 | CREB
The business of helping people
Meet Gareth Morris, CREB® 2020 REALTOR® of the Year – T.W.H. (Bill) Saunders Memorial Award recipient.
This award is one of the most prestigious accolades a CREB® REALTOR® can receive and is awarded to an individual who exemplifies high standards of professionalism, shows remarkable leadership and dedication, and makes outstanding contributions to the real estate industry and the community.
Throughout his career, this outstanding REALTOR® has proven he is truly deserving of this award. Not only has he spent time in various coaching and leadership roles, but he has been heavily involved at CREB®, most notably as a governor with the CREB® REALTOR® Community Foundation, volunteering his time to support local housing and shelter initiatives.
Gareth recently joined us to discuss the legacy of the award, advice for new REALTORS® and the importance of empathy in "the business of helping people."
CREB®: What does it mean to you to receive this award?
Gareth: It's such a huge honour to be among such illustrious people. I have sat at committee tables with some of the previous winners, including Rick Campos, Rob Campbell, Lowell Martens and Nettie Hendricks. These are all amazing, generous people who continue to give back. They inspire me, and so to join them on this list is humbling. I hope it also somehow inspires others to put forward their time and talents.
CREB®: How does it feel to be recognized by your peers in such a positive and meaningful way?
Gareth: It's very affirming. I don't volunteer for the recognition, but receiving this kind of appreciation feels great.
CREB®: Why do you feel it is important to give back to the community and to industry?
Gareth: I think we are very fortunate to work in an industry that not only provides a living but is meaningful and important to those we serve. Working to improve the communities and the lives of the people we serve is tremendously rewarding. When you can get your hands and hearts into the work and see how it positively affects people, I find it becomes a little addictive, and I want to keep doing that.
CREB®: What inspired you to get actively involved with CREB® and in the community, and why do you think other REALTORS® should volunteer their time?
Gareth: When I started volunteering at CREB®, it was because I wanted to find out more about what CREB® did, outside of selling us lockboxes and running informative events. I immediately saw that the spirit of CREB® employees and volunteers was not to just have a place to work in a nice building. These are people who want to make a difference, and I wanted to be a part of that. There is a connection between the work you do and how you feel and see the world. Volunteering is an easy way to gain a fresh and more positive view of the world and yourself.
CREB®: Are there any specific charitable causes or local organizations you want to highlight?
Gareth: There are so many great charitable organizations in Calgary and surrounding area that I couldn't just pick one. Housing, to me, has always been an important factor in helping people improve their own lives. I have seen on many occasions that when people have a roof over their head, a place where they feel safe, they are able to make improvements in their own lives. I do love that Habitat for Humanity allows people who might not be able to otherwise to become homeowners, and how that ownership starts with helping to build the homes they'll live in. I also think that the work of the Calgary Emergency Women's Shelter is vital to helping families trying to escape and improve their situation.
CREB®: What's next for you? Which goals remain unaccomplished?
Gareth: I recently started as manager at a brokerage here in Calgary. I'm extremely excited about the opportunities and challenges that come with that position and see it as another opportunity to help grow the professional reputation of REALTORS®. I am sitting on a couple of committees at CREB® and look forward to, hopefully, one day soon being able to actually sit at a table with these people. I also look forward to travelling again.
CREB®: What's one piece of advice you would give to REALTORS® who are just starting out in the industry?
Gareth: Get involved, whether it's with CREB®, AREA, RECA, your community, your kids' school or another organization that feels important to you. Having that touchstone of giving and creating a better world has always given me a larger perspective that makes those real estate days where nothing is going right seem a lot less frustrating.
For more information on CREB®'s REALTOR® of the Year, please visit creblink.com.
---
---
Connect With Us