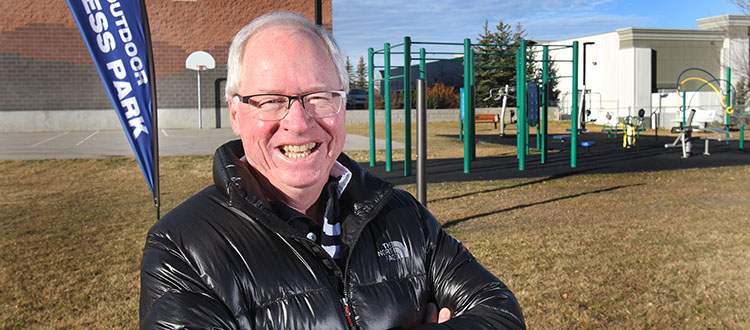 Dave McCarrel stands next to a new outdoor fitness park in Valley Ridge that opened earlier this fall. McCarrle has kept active within the local community association over the past 20 years because he feels it has helped make Valley Ridge a better place to live. Photo by Wil Andruschak/For CREB®Now
Nov. 19, 2016 | Gerald Vander Pyl
New life for community associations
City looking at ways to keep Calgarians engaged
When Dave McCarrel moved to the northwest community of Valley Ridge, he became involved in the local community association to meet people.
That was 20 years ago, and McCarrel has been active ever since.
He helped lead efforts in 2008 to build an outdoor ice rink now recognized as one of the best in the city, and also a recent project to construct an outdoor fitness park equipped with a variety of exercise stations that opened in September.
"I think all these things we've done have made Valley Ridge a better community," said McCarrel, who was recently honoured by the Federation of Calgary Communities (FCC) with its annual Community Builder Award. "I find it very satisfying to have been involved in making those things happen, and now people are using them."
FCC executive director Leslie Evans said volunteers such as McCarrel represent the lifeblood Calgary's 151 community associations, which play a dual role as program/service provider and champion of community life.
Evans said community gardens, festivals, kids after-school programs, yoga classes and soccer leagues are all examples of how community associations offer valuable services to Calgarians.
But these associations are also stakeholders when it comes to proposed developments or redevelopment, and inform the City of Calgary of any community concerns over projects.
"When they get a plan, they will look it over for community context and character," said Evans. "How does it fit into our current community? (Will it enhance) the community or will it stick out like a sore thumb?"
And all that work is the product of volunteers. Calgary's 151 associations include approximately 1,800 board members, along with another 18,000 volunteers who run programs, said FCC.
A report issued earlier this year by the University of Calgary's School of Public Policy looked at the role of community associations in Calgary and came up with a series of recommendations for the future.
Among them were the need to formalize their roles to provide consistent funding, as well as combine community associations and recreational associations in communities that have both.
"Community associations, I fundamentally believe, should be undertaking engagement and programming."
In June, city council approved the formation of a Community Representation Framework Task Force to advise on the best way for community organizations to move forward.
Coun. Evan Woolley is on the task force, and has seen the challenges and successes of community associations from both sides having been on the board of his local community association before joining council.
"I hope we can achieve a framework for who is responsible for what," said Woolley. "Community associations, I fundamentally believe, should be undertaking engagement and programming. And we should have the facilities and resources for them to be able to do that in their communities."
Coun. Peter Demong is also on the task force, and holds an annual community barbecue in Ward 14, which raises funds from area businesses for local community associations while providing residents with a free association membership.
"When I first got elected (to council), I didn't completely grasp all that community associations were doing and the slow erosion of the community association that has been happening over the last 10 years."
Demong said community associations provide a valuable service, whether it's letting him know of traffic lights that are burned out, parking problems or speeding vehicles on local roads.
"That allows me to say, OK, we need police enforcement here, or the Calgary Parking Authority over here. They are my eyes and ears on the ground," he said.
Demong said while some Calgary community associations are thriving, others are suffering "death by a thousand cuts," with aging buildings, declining memberships or a volunteer base that is shrinking due to changing demographics.
"So the whole concept of community associations has got to evolve somehow, but we don't (yet) know what that will look like," he said.
In Valley Ridge, McCarrel is also thinking about the future, including adding tennis courts to the community.
"That's my next project. I think it's fun to take an idea and see if we can make it happen," he said.
Tagged: Calgary Real Estate | Calgary Real Estate News | City Council | City of Calgary | communities | Evan Woolley | federation of Calgary communities | neighbourhood | peter demong | Uncategorized | University of Calgary | Volunteer | YYCRE
---
---
Connect With Us