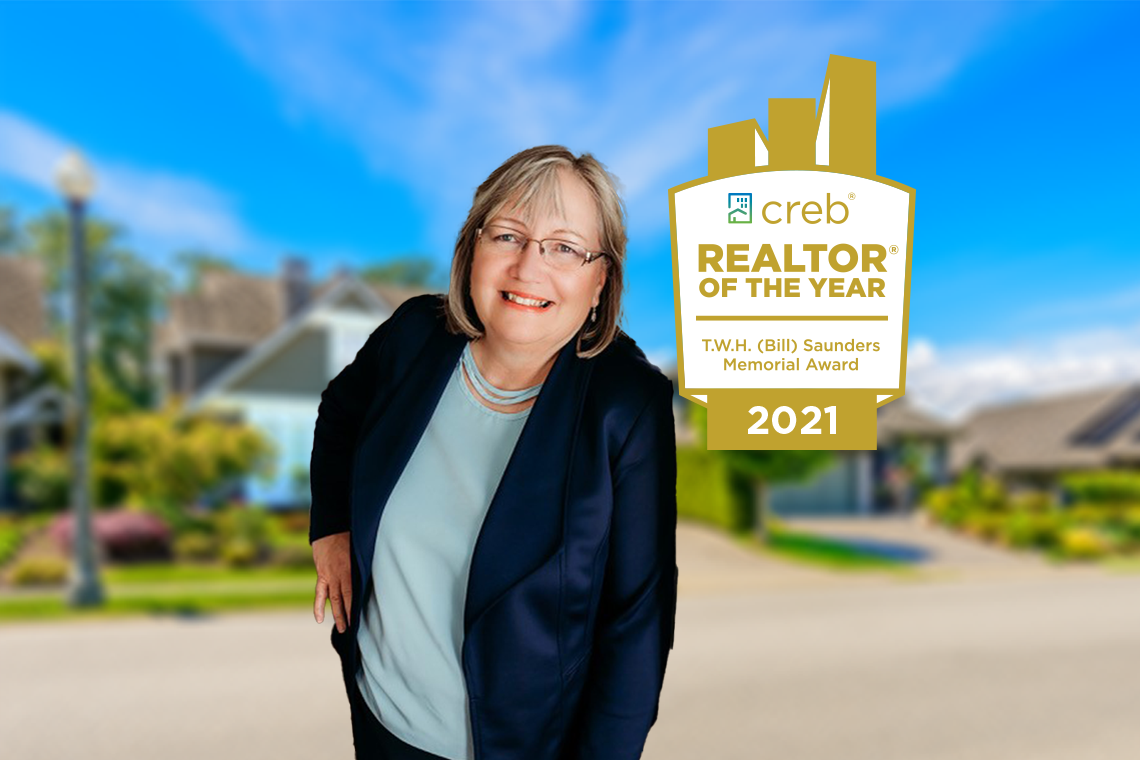 2021 REALTOR® of the Year - Colleen Whelan
July 07, 2022 | CREBNow
Q&A: Stronger together
Meet Colleen Whelan, recipient of CREB®'s 2021 REALTOR® of the Year – T.W.H. (Bill) Saunders Memorial Award, a prestigious honour that recognizes high standards of professionalism, integrity and outstanding dedication to the community.
Throughout her 37-year real estate career, Colleen has prioritized giving back to the community and the industry. Not only has she volunteered for various committees and governance positions at CREB®, but she has been involved with countless community organizations with many of her volunteer roles spanning over 20 years.
Dive into our conversation with Colleen below, where she discusses her favourite ways to give back to the community.
---
CREB®now: What does it mean to you to receive this award?
Colleen: Plain and simple, receiving this award is the highest honour of my career.
---
CREB®now: How does it feel to be recognized by your peers in such a positive and meaningful way?
Colleen: Over the years, I have met and worked with hundreds of REALTORS®. I respect these people so much for staying positive, being hopeful and effective – even in challenging times. To be recognized by my peers for these things is such an honour, and yet, so humbling.
---
CREB®now: Why do you feel it is important to give back to the community and the industry?
Colleen: It makes life more interesting and fun!
We work in a fantastic industry full of people who are very engaged and are making a difference in our communities. I was brought up in a family that volunteered and always gave back, so it is the experience I know. More than that, we are all stronger when we work together; each of us bringing unique gifts, talents, perspective, wisdom, and time, so that we can better the communities in which we serve.
When you give back, you also get to make a difference to individuals. You get to know people personally and can be there to lift them up and support them when needed.
---
CREB®now: Are there any specific charitable causes or local organizations you want to highlight?
Colleen: I am a long-time supporter of a number of wonderful organizations including The Youth Singers of Calgary, The Alberta Cancer Foundation, Recovery Ministry, Kids Help Phone and The Lake Louise Ski Friends Association!
The Youth Singers of Calgary provide such a creative avenue for young people to learn confidence, teamwork, and leadership. I love to hear the voices of children and the energy of their performances. Singing and dancing brings joy, so anytime we can do more of that, the world will be a better place!
I've also been a supporter of grassroots help for marginalized people because of the affects of addiction or mental health. I've worked with Inn from the Cold, Recovery Ministry, other church supports at my church in downtown Calgary, and served as a Governor with the CREB® REALTOR® Community Foundation to provide important shelter related solutions in our city.
During the pandemic I started sewing cloth masks and became addicted to quilt fabrics. I made hundreds of masks and donated $2,500 to Kids Help Phone with just this one creative activity that helped others when masks weren't readily available.
---
CREB®now: What's next for you? Which goals remain unaccomplished?
Colleen: I currently have a team where I'm lucky enough that I get to work with my daughter, Corinne Maher, who is also REALTOR® now. And yes, she also volunteers! Being a young mom herself; she is secretary on the school's parent council.
I'll still be working for years to come in this very interesting and exciting career of helping people make great decisions about their real estate needs. I hope I can continue to bring my knowledge and experience to benefit of others whether it be through volunteering or working in this business that is a whole lifestyle!
As a creative person who likes to sing, write folk songs, paint and write children's books, I'd like to do more of these kinds of things too. If it will benefit others, I'll probably be able to make more of these kinds of goals happen; It will be fun to see how these creative endeavors play out over time.
In the meantime, I'm still serving on boards, and will try to encourage others where I can.
---
CREB®now: Is there anything else you'd like to add?
Colleen: Be the positive difference you want to see in the world!
---
For more information on CREB®'s REALTOR® of the Year award, please visit creb.com.
Tagged: Volunteering | Volunteer | Award | T.W.H. "Bill" Saunders | TWH
---
---
Connect With Us