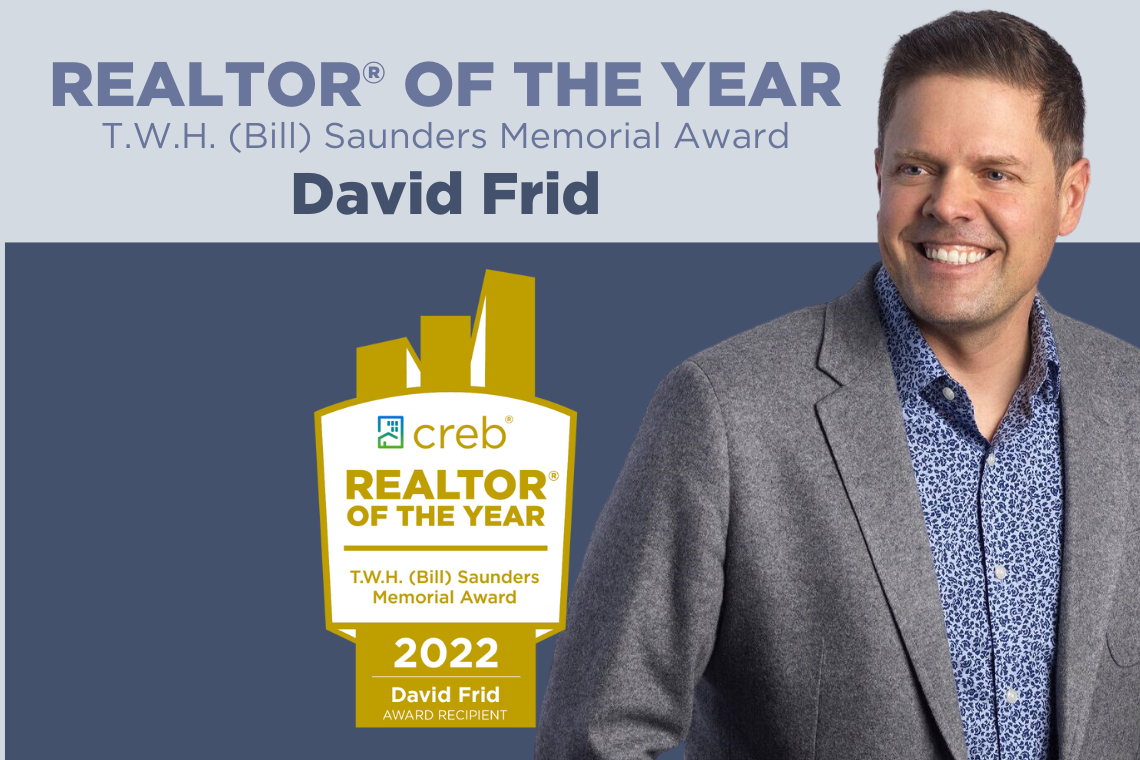 ROTY David Frid
July 20, 2023 | CREB
David Frid on receiving the prestigious 2022 CREB® REALTOR® of the Year award
When David Frid was eleven, his mother encouraged him to make a positive impact. To do so, he began volunteering at the YMCA and hasn't stopped since then.
At the Diamond Gala in June, Frid was awarded the 2022 REALTOR® of the Year – T.W.H. (Bill) Saunders Memorial Award, which celebrates REALTORS® who demonstrate the highest standard of professionalism, integrity and outstanding dedication to the community.
"I spend the bulk of my free time volunteering, not for recognition, but because it is the right thing to do," Frid says. "To have others validate what I do outside of real estate deals means a great deal."
Nettie Hendricks, Chair of the REALTOR® of the Year–T.W.H. Saunders Award Committee, says Frid's ability and willingness to help others is one of the reasons he was chosen to receive the award.
"David doesn't see volunteering as something separate in his life journey, it's something that's in his soul, and that's what makes him happy," she says. "He's not just a volunteer – he wants to make the world aware of the joy of being a volunteer."
One of Frid's favourite moments working in the real estate industry involves working alongside developers on multi-family projects that often provide more affordable homeownership options for families in Calgary and beyond.
"Seeing young home buyers' eyes light up when they finally have their own home always brings a smile to my face," he says.
As the Chair of the CREB® Community Investment Standing Committee, Frid's perspective on what CREB® offers and what it does for its members beyond governing has expanded.
In fact, this opportunity has enabled him to connect with fellow REALTORS® who seek to empower and uplift industry members.
Throughout his career, Frid's golden rule has always been putting respect and professionalism at the forefront of every interaction.
"This has made each step, in sometimes complicated processes, much easier," he says.
For aspiring and current real estate professionals looking to make a positive impact in their careers and communities, Frid has one piece of advice: do good in your hood.
"Communities are built by the people in them, not land developers that pave roads and plant trees," he says. "Each REALTOR® is a person in their community, and any impact is a big impact when it comes to their community."
Frid also believes that it is important for REALTORS® to try and connect with each other to build stronger relationships and community support.
"Your job and the long days are much more enjoyable when you know that most of your peers have your back."
The REALTOR® of the Year - T.W.H. (Bill) Saunders Memorial Award was created in memory of Thomas William Henry Saunders (1903-1977), a truly outstanding CREB® member who inspired others with his professional excellence and commitment to bettering the community.
To learn more about the CREB® REALTOR® of the Year – T.W.H. (Bill) Saunders Memorial Award, including a full list of past winners, please click here.
Tagged: Realtor of the year | Volunteer
---
---
Connect With Us