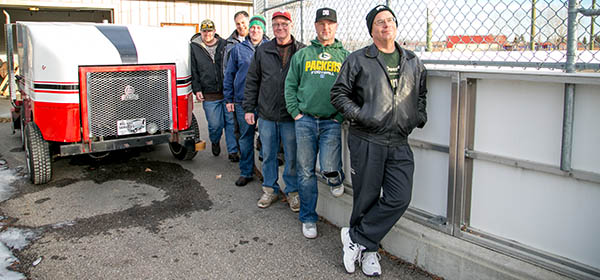 The Deer Ridge ice-making crew consists of, from left, Patrick Morrison, Brent Dawkins, Cory, Bob Hall, Peter Douglas, Gordon Miller. Photo by Michelle Hofer/For CREB®Now
Nov. 30, 2015 | Gerald Vander Pyl
Community rinks reborn
Tradition continues thanks to civic and volunteer support
Skating in the great outdoors is as Canadian as hockey sticks and double-doubles – a tradition that is now thriving in Calgary thanks to renewed civic support and the ongoing dedication of community volunteers.
The City of Calgary reports that outdoor skating rinks are experiencing a resurgence in the city, supported by a number of initiatives that encourage communities to take ownership of their facilities.
More than 35 communities have signed up for the Adopt A Rink program this year, where the City provides boards to allow flooding on an ice surface, which is then maintained by community volunteers.
Maggie Nelson, volunteer co-ordinator with Calgary Parks, said the program has evolved over the years, with the number of participating communities growing by about two or three annually.
"That's how we got started here in Deer Ridge," said Bob Hall, president and ice rink co-ordinator with the Deer Ridge Community Association. "The City dropped off some dirt to build up berms, then hooked up a fire hydrant to make the ice."
Hall noted the community used that basic rink until 2002, when it raised enough money through a fundraising casino to build a pleasure skating rink and a full-size hockey rink with boards and mesh fencing at the ends.
Deer Ridge's rinks also have lighting and an ice-resurfacing machine that Hall says can make an ice surface as good as any indoor arena.
Keeping the rinks operating each winter would not be possible without community volunteers, said Hall. He pointed to one resident, Gord Miller, who has helped maintain the rinks for 15 years, "and was out there every day during the winter."
Hall himself has helped out for the past eight years, and says he has made a lot of friends in the community while volunteering.
His highlight, however, comes from seeing how excited local children are to use the rinks.
"It's the same kids there every Saturday, and many of them say 'thanks' to us," he said.
In north Calgary, the Evanston-Creekside Community Association has just launched a skating rink project with a goal to build a pleasure skating rink and boarded hockey rink that can also be used in summer for tennis and basketball.
"It's something the community has wanted for a while," said Aly Bhimji, association vice-president and one of the project leaders.
Bhimji said the community has a hugely successful outdoor soccer program, and wanted to expand it to skating and hockey – without parents having to drive their children to another community.
"I remember as a kid going outside to kick around a soccer ball. I have a newborn daughter now and I don't want her growing up behind a video console," said Bhimji.
The community hopes to raise $350,000 toward the project and have the skating rinks open within two years.
New communities are also touting outdoor skating rinks as amenities for residents.
Mahogany has cleared a skating rink on the community lake for several years, and this winter is adding a second lake rink near the newly opened resident's Beach Club along with a boarded hockey rink, said Sue Graham, general manager of the Mahogany Homeowners Association.
Graham said the community also has a skating room in the Beach Club where people can put on and take off skates, an outdoor fire pit and lights for evening skating.
"(It's) very much part of the goal to provide accessible park amenities year round," said Graham.
The City itself maintains six major skating rinks including at Big Marlbourough Park, Bowness Park Lagoon, Carburn Park, Olympic Plaza, Prairie Winds Park and Prince's Island Lagoon.
"As a city we're really encouraging folks to use their park spaces in winter as well," said Nelson, adding all the city-operated rinks are for pleasure skating only. The City's facilities range from basic lighting and benches at Big Marbourough Park to Bowness Park Lagoon with washrooms, lighting, skate rentals and even a new cafe opening soon.
For more information on the City of Calgary outdoor skating rinks and Adopt A Rink, go to
calgary.ca
and search for "skating rinks."
Tagged: Calgary Real Estate News | City of Calgary | City of Calgary Parks | community associations | ice rinks | neighbourhood | outdoor skating rinks | Volunteer
---
---
Connect With Us