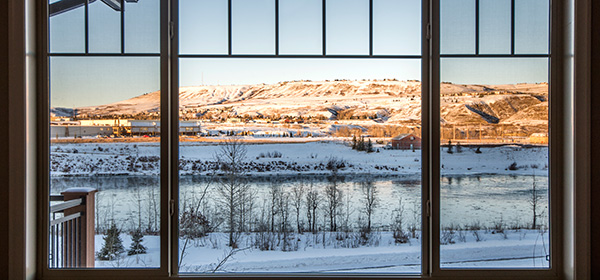 Jan. 13, 2015 | Cody Stuart
We have you surrounded
Calgary's neighbouring towns look ahead to 2015
Riding right along with their larger sibling, the towns around Calgary enjoyed a banner year for real estate in 2014. Topping the 4,439 sales seen in 2013, 2014 saw sales rise to 5,513, an increase of 24.2 per cent.
Airdrie was one market that posted particularly good sales activity in 2014, increasing annually by nearly 28 per cent to a new all-time record high of 1,695 units. Okotoks recorded 770 sales, narrowly beating out the 748 sales seen in Cochrane.
When looking for a reason so many communities outside of Calgary are seeing such a pronounced increase in sales, the relative affordability available in centres like Airdrie, Okotoks and Cochrane could be pointed out as a key factor. "As long as inventory levels for lower-priced detached homes within Calgary continues to decline, consumers will continue to consider their options in these nearby towns," said CREB® chief economist Ann-Marie Lurie.
While Calgary's average price in 2014 came in at $483,079, Airdrie's average price was just $387,103.
Although not providing quite the bargain offered up in Airdrie, purchasing a home in Okotoks or Cochrane still offered buyers a relative deal, with average home prices of $434,214 and $435,081, respectively.
Looking to 2015, a forecasted increase in listings in Calgary should extend to Airdrie, helping to ease some price pressure in both markets.
"In addition to lifestyle choices, consumer demand for detached homes in Airdrie will continue to be fueled by the sector's relative affordability and selection – particularly in lower price ranges," said Lurie.
Drawn by those factors, Airdrie saw its population rise by more than 10 per cent in 2014. This year, the city is expecting more moderate growth.
"We're expecting strong positive growth, but we're expecting it to replicate what we saw in 2014," said Tracy Corbett, manager of planning for the City of Airdrie. "So strong – just not quite as chaotic. Last year our annual growth rate was 10.76 per cent – that was well over our projections. We're thinking in 2015 it will probably be closer to seven per cent, reaching a population of about 58,000."
Expanding out to Rocky View County, which includes municipalities such as Cochrane and Chestermere, the towns also benefitted from their close proximity to Calgary and relative affordability. Heading into 2015, CREB® expects the appeal to continue.
In Cochrane, which saw its population rise by 10.4 per cent in 2014 to 20,708, growth is expected to be
similar to that seen in Airdrie.
"In accordance with the budget approved by Council, the Town is anticipating a six per cent growth rate in 2015. We believe this represents a healthy growth rate for the town," said Drew Hyndman senior planner for Rocky View County.
Tagged: Airdrie | Calgary Real Estate News | Cochrane | housing | Okotoks | Rocky View County
---
---
Connect With Us