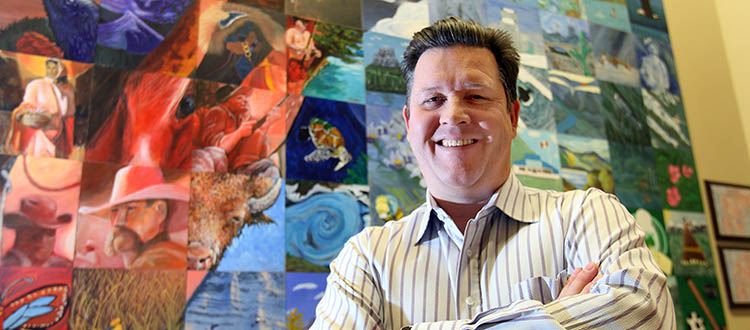 Town of Cochrane economic development manager Mike Korman believes Cochrane's population will grow by about three to four per cent, and building starts will maintain 2016 levels. Photo by Wil Andruschak/For CREB®Now
Jan. 10, 2017 | Gerald Vander Pyl
Domino effect
Surrounding housing market to follow Calgary's lead in 2017 after challenging conditions in 2016
Slow stabilization in Calgary's housing market in 2017 is expected to create similar momentum for satellite communities such as Okotoks, Cochrane, Airdrie and Chestermere, say local officials on the heels of CREB® releasing its 2017 Economic Outlook & Regional Housing Market Forecast.
According to the report, Chestermere in Rocky View region experienced a widening gap between sales and new listings during 2016, putting downward pressure on benchmark prices – notably detached homes, which dropped 2.5 per cent from 2015 to $490,808.
Rural Rocky View sales, meanwhile, declined in 2016, which CREB® suggests was a factor in fewer new listings as consumers decided not to list their home during a time of price adjustments.
"We are, in some ways, still a bedroom community. We have a lot of commuters into Calgary, and their economic situation is ours."
In Cochrane, sales in 2016 kept pace with 2015 at 590 units and were 4.6 above the five-year average. But inventory rose to 37 per cent above the five-year average even as home builders scaled back new starts.
Town of Cochrane economic development manager Mike Korman said Calgary's economy still has a ripple effect when it comes to the housing market outside of the city.
"We are, in some ways, still a bedroom community. We have a lot of commuters into Calgary, and their economic situation is ours," he said.
Korman pointed to a noticeable drop in new housing starts in Cochrane of about 30 per cent from 2015 – "and certainly that was due to the economy."
Still, he believes Cochrane will see its population grow by about three to four per cent, and building starts to maintain 2016 levels.
"So we will remain steady through 2017," said Korman. "I think that with the evidence of the (Alberta) economy that we will have no job growth but a steady 2017, I think (builders) will take that as a reason to continue the same pace as 2016."
In the Foothills region, Okotoks housing sales declined five per cent in 2016, said CREB®. However a decrease in new listings kept overall inventory levels fairly stable and resulted in an annual benchmark price for a detached home of $440,408, similar to 2015.
In Airdrie, an increase in supply of both resale homes and new product overwhelmed demand in the market that was still above long-term trends, which CREB® said led to a decline in prices.
According to the report, inventory levels rose to an average of 412 units during 2016, the second highest on record, while detached home prices dropped 2.88 per cent from 2015 to $385,617.
Airdrie Economic Development team leader Kent Rupert said despite trying economic times, people continue to move to Airdrie, so the need for additional housing also continues.
He pointed to a 5.3 per cent population growth in 2017, compared to an average of about eight per cent over the last 10 years.
As with many other satellite communities around Calgary, the housing affordability factor compared with the big city continues to work in Airdrie's favour.
"We still are lower in price points for the same product in Calgary," he said.
Tagged: Airdrie | benchmark price | Calgary Real Estate | Calgary Real Estate News | Chestermere | Cochrane | CREB® | Kent Rupert | mike korman | new listings | Okotoks | Population | sales | Satellite communities | Uncategorized | YYCRE
---
---
Connect With Us