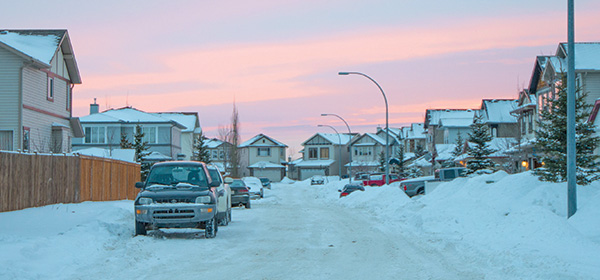 Nov. 28, 2016 | CREBNow
Winter is coming
Knowing your local snow clearing bylaws may not be cool, but it's necessary
Winter is coming, and with it the one chore that many homeowners dread: shoveling their snowy sidewalks and driveways.
And while snow removal is often the last thing homeowners want to do on a chilly winter day, officials say it is important in protecting the public's safety.
"Sidewalks need to be kept clean for public safety, [and] a snow removal bylaw shares that responsibility without adding to municipal costs," said Charlene Ruttle, Cochrane's manager of municipal enforcement.
"It's important that everyone take responsibility for and contribute to community safety."
While snow removal bylaws in Calgary and the surrounding area do not follow a one-size-fits-all theme, they do share some similarities. For example, snow removal bylaws in Calgary and neighbouring municipalities place the onus of clearing snow from residential walkways and sidewalks on homeowners or tenants.
The bylaws in these areas also prohibit residents from transferring accumulated snow and snow-related debris from their sidewalks or driveways onto roads or public places adjacent to their property.
There are also differences between municipalities. For example, not all municipalities give their citizens the same amount of time to clear snow after a snowfall. Longtime Airdrie resident Angela DuQuesnay didn't know that, like Okotoks and Calgary, her city allotted for a 24-hour time period of snow clearing.
Instsead, she thought Airdrie's snow clearing time period was double that, as is the case with communities like Cochrane and Chestermere, where residents are given a bit more time to avoid the cold and snuggle up indoors before having to dig out their snow shovels.
Penalties are another area in which differences between regional snow removal bylaws stack up. Residents of both Okotoks and Cochrane face potential fines in these scenarios. In Cochrane, this could be compounded by the addition of potential jail time of up to six months.
Meanwhile, communities such as Chestermere, Calgary, and Airdrie implement a system wherein failure to clear snow on residential properties may result in local officials using work forces to clear the snow and ice, and expense the associated costs to homeowners. If unpaid, these costs can then be tacked on to the owners' property taxes.
Officials encourage homeowners and renters to familiarize themselves with municipal bylaws in their respective communities.
As for DuQuesnay, while she "hates" shoveling snow, she's always quick to reward herself afterward.
"It's back-breaking work," she DuQuesnay. "If you get it done, you can do whatever you want afterwards. You've earned it."
Tagged: Airdrie | Calgary Real Estate | Calgary Real Estate News | Chestermere | Cochrane | Homeowners | Landlords | Okotoks | Satellite communities | shovelling | Snow Clearing | Tenants | Uncategorized | winter | YYCRE
---
---
Connect With Us