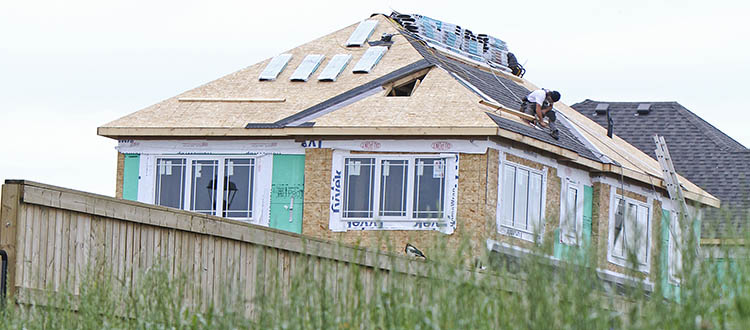 Still buzzing with plenty of activity in new-home construction, Airdrie sales activity slowed in 2016 but hasn't dropped compared to five-year averages. Photo by Carl Patzel/For CREB®Now
Aug. 12, 2016 | Carl Patzel
Mirror image
Satellite communities showing similar signs of strain; officials still optimistic
Feeling the pinch of a slowing economy, smaller satellite community housing markets have mirrored a downward drift in prices compared with Calgary but continue to be an attractive draw for buyers.
Depending on the region, CREB®'s mid-year forecast update has shown only a slight reduction in sales compared to long-term trends and actual growth in other outlaying districts.
Still buzzing with plenty of activity in new-home construction, Airdrie sales activity slowed in 2016 but hasn't dropped compared to five-year averages. A continual inventory build-up has kept new listings on pace with the past three years for Airdrie, which experienced a 5.37 per cent population growth since last summer and has recently surpassed 60,000 residents.
"Certainly, our development permit applications are meeting or exceeding our targets this far. Development permits numbers have remained very strong," said City of Airdrie planning and development acting team leader Stephen Utz.
"We have seen some slowdown in subdivision applications, but there are new lot and products being put on the market."
According to a mid-year update to CREB®'s 2016 Economic Outlook & Regional Housing Market Forecast, quarterly prices have retracted for five consecutive quarters, moving from $376,167 in the first quarter of 2015 to $360,467 in the second quarter of 2016. Similar to Calgary, price declines were felt more in the attached and apartment segment, which made up 30 per cent of sales in Airdrie. Detached homes made up the remainder.
"We have seen some slowdown in subdivision applications, but there are new lot and products being put on the market," said Utz.
Cochrane has been the most active region in Rocky View during the first half of 2016. According to CREB®'s forecast update, the mountain-view community is the only area to post sales growth higher than long-term trends.
At the same time, the level of new listings in Cochrane outpaced sales growth and resulted in new high inventory levels. As a result, while benchmark prices in Cochrane improved in the second quarter, year-to-date detached home prices averaged $410,357 for the first half of 2016, 4.3 per cent lower than levels recorded last year.
"Some of our areas, like our Harmony development and Watermark in Bearspaw, are very strong. And Langdon is doing very well," said Rocky View County Reeve Greg Boehlke. "Country residential probably has leveled out, not dead by any means, but I think the market is changing."
"I think one of our greatest attributes is the choice to be able to have a little more room and different style homes."
CREB®'s chief economist Ann-Marie Lurie, who authored the mid-year update, agreed demand for higher-end rural acreage properties has eased compared to longer term averages, resulting in lower inventory levels. However, the most recent quarter showed a slight price improvement.
"I think one of our greatest attributes is the choice to be able to have a little more room and different style homes," said Boehlke of Rocky View County, which boasts close to 40,000 residents.
"We've seen a shift over the last few years in the market. We're not seeing the huge demand for the four- and 10 acre parcels anymore, (but) people are looking at bigger lots than what are available in the urban centres."
In Chestermere, sales activity has declined at a faster rate and below long-term averages, as new listings have pushed inventories to 2008 levels. Year-to-date, the total residential benchmark price has averaged $477,086 in the city, a 3.6 per cent decline compared to last year
In the southern Foothills region, sales activity has eased in 2016, remaining below long-term standards. Okotoks and High River produced the bulk of sales activity during the first six months, with the former showing year-to-date improved sales numbers despite remaining 14 per cent below long-term averages.
M.D. of Foothills Mayor Larry Spilak said building permit numbers were on par with 2014-15 until this spring.
"We were a little bit surprised and certainly pleased that that was going on," he said. "Two months ago, they started to slow down a bit. I don't know if that's an indication of what's to come or if that was just a blip in the year."
CREB®'s forecast update showed new listings have paralleled 2015, causing downward pressure on inventories and prices. However, year-to-date prices have been similar to last year.
Foothills luxury housing market has also experience weaker demand, but price declines have been moderated by a pullback in new listings, said CREB®.
"A lot of people are downsizing, and there is a market for these patio homes that are being built in the area. But in the same token I am seeing more and more large estate type homes built on country properties out here," said Spilak who is predicts a steady population growth beyond their latest 25,000 census numbers.
"A lot of it depends on whether or not developers make applications. We have quite a lot of bare land south of the city owned by developers."
Tagged: Acreages | Airdrie | benchmark price | Calgary Real Estate | Calgary Real Estate News | Chestermere | Cochrane | CREB® | CREB® Chief Economist Ann-Marie Lurie | detached | High River | Larry Spilak | MD of Foothills | mid-year forecast | new listings | Okotoks | Rocky View County | sales | Uncategorized | YYCRE
---
---
Connect With Us