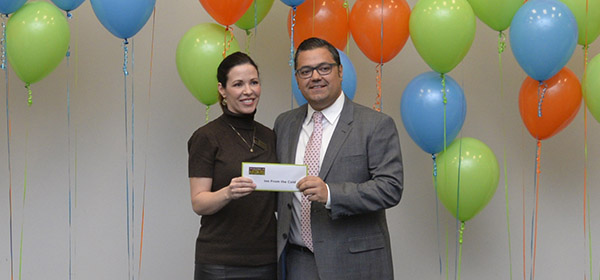 Jeff Mikolajow
Nov. 20, 2015 | Cody Stuart
Investing in Hope grants award local charities
Organizations chosen for work in enhancement, shelter and care
Choosing from a record 47 nominations, CREB®'s
Charitable Foundation
recently handed out $150,000 to 15 local non-profit organizations as part of the annual Investing in Hope awards.
This year's awards – which highlighted work in community enhancement, shelter and care – saw more than 3,095 votes cast, with the top five charities in each category being recognized.
"We had a lot of amazing organizations to choose from and we are honoured to have representatives from the charities here today to celebrate with us," said Charitable Foundation co-ordinator Aneve MacKay-Lyons.
The program, which dates back to 1987, has provided more than $5 million to the community through philanthropic giving.
Winners in this year's enhancement category included the
Calgary Arts Academy Society
,
Shamrock Children's Christmas Fund
,
North Rocky View Community Links
,
Special Olympics Calgary
and the
Alberta Animal Rescue Crew Society
.
In the shelter category, the
Calgary Women's Emergency Shelter
,
Hearts and Hammers Society
,
Hull Services
,
Inn from the Cold
and
Calgary John Howard Society
were all honoured
"This award means a lot to our society," said Amy Harris, takeback control facilitator for the Calgary John Howard Society. "It will help our Radio House, which is our shelter group home for youths."
Nominated by David Kube, the award went to the John Howard Society in part for its Roofs for Youth program, which supports youth between the ages of 15-24 to exit homelessness.
The society plans to use the money to remove five trees at the shelter, which have become a danger to the building.
Also recognized in the shelter category was the Inn from the Cold Society, Calgary's original and largest emergency family shelter.
Nominated by CREB® Charitable Foundation president Jeff Mikolajow, the Inn offers programs and supports for families going through the trauma of being homeless so they can begin to stabilize and rebuild their lives.
"Every day, with a lot of mouths to feed, we find ourselves stretching our food budget and our pantry as far as it will go," said Janeen Webb, director of donor relations for the Inn from the Cold Society.
"CREB® has helped us for a couple of years with this incredible endeavour and its members have voted in favour of feeding kids when we need it most. It's going to mean healthy, nutritious, role modelling food for children who have no place to call home."
In the care category, honoured were
Foothills SNAPS
(Special Needs Association for Parents and siblings),
Airdrie and District Hospice Society
,
Women in Need Society
, the
Salvation Army Agape Hospice
and
Made by Momma
.
For more details on the recipients, visit
calgaryrealtorscare.org
.
Tagged: Charitable Foundation | Charitable Foundation | Investing in Hope | Jeff Mikolajow
---
---
Connect With Us