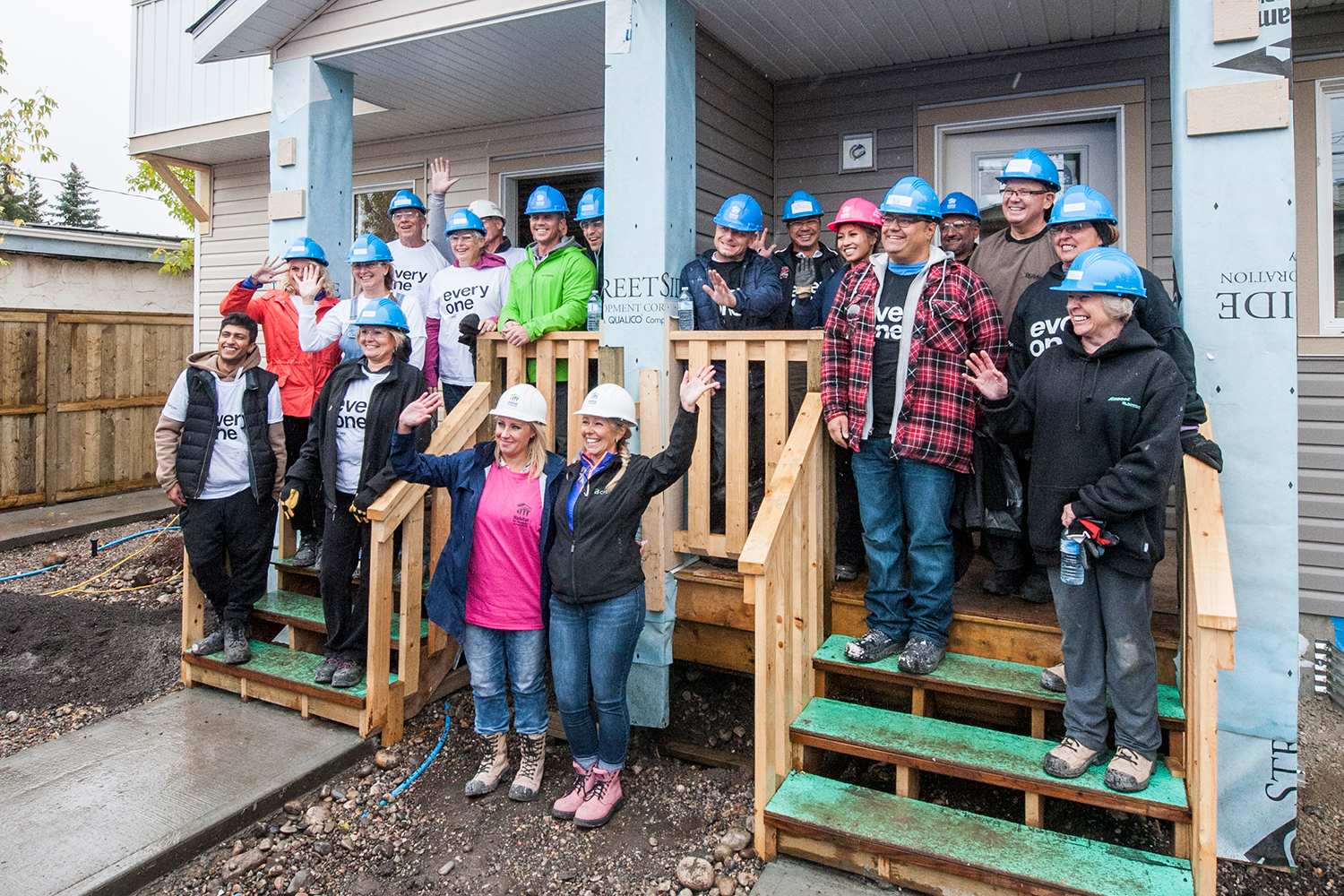 A team of 24 REALTORS® volunteered their time to help build Habitat for Humanity homes in Bowness on Sept. 21. Cody Stuart / CREB®Now
Sept. 27, 2017 | Lauren Thorson
From the ground up
Local REALTORS® build homes with Habitat for Humanity
On Sept. 21, the CREB® Charitable Foundation sent out a team of 24 local REALTORS® to take part in a Habitat for Humanity build day in the northwest community of Bowness. Despite the cold weather conditions, these superhero volunteers warmed the hearts of the community.
"The CREB® Charitable Foundation is proud to be part of the contributions provided by Habitat for Humanity's Southern Alberta chapter," said Aneve MacKay-Lyons, manager of the CREB® Charitable Foundation. "This organization has helped so many families into their homes. With the Alberta Real Estate Foundation's (AREF) support through this initiative, our Realtor members are creating something extra special."
These Bowness homes are one of five Habitat for Humanity developments in the community. When the homes are complete, they will be sold to local families through the organization's affordable mortgages. Mortgage payments will be geared toward each family's income level to give parents the financial flexibility to build long-term stability for their children.
"At Habitat for Humanity, we're dedicated to providing a sustainable home ownership solution for families," said Gerrad Oishi, President and CEO of Habitat for Humanity Southern Alberta. "This is only possible through our community's support, and we're so grateful to the CREB® Charitable Foundation and AREF for their dedication in making this a reality for more families in Calgary and the surrounding area."
Every Habitat for Humanity home is the result of tremendous support, through donations of funds, contributions of building materials and skilled labour, and volunteer work. This was one of many collaborative builds these three organizations have worked on together.
The build day was part of a $100,000 commitment to Habitat for Humanity from the CREB® Charitable Foundation and AREF.
"The real estate industry and its network of professionals are a force for good, and one of our objectives is to support the industry's contributions to Alberta communities," said Charlie Ponde, AREF chair. "We are proud to join forces with the CREB® Charitable Foundation on such a worthwhile project and support the wonderful work of Habitat for Humanity."
Tagged: Alberta Real Estate Foundation | Aneve MacKay-Lyons | aref | Bowness | Calgary Real Estate News | Charitable Foundation | Charitable Foundation | Charlie Ponde | CREB® | Gerrad Oishi | Habitat For Humanity | REALTOR | REALTORS
---
---
Connect With Us