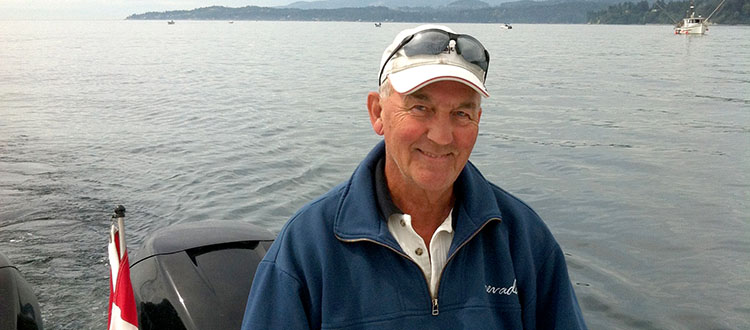 Chris Bolt, now retired and living in Victoria, recalled his road to becoming president of CREB® in 1999 started by a colleague's suggestion to give real estate "a try." Photo courtesy Chris Bolt
Oct. 08, 2016 | Cailynn Klingbeil
55 Years of Calgary Real Estate: 1999 CREB® President Chris Bolt
Chris Bolt recalls big changes during time as CREB® president in 1999
The year was 1999. Y2K fears gripped society, the price of oil started to rebound and construction on a controversial new building for CREB® finally got underway.
In other words, it was just another day for Chris Bolt, who, today, looks back at his presidency for the REALTOR® organization as one of his greatest career accomplishments.
But how the native of London ended up leading the province's largest real estate organization during a year of transition is even more interesting.
Bolt immigrated to Canada in 1968, later entering the real estate profession after being encouraged to do so by a colleague at the time.
"I was working at Calgary Co-op and one of the people I worked with, her husband worked for Melton Real Estate, a big independent real estate company in Alberta," he recalled.

"She said to me, 'you should be in real estate. You have a way about you.' I talked it over with the family and decided to give it a try. Two weeks later, I was a REALTOR®."
He started his 40-year real estate career with Canada Permanent Trust, later going on to become a manager with the brokerage before moving to Royal LePage. He eventually served as a broker for Sutton Group Canwest.
Bolt said a career highlight was his involvement in a homestay program during the 1988 Winter Olympics, where he helped pare locals who could offer free accommodation with family members travelling to Calgary to watch relatives compete.
"People could come and see their children in the Olympics and had a family to stay with," he said. "It was quite an honour to be able to be doing a big thing like that."
In 1999, Bolt took the reins of CREB®'s board of directors. It was a seminal year for the organization, which was preparing to move into its new building at 300 Manning Rd. N.E.
While the decision to move from CREB®'s longtime downtown location on Fifth Avenue S.W. was made prior to Bolt's time, he oversaw construction and, perhaps more importantly, managed members' concerns about the transition.
"Everyone felt it was the end of the world to move out of there," he recalled. "It was tradition, comfort – like a good, old rocking chair. No one likes change."
Even though parking downtown was becoming an issue, Bolt said many people were more concerned with moving out of the core to an industrial area. He recalled many people took the move out of downtown personally.
Yet once the new building opened in 2000, it didn't take long for opinions to change, said Bolt.
"After a couple of months, a couple of easy trips on Deerfoot Trail, and everyone said 'oh, this is a fine place,'" he recalled.
While CREB® prepared for its big move, other shifts were underway in 1999. At the beginning of the year, a barrel of West Texas Intermediate crude sat close to $10 US, leading to subdued predictions for the local real estate market following two busy years.
But by the fall, with a barrel of oil sitting at more than $26, the real estate market was bursting with optimism. By year's end, sales were relatively stable from 1998, while the average price had increased by five per cent to $170,199.
"It was a very good market at the time," said Bolt. "There's a big old cycle people go through in Calgary, but at that time it was a reasonably hot market. Prices were rising."
Worries over Y2K were also ever-present that year.
"We expected the electronic world to come to an end in 2000, but that didn't quite happen," said Bolt. "A lot of people were nervous, and thought the world would go back to writing everything down by hand. But that didn't happen, obviously. We went forward with bigger steps."
After finishing his term as CREB®'s president, Bolt went on to serve as president of the organization's Charitable Foundation in 2003. That year, the group started work on a housing project, which eventually became the
Crestwood Housing Development, a 60-unit building in the city's southeast that provides affordable housing to low-income families and people with mobility difficulties.
"We did lots of good things at the Charitable Foundation," said Bolt, adding the foundation also completed a number of other smaller initiatives that year that "made people profoundly happy. We could help a lot of people in a small way."
Bolt, now retired and living in Victoria, looks back fondly on his career and time in Calgary.
"The thrill was getting it right," he said. "I think we did a good job in looking after the public."
He also said Calgary has grown up quite a bit since he first came to the city.
"There came the recognition that it was a big city. The image was cowboys, and then it became an image that it was a big business centre, because of the oil business," he said. "The tallest building was the Calgary Tower when I moved there, and now you can hardly find it."
"We had some incredibly good mayors there that pushed [Calgary] forward that made the city what it is today. They had to recognize the oil business that was pushing it forward, but had to make it comfortable for people to live in. They did that, too."
Tagged: 55 years of calgary real estate | Olympics | Calgary Real Estate | Calgary Real Estate News | Charitable Foundation | CREB presidents | CREB® | Oil Prices | past presidents | Uncategorized | YYCRE
---
---
Connect With Us