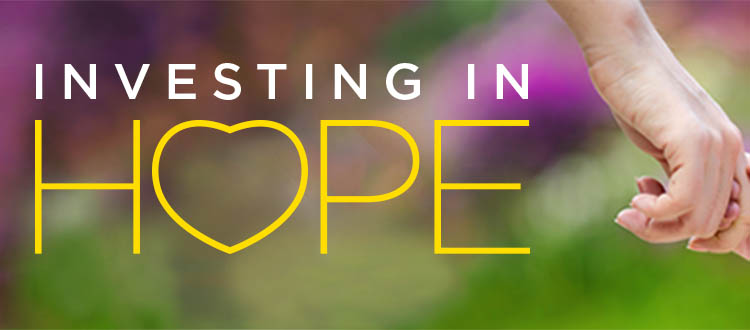 Sept. 29, 2016 | Shelley Boettcher
Calgary real estate community steps up
CREB® Charitable Foundation increases Investing in Hope donations to $180k
For almost 30 years, Calgary real estate professionals have been making their communities a better place through the CREB® Charitable Foundation's Investing in Hope program.
This year, they're going to be doing even more.
In response to overwhelming need in Alberta, the CREB® Charitable Foundation has upped its annual donations through the popular program to $180,000 from $150,000. That means three additional charities, and a total of 18 organizations, will each receive $10,000 in 2016 to put toward their annual budgets.
"There has been a huge demand from the community," said CREB® Charitable Foundation co-ordinator Aneve MacKay-Lyons. "And our foundation really wants to answer that call, to help meet the need."
As part of Investing in Hope, CREB® members were given the chance to nominate their favourite registered non-profit organizations from across the city and beyond in one of three categories: community enhancement, shelter or care. This year's nomination period opened at the beginning of September and closed Sept. 29.
"We can truly make a difference."
Previous Investing in Hope winners have included the Calgary Arts Academy Society, Hearts and Hammers Society, Airdrie and District Hospice Society, Alberta Animal Rescue Crew Society and Shamrock Children's Christmas Fund.
"Many times, these are grassroots organizations that are doing some really meaningful things for their community, but they have such a struggle getting funding," said MacKay-Lyons. "We can truly make a difference."
Starting Oct. 14, CREB® members will get to vote for winners in each of the respective categories. Voting closes Oct. 28 at noon. The winners will be announced Oct. 31.
Cheques will be presented to all of the winning non-profit organizations at an awards ceremony Nov. 24.
"It is such a feel-good evening. It's always emotional and exciting and celebratory," says MacKay-Lyons. "It's about our REALTORS® reaching out to the community and offering support to those who need it most."
Since launching 29 years ago, the CREB® Charitable Foundation was given more than $5.8 million to local charities through its programs. For more information, visit calgaryrealtorscare.org.
Tagged: airdrie and district hospice society | calgary arts academy society | Calgary Real Estate | Calgary Real Estate News | Charitable Foundation | Charitable Foundation | charities | CREB® | Hearts and Hammers | Investing in Hope | non-profit | REALTORS | RealtorsCare | shamrock children's chistmas fund | YYCRE
---
---
Connect With Us