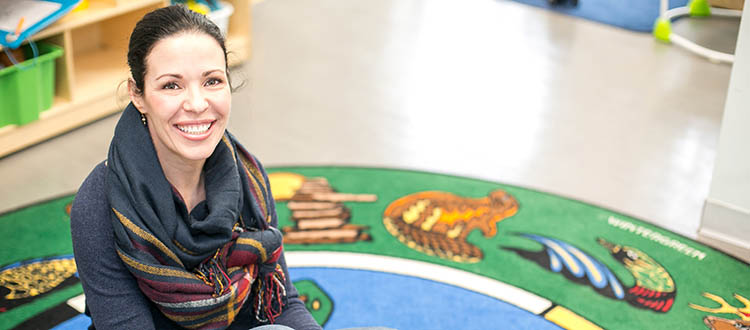 Inn from the Cold donor relations director Janeen Webb said the organization is seeing similar usage numbers this year when compared to 2015. Photo by Michelle Hofer/For CREB®Now
June 07, 2017 | Kathleen Renne
Hope is on the way
Inn from the Cold reports consistent number of bed stays to 2015
A haven of hope – that's how many guests at Inn from the Cold describe Alberta's only barrier-free shelter exclusively for families, which continues to see capacity-like numbers leading into one of its busiest times of the year.
"One of the things we're doing here is restoring dignity," said director of donor relations Janeen Webb.
In the face of Alberta's ongoing economic downturn, Inn from the Cold has reported about 30,000 bed stays so far in 2016. Webb said that's consistent with 2015 when the organization saw almost 40,000 stays by year's end.
"We're seeing the same numbers come through our shelter doors as we saw last year. We haven't had a huge influx because of the economy," said Webb, noting, however, that still means the shelter is at capacity.
An estimated 50 to 60 per cent of shelter occupants are single moms and their children. The remaining
40 to 50 per cent consist of two-parent families, single dads and caregiver grandparents.
"We'll take you in any time of day or night. The only prerequisite to be welcomed through our doors is that you have children," said Webb.
On average, a family stays in the shelter for 44 days. Depending upon each family's unique housing needs, Webb said some stay up to a year.
She noted the first step in helping Inn residents back on their feet involves finding them a place to call home. And that's where there's an, "upside to the current downturn."
"We're able to find dignified, sustainable accommodations for families much faster because there's a much more favourable rental market in Calgary right now. There's unprecedented availability," said Webb.
"We do have a few families that leave at Christmas, and we know we'll see them back."
She noted the holidays are a bittersweet time of the year at Inn from the Cold. On one hand, they get to celebrate when families move into their permanent accommodations.
"It feels really good to know those kids will be in their own homes for Christmas," said Webb.
On the other, Webb said the nostalgia of the holidays means some Inn residents will be drawn back into unhealthy living situations.
"We do have a few families that leave at Christmas, and we know we'll see them back," she said.
Besides offering residents at Inn from the Cold a "home-away-from-home" that includes family meals and early childhood development and recreational programs, the Inn celebrates birthdays and holidays.
"Each family will wake up to presents outside their cubicle door on Christmas morning," said Webb. "We aim for normalcy. We set our bar at normal."
The organization is still welcoming donations, which are down 18 per cent this year. Earlier this fall, Inn from the Cold was one of 18 local non-profit organizations to receive a $10,000 cheque from the CREB® Charitable Foundation as part of its Investing in HOPE program.
Webb said the Inn needs goods for tweens and teens, as well as personal care items such as shampoo, deodorant and face wash. A list of preferred items can be found on Inn from the Cold's website at
www.innfromthecold.org
.
Tagged: Calgary Homelessness | Calgary Real Estate | Calgary Real Estate News | Charitable Foundation | Charitable Foundation | Christmas | downturn | holidays | housing | Inn from the Cold | non-profit | shelter | YYCRE
---
---
Connect With Us