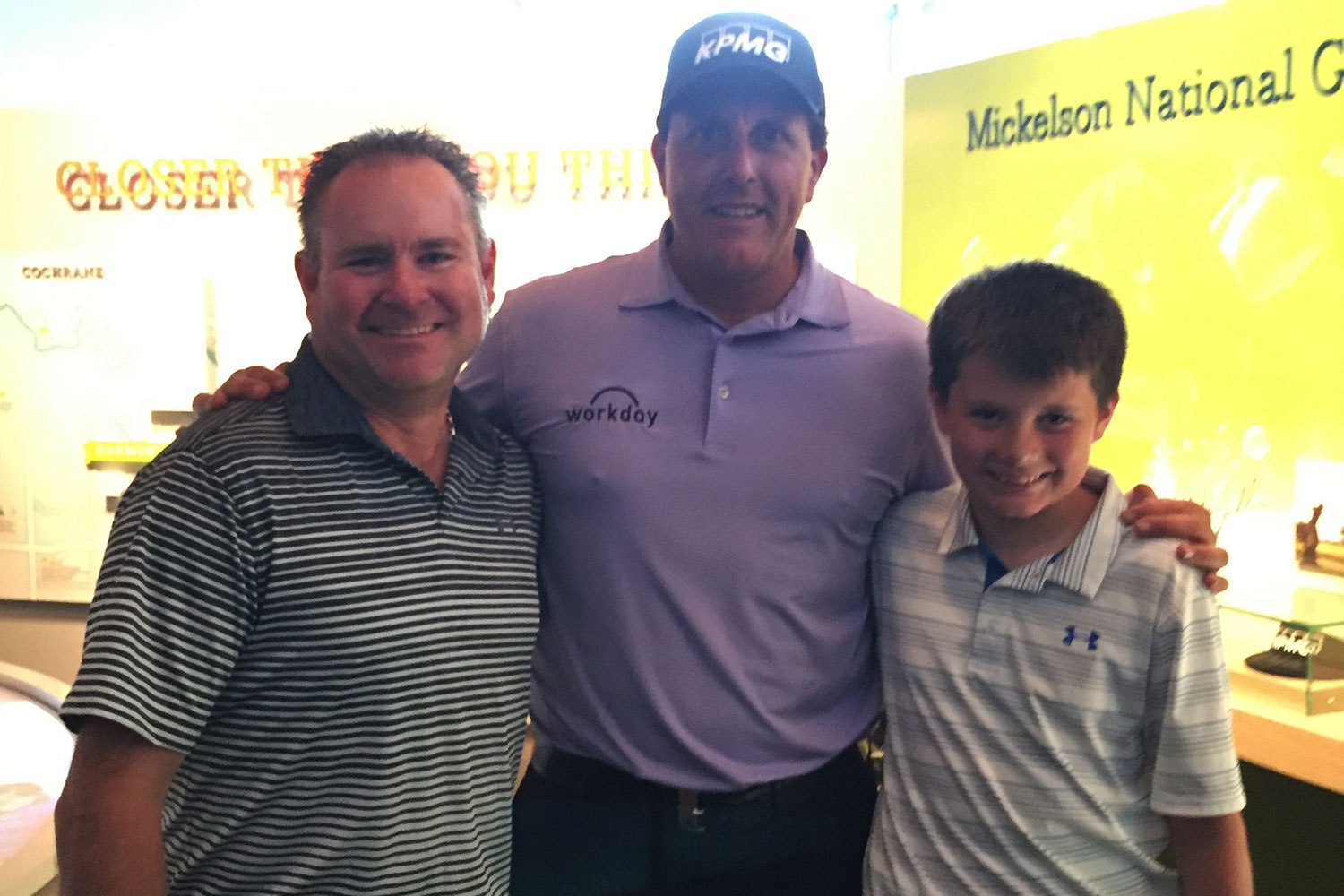 Brian Haydamack (left) and his son Zachary (right) with PGA Tour star Phil Mickelson – who designed the signature golf course that will eventually flank the community of Harmony. Courtesy Brian Haydamack
July 19, 2017 | Andrea Cox
A harmonious home
Entrepreneurial couple found the right fit for their active family in Harmony
Close to a year ago, entrepreneurs Brian Haydamack and Erin Schneider made the decision to move in together and blend their families (he has two children and she has three). The challenge was finding a home large enough to accommodate all of their kids, plus private home offices for both of their businesses. Haydamack, a former professional golfer, runs two golf-related businesses and Schneider is a hair stylist who works out of a home-based salon. The couple found a stylish, six-bedroom home design in the new master-planned lake community of Harmony in Springbank. And the fact that a signature Phil Mickelson golf course will flank the community was icing on the cake.
CREB®Now:
Did you look at other communities before you settled on Harmony?
Brian Haydamack:
No. We took a drive out to the discovery centre in January of this year, just to look at it. We were looking at it as a pipe dream – like "oh yeah, it probably won't work or it will be too expensive, but let's just see what is out there." When we got there, we saw that the houses started at $750,000 and we thought "well, we are well over $1 million with our two houses combined, so we can make this work." We spent an hour in the Discovery Centre the first time we went and we kept looking at each other going, "wow, we can make this work. Wow, look at the beach club, look at the walking paths, we can go kayaking every morning, the kids can go to the water park." We signed the contract with Baywest Homes in February and they should be breaking ground this week. We are so excited.
CREB®Now:
What are your favourite aspects of the community?
Brian Haydamack:
There were several reasons that Harmony worked for us. The first was location. I needed to be reasonably close to Cochrane because my ex-wife lives there and we are both very involved in our children's lives. The second huge factor was the fact that Baywest had a home design that worked for our family in the right price range for us.
Of course, the signature course designed by Phil Mickelson was also a huge draw. I used to be a professional golfer and I love golf. My son Zachary, who is 12, is also an avid golfer. He is walking on air knowing that we will be living right beside the course. We will get all of the kids involved in the sport as we move into the community and the golf course opens.
"I used to be a professional golfer and I love golf. My son Zachary, who is 12, is also an avid golfer. He is walking on air knowing that we will be living right beside the course."
Another deciding factor was the Global Sports program at Springbank High School. Erin's kids have been attending the Global program in Okotoks and want to stay in it. There are only two schools with the program – Okotoks and Springbank – so they will be able to just transfer over.
And, the Village Centre will be great. Just the lure of being to walk down to the village and grab a bottle of wine – there are going to be art galleries there and its down by the water – it will be fabulous.
CREB®Now:
What is your home like?
Brian Haydamack:
We purchased a brand new plan by Baywest Homes – the Mandola. It's around 3,300 square feet on the first two floors and another 1,600 square feet on the lower level. There are four bedrooms upstairs and two bedrooms in the basement. We added 130 square feet to the plan on the second level so that I could have my office upstairs as well. It extends out over the patio. And Erin's salon is on the main level just off the foyer. We added a barn door to the space, which originally was intended for a den. The goal is for this home to get us through life with five kids and two businesses. But as the kids get older and start moving out we may look at moving to another home in the area. It's definitely a community where you can go through the various stages of life.
Tagged: baywest homes | Brian Haydamack | Buyer Profile | Buyer Profile | Cochrane | Erin Schneider | harmony | Mickelson National Golf Club | Okotoks | phil mickelson | Springbank
---
---
Connect With Us