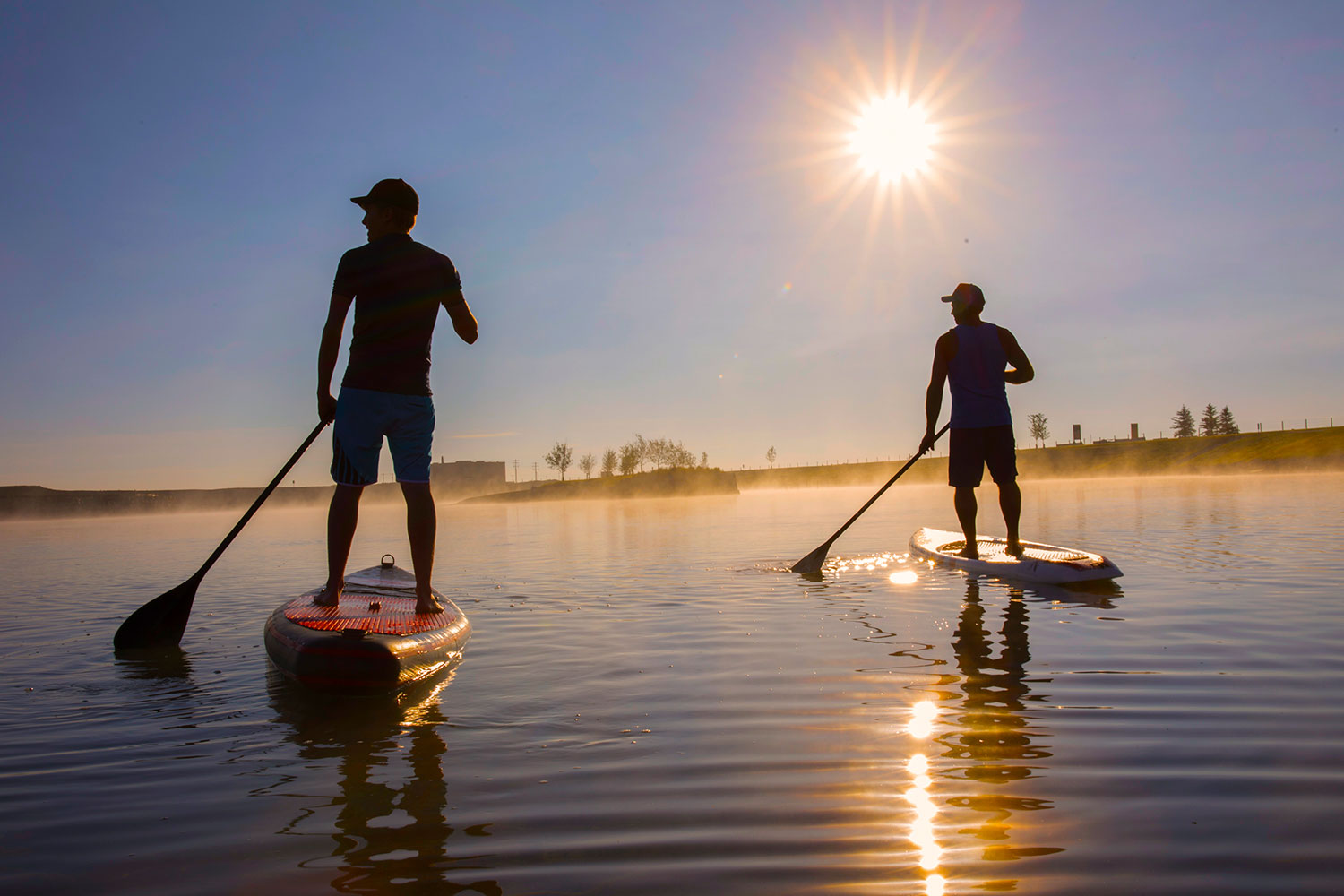 Courtesy Bordeaux Developments
June 13, 2019 | Barb Livingstone
Harmony and Mahogany put unique spin on the lake-community blueprint
You've always headed west for summer vacation because it doesn't get better than lazy days spent on the water. But what if you could get all the perks of a lake vacation, including that laid-back cottage lifestyle, without leaving your neighbourhood?
The Calgary region's two newest lake communities – Harmony in Springbank and southeast Calgary's Mahogany – are both four-season, amenity-rich neighbourhoods built around water.
Ryan Hall, vice-president marketing/communications at Bordeaux Developments (co-developer of Harmony with Qualico Communities), describes the 1,750-acre development as a "new era in planning and development" where "nature meets nurture and work balances with play."
Hall says Harmony could not have happened in Calgary, given its size (it will eventually house 10,000-plus residents), infrastructure and amenities. Those amenities include a 7,000-yard, 18-hole Phil Mickelson golf course that will see preview play this summer, with full opening expected in 2020.
Harmony's first, 40-acre lake is completed and stocked with 1,000 brown trout ready for fishing next summer. It is already used for swimming and (non-motorized) boating. A newly enhanced beach area will be unveiled in June. The second, 100-acre lake is to be dug out over the next two years, and the Adventure Zone outdoor park will feature a winter skating ribbon and hockey rink.
"(Harmony is where) nature meets nurture and work balances with play." - Ryan Hall, Bordeaux Developments
Mahogany, the largest and newest lake development within Calgary, is already home to 14,000 residents. It features two unique residential islands, along with 21 acres of sandy beaches.
Nicole McLaws, senior marketing manager for Hopewell Residential, says Mahogany offers an unparalleled, affordable, four-season lifestyle. Its community amenities include trails, a school, playgrounds and an urban village.
In the winter, tobogganing, ice hockey and skating are all common sights at Mahogany's 22,000-square-foot Beach Club, which offers programming year round. During the summer, there's swimming, fishing, non-motorized boating, a splash park and two private beaches for residents.
Launched in 2016, Harmony is currently selling single-family housing phases one to four. Townhomes from StreetSide Developments are expected this summer, along with community phase 10, with lakefront, front-drive and rear-laned homes.
In April, Mahogany opened 22 new paired, laned and garage showhomes from three builders – Hopewell Residential, Jayman Built and Excel Homes. The new showhome parade, and Mahogany's current multi-family offerings in Sandgate and Westman Village, are about five minutes away from Mahogany Lake.
Tagged: bordeaux developments | Calgary | Calgary Community | Calgary Real Estate | Calgary Real Estate News | Excel Homes | Feature | golf | harmony | hopewell residential | jayman built | lake | lake living | Mahogany | New Communities | phil mickelson | qualico communities | Sandgate | Springbank | Westman Village
---
---
Connect With Us