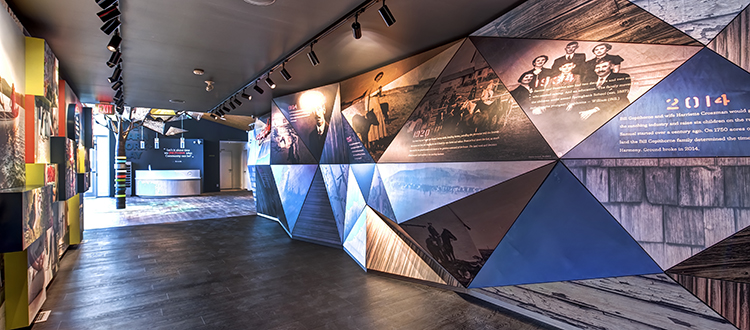 The new 3,700- square-foot Discovery Centre in Harmony features a dozen interactive exhibits, including the first display of the Mickelson National Golf Club, with hole-by-hole descriptions and special Phil Mickelson memorabilia. Photo courtesy Harmony.
May 04, 2016 | CREBNow
Discovery centre gives glimpse into Harmony development
Open to the public this weekend
The folks behind the Harmony development in Springbank lifted the veil Thursday to its new 3,700-square-foot Discovery Centre, providing new details on the much-anticipated lake community just west of Calgary, including a first look at the Phil-Mickelson designed 18-hole golf course.
The centre is intended to introduce curious homebuyers and Springbank neighbours with new details of Harmony, which will eventually be home to approximately 10,000 people. Included are interactive exhibits that provide visitors with a massive projection model of the community, detailed displays and videos on the community vision and a tribe to the Copithorne family, which originally ranched the area.
"Given current market conditions, buyers are more cautious about making a purchasing decision and want to be more informed," says Maribeth Janikowski, communications manager for Qualico Communities, with is developing the community with Bordeaux Developments.
"We believe our buyers deserve all the tools and information they can get, especially when it comes to a community as unique as Harmony with its mix of country and urban amenities. We don't think there is anything quite like this Centre for new communities launching anywhere in Alberta."
Included at the Discovery Centre is a first detailed look at the Michelson National Golf Club, with hole-by-hold descriptions. The club, which will be the first course in Canada designed by PGA legend Phil Mickelson, will stretch over 240 acres flanking Harmony's east side.
"Twelve years in the making, Harmony now invites prospective homeowners and business owners to envision life here."
Developed by Windmill Golf Group and the Phil Mickelson Design Group, the first 18 holes are expected to open in 2018, with the possibility of adding an additional nine holes in the future.
Currently offering single family homes from the $690,00s and estate homes from $1 million, Harmony is also the location of the STARS Lotto Home and has a full range of townhomes, multi-family, and villas at various prices planned.
The Discovery Centre will be open to the public starting April 2, noon to 5 p.m.
"The Discovery Centre presents a new way to inform buyers and neighbours about the development in an engaging, modern way," says Bordeaux Developments CEO Birol Fisekci. "It's an extraordinary setting to learn facets of the Harmony story, history, development, and sustainability practices, including our world-class water program.
"Twelve years in the making, Harmony now invites prospective homeowners and business owners to envision life here, the future of Harmony, and Alberta's remarkable Springbank area."
Tagged: Calgary Real Estate | Calgary Real Estate News | Community | golf | harmony | luxury | phil mickelson | Residential | Springbank | Uncategorized | YYCRE
---
---
Connect With Us