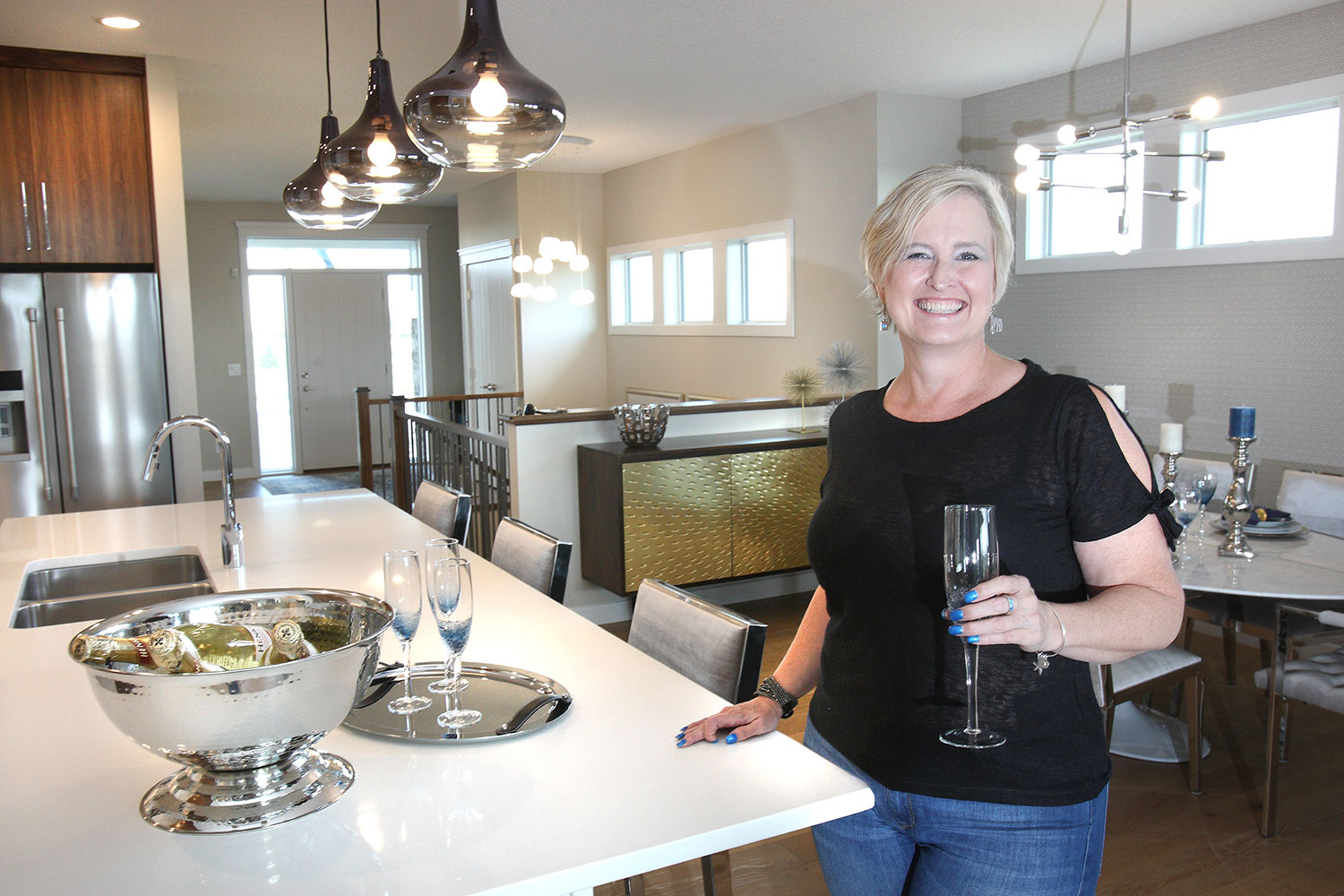 Patti Clarkson, 54, purchased a new bungalow villa in Harmony in an effort to plan for potential mobility issues many years down the road. Wil Andruschak / For CREB®Now
Aug. 30, 2017 | Barb Livingstone
Bungalow buyers
Single-level homes are in high demand among retirees planning for their future
For active senior JoAnn Fetzner, who golfs three times a week and travels widely, one-level, bungalow living was an obvious choice for the rest of her life.
For empty-nester Patti Clarkson, 54, who is easing her way into retirement, her recently purchased bungalow villa will be the perfect "forever home."
For both women, finding a single-level home was a priority – part of their long-term planning for possible mobility issues down the road.
While bungalows became popular in Canada in the early 1900s (brought here by British settlers), most single-family homes, particularly in newer suburbs, are two storeys – providing more living space on a smaller, and less expensive, land footprint.
More standalone bungalows or duplex-style, attached bungalows (or villas) – some with walkout basements – have come to market in recent years in new communities, but that momentum is building as the number of empty-nest baby boomers who are retired or preparing for retirement grows.
Fetzner, a 70-year-old retired nurse and RCMP officer, bought an attached bungalow villa in Lifestyle Homes' Parkhouses development in the Okotoks community of Drake Landing two years ago.
After her husband died, her son wanted her closer to him than her condo in Camrose, and suggested the Parkhouses.
"It was exactly what I was looking for," said Fetzner. "I wanted the convenience of lock-and-leave, but at my age, even though I am mentally and physically in the best condition I have been in a long time, I certainly wasn't going to buy a two-storey home."
The convenience of a bungalow certainly came into play for Fetzner when she suffered a dislocated hip last winter. "The one-level living was so important," she said.
Clarkson, who owns a human resources consultancy, just became an empty-nester when her youngest daughter left for university. She will move into one of NuVista Homes' 28 duplex bungalow villas in Springbank's new master-planned community of Harmony next June.
"I wanted the convenience of lock-and-leave, but at my age, even though I am mentally and physically in the best condition I have been in a long time, I certainly wasn't going to buy a two-storey home." - JoAnn Fetzner, Okotoks resident
Clarkson describes her move as "upsizing" because she will leave her 1,630-square-foot, one-and-a-half-storey Hawkwood home for a 1,500-square-foot, attached bungalow with a walk-out basement of close to 1,300 square feet overlooking Harmony's lake.
"I am not struggling with my health now but I am anticipating 30 or 40 years down the road," she said.
The downstairs space, she says, includes two bedrooms for her daughters and lots of family entertaining for possible grandchildren.
Baywest Homes is building bungalows in Harmony, Silverado and Rancher's Rise in Okotoks, and this fall will launch a new bungalow showhome in Cranston's Riverstone.
The continued success of Baywest's bungalows has been driven by customer requests and needs, with 11 different bungalow models now offered in Cranston and four in Harmony, says Jodi Hodgson, the company's sales consultant for both communities.
In Riverstone, almost 50 per cent of Baywest home sales – among those baby boomers moving from two-storey homes – have been bungalows.
In Mahogany, buyers have already placed holds on the eight attached bungalows Section23 Developments released for purchase only two weeks ago.
"It is predominantly empty-nesters in their 50s and 60s downsizing for future retirement," said Marion Murray, Section23's senior vice-president.
The company will release at least seven more bungalows in Mahogany, and given the positive sales, Murray says the company is already looking at replicating the offering in the new southeast community of Rangeview.
She says the company kept the sizes and attendant home price-point below other villas that often stretch to 1,800 square feet and $1 million.
The Mahogany duplex bungalows are less than 1,100 square feet and are priced at $500,000 to $600,000, with all essential living needs – master bedroom with walk-in closet and five-piece ensuite, upgraded kitchens and the laundry room option – on the main floor. They also come with two-car detached garages and full basements.
Tagged: baywest homes | bungalow | Calgary Real Estate News | Camrose | Cranston | Drake Landing | Feature | harmony | Hawkwood | JoAnn Fetzner | Jodi Hodgson | Lifestyle Homes | Mahogany | NuVista Homes | Okotoks | Parkhouses | Patti Clarkson | Rancher's Rise | Rangeview | retiree | Retirement | Riverstone | Section23 | Section23 Developments | seniors | silverado | Springbank
---
---
Connect With Us