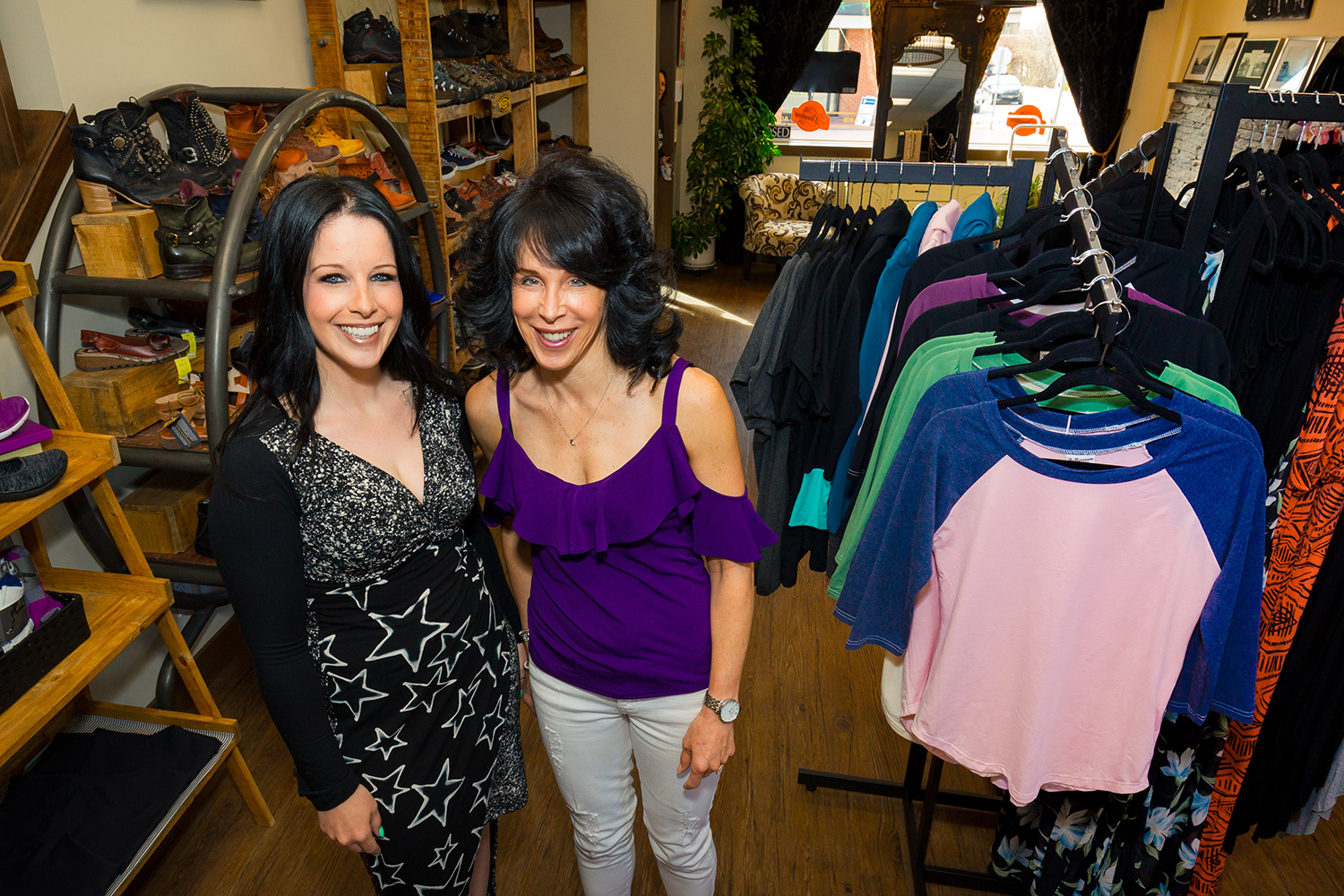 Kelly Warrack and Katelyn Haffner's small-town shoe store, The Standard Shoe Stop, is named after the The Strathmore Standard newspaper, which was first printed in 1909. Photo by Jesse Yardley / For CREB®Now
May 04, 2017 | Kathleen Renne
Memory Lane
Lined with charming, independent businesses and loads of historic treasures, small towns are trying to revitalize their main streets
Kelly Warrack describes the movement of businesses out of Strathmore's downtown core to the edge of town as "a fairly typical story for towns like us."
Warrack, who grew up on a farm near Strathmore, says Strathmore's Second Avenue (Main Street) was always the focal point of the town in decades past. "Main Street was the place to go," recalled Warrack, citing the presence of the feed mill, banks, the hardware store, the local Co-op and the King Edward Hotel as among the street's popular destinations. In recent times, however, Warrack says businesses have moved from downtown and have opened along the highway.
"Our Town Council has been working very hard to improve the downtown. It has the potential to be really attractive and have character," said Strathmore planner Chuck Procter, adding the Town is also trying to make the business-application process "as easy as can be" and is developing an online business directory.
While downtown revitalization has been on Strathmore's agenda for at least a decade, Procter says Town Council borrowed six-million dollars this year, "a large chunk" of which is going towards downtown revitalization. Improvements such as new street furniture, street lights and concrete upgrades are on the bill.
"This is the first time we've put some money where our mouth is in terms of putting cash into the downtown. We hope it stirs investment interests and new business," added Procter.
One new business along Second Avenue (Main Street) is The Standard Shoe Stop, which occupies a 1908-era building that once housed The Strathmore Standard newspaper. Owned by Warrack and her daughters, Katelyn Haffner and Jill Warrack, the shoe store – Strathmore's first in more than 20 years – opened in 2015. "We felt there was a need for something downtown to encourage people to come here," said Warrack.



Our Town Council has been working very hard to improve the downtown. It has the potential to be really attractive and have character.



"The Town has been really receptive and supportive," she added, noting there have been several initiatives to encourage and promote local business.
One such initiative comes courtesy of Strathmore's Newsy Neighbour Magazine. It initiated a local shopping challenge with prize draws as incentives. The Town has also set up portable patios in Strathmore's downtown to encourage citizens to hang out there in summer.
"I feel that people, in general, are more conscientious now about where they're shopping. A lot of our customers check in with us before they go to the city and get shoes there," said Warrack.
The Village of Beiseker is another small Alberta community looking to encourage business to the centre of town.
"We're quite active in trying to encourage downtown business," said Beiseker Mayor Ray Courtman, citing programs like the Chamber of Commerce's Beiseker Bucks. He admits there's "a gap" in Beiseker's main street offerings after the bakery and hardware store closed upon the retirement of its owners.
"Beiseker has moved away from only being an agricultural-based community to being more diverse and serving other industries," said Courtman, who moved to the area in 1970. "Diversity in industry leads to diversity in business."
Courtman points to a variety of businesses currently occupying Beiseker's main street, including a grocery store, a pharmacy and at least three cafes.
Courtman says Beiseker's low housing prices and its location make it ideal for new business.
"Everyone that comes out of Calgary to go to Drumheller has to come through Beiseker. The best-kept secret about Beiseker is that we're at a junction," said Courtman, adding potential Beiseker businesses need to discover a way to hook into that tourist traffic and draw travellers off the highway and into town.
While Beiseker and Strathmore both have centralized business districts, Airdrie's businesses tend to be spread out. This is something Airdrie business owner Lynn Kehoe would like to see change. Kehoe opened her specialty lingerie and bath-and-body store along Airdrie's Main Street in 2005.
"The Main Street is the original downtown here, but it has not been revitalized and kept alive and developed into a real business community. There is not a lot of independent retail, and what there is in Airdrie is spread out. It would be nice to see all the boutiques together in a more concentrated business district," explained Kehoe, adding she has seen more chain stores enter Airdrie's core over the past decade.
However, she says, Airdrie's Economic Development team is still active in promoting local business through offering information sessions and keeping in touch with businesses to ascertain their needs.
"It's a really tight business community in Airdrie," said Kehoe, adding the advantage of opening a store in a smaller community is that "word of mouth travels fast."
"When you're out in the public a lot, volunteering, participating in community activities, the community really supports you," said Kehoe. That sort of support is at the core of all small-town business, main street or not.
Tagged: Airdrie | Beiseker | business | Katelyn Haffner | Kelly Warrack | Strathmore | Surrounding Areas
---
---
Connect With Us