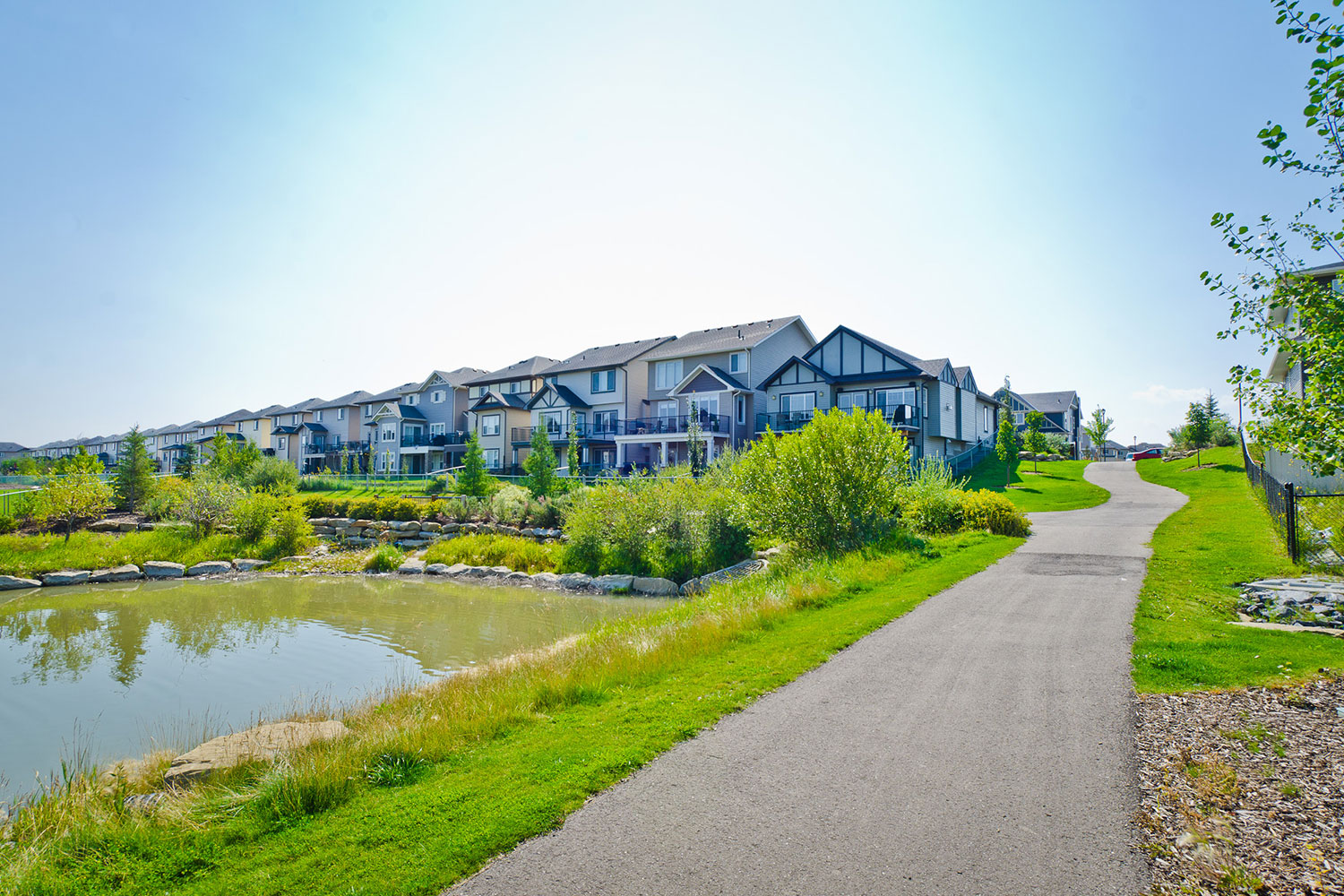 Courtesy Genesis Builders Group
July 10, 2019 | Andrea Cox
Builder's Corner: Bayview and Bayside showcase the best of Airdrie
One of Airdrie's greatest strengths is its connectedness and small-town feel, and that strength is on display in the growing community of Bayview.
"There is a real sense of comfort and safety here," said Stephanie Garrett, sales manager for Genesis Builders Group in Bayview.
Bayview is part of a collection of interlaced communities that feature a picturesque canal system at their core. The concept – which was spearheaded by Genesis Land Development Corp., the sister company to Genesis Builders Group – also includes the communities of Bayside Estates and Bayside.
Garrett felt so strongly about the benefits of living in Bayview that she and her husband purchased a Genesis home in the community three years ago.
"We love it here. It has such a great community feel," she said. "I really wanted to be able to walk down the street and say hello to my neighbours and have them respond. If I leave my garage door open, someone will knock on my door and tell me, or if I go away for a couple of days, my lawn is mowed when I get back. It's things like that, they make all the difference."
"The majority of the homes in Bayside back onto the canal, so there is lots of privacy." - Jeff Brodowski, area sales manager
The architectural aesthetic in Bayview reflects old-world Craftsman styling. "Really nice and wide front porches – people sit on their porches here, which really adds to the sense of community," said Garrett. "Colourful siding also adds to the appeal."
Home styles run the gamut from bungalow designs – five models with walkout lower levels are offered – to two-storey creations, with both laned and front-drive garage models.
Two new showhomes will be opening in September: The Holly – a two-storey, three-bedroom plan that sits at around 1,000 square feet and is priced at just over $290,000 – and a brand-new bungalow design.
The new Bayview showhomes will join two showhomes that recently opened in Bayside – the Aspen, a 1,686-square-foot bungalow, and the Charlesmark, a three-bedroom, 2,454-square-foot, two-storey home with an open-concept layout.
"The majority of the homes in Bayside back onto the canal, so there is lots of privacy," said Bayside's area sales manager Jeff Brodowski.
Bayside and Bayside Estates offer single family homes with front-attached, two- and three-car garages.
Bayside Estates recently released its final phase, which includes 12 exclusive island home lots with 58-foot frontages and 180-foot depths. "These are just massive lots," said Brodowski.
Buyers can choose from 11 home models and customization options are available.
"We can start out with a plan as a base and reconfigure based on the homeowner's needs," said Brodowski.
Homes in Bayside Estates start at $500,000 and run upwards to more than $1 million. Until the end of August, buyers can take advantage of free basement development in select quick-possession homes.
Tagged: Airdrie | Bayside | Bayside Estates | Bayview | Builder's Corner | Builder's Corner | Calgary | Calgary Real Estate | Calgary Real Estate News | Calgary Real Estate News | Genesis Builders Group | Genesis Land Development | New Communities | Surrounding Areas | Surrounding Areas
---
---
Connect With Us