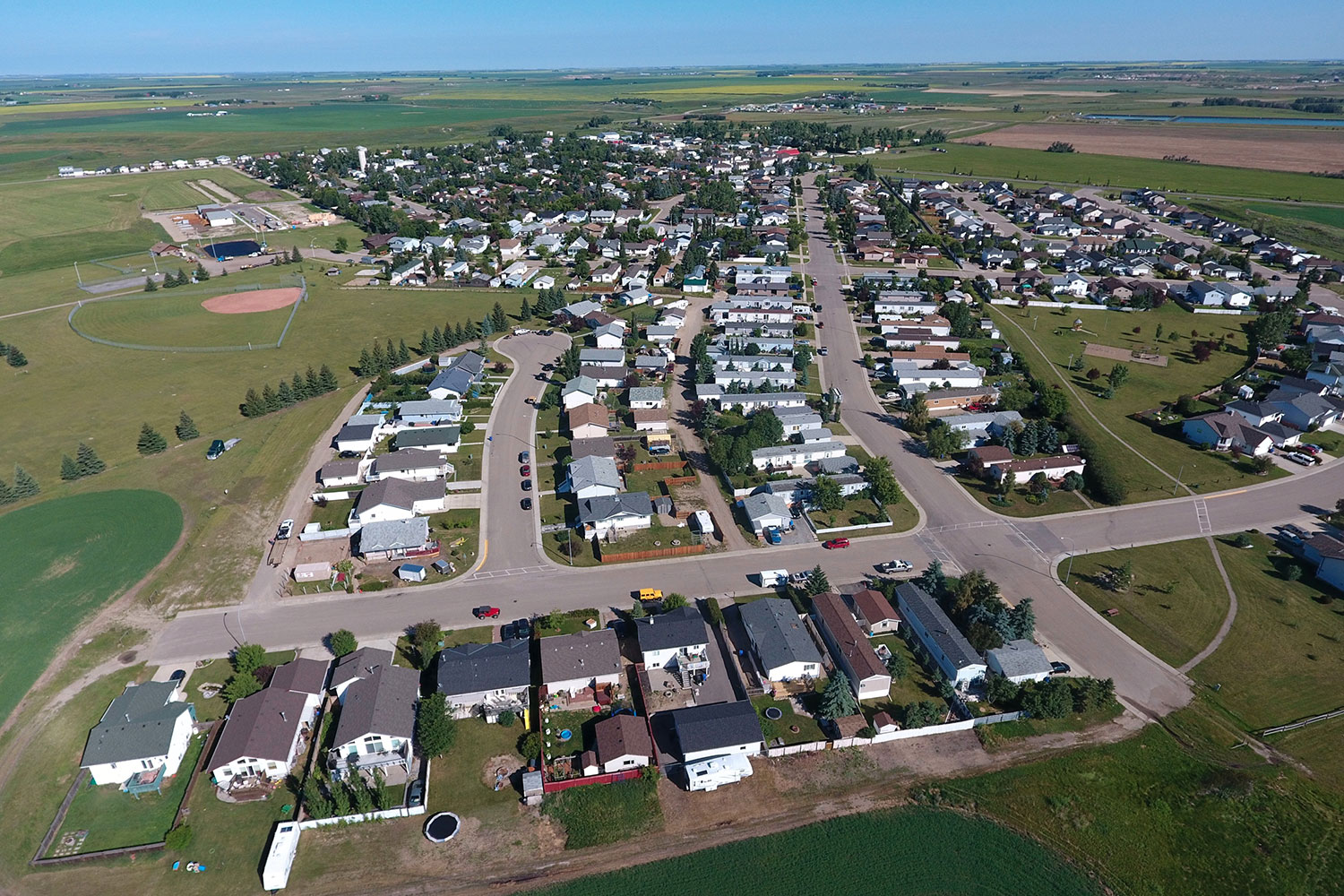 Courtesy Town of Irricana
Oct. 30, 2019 | Natalie Noble
Rural refresh: Small-town life in Beiseker and Irricana is bigger and better than ever
If you're a city dweller who has dismissed the small-town lifestyle due to outdated ideas about commute times and amenities, it might be time for a second look at life in Beiseker and Irricana. Recent years have seen progressive changes to these small towns' populations, services and accessibility.
REALTORS® Dani and Josh Thomas have lived and worked in the area northeast of Calgary for more than 15 years.
"We have watched Beiseker and Irricana go from a mainly senior and local population to now becoming a haven for young families looking for that small-town feel," said Dani Thomas.
After years of high turnover, mostly due to lack of services or travel issues, there's a new demographic and a fresh energy sweeping into these towns.
"We have moved young families into our area, and most have stayed and settled down," said Thomas. "As a result, we are seeing far more community involvement being developed with activities geared towards this population."
Thanks to new roadways and access points, both towns are no longer perceived as too far from the city. Residents of Beiseker and Irricana can quickly reach CrossIron Mills, Airdrie and Calgary.
"The value found out here is always surprising to buyers when they see how much house they get for their money." - Dani Thomas, CIR Realty
"Both Beiseker and Irricana are friendly and inclusive towns to move to. The proximity to the city for commuters is also very desirable," said Larry Martin, Realtor and manager with MaxWell South Star Realty. "You get the safe, small-town feel, but are still very close to all the amenities you need."
Homes in Irricana are generally priced at least 30 per cent lower than comparable homes in Airdrie, and the disparity is even larger compared to Calgary. Meanwhile, prices in Beiseker are usually five to 10 per cent lower than in Irricana.
"The value found out here is always surprising to buyers when they see how much house they get for their money," said Thomas.
Taxes are often lower, too. Irricana has a new town council with big goals, and one of those goals is to make taxes even lower.
"We all have one driving mission: let's get the town going and let's cut taxes," said Ted Coffey, chief administrative officer of the Town of Irricana. "We lowered taxes in 2018 and 2019, and we are on track to do it again in 2020."
Beiseker and Irricana are nine kilometres apart and both offer easy access to services.
"We have virtually everything you could want available here," said Coffey. "Grocery stores, gas stations, convenience stores, liquor stores, we even have a marijuana store."
There are also restaurants, a pharmacy and a variety of businesses, including automotive, fitness and pet services. Family events are common and local 4-H groups are strong. Access to all these amenities comes lineup free, and scheduling professional services is fast and local. While prices can be slightly higher for some goods, convenient access within walking distance can offset the cost.
"You can walk anywhere at 2 a.m. There's no crime, no street gangs. There's just the stars, and deer walking by," said Coffey. "You can send your kids out to play and not think a second thought about it."
Tagged: Beiseker | Calgary | Calgary Real Estate | Calgary Real Estate News | Calgary Real Estate News | Feature | Housing Market | Irricana | Rural | Small Town | Surrounding Areas | Surrounding Areas
---
---
Connect With Us