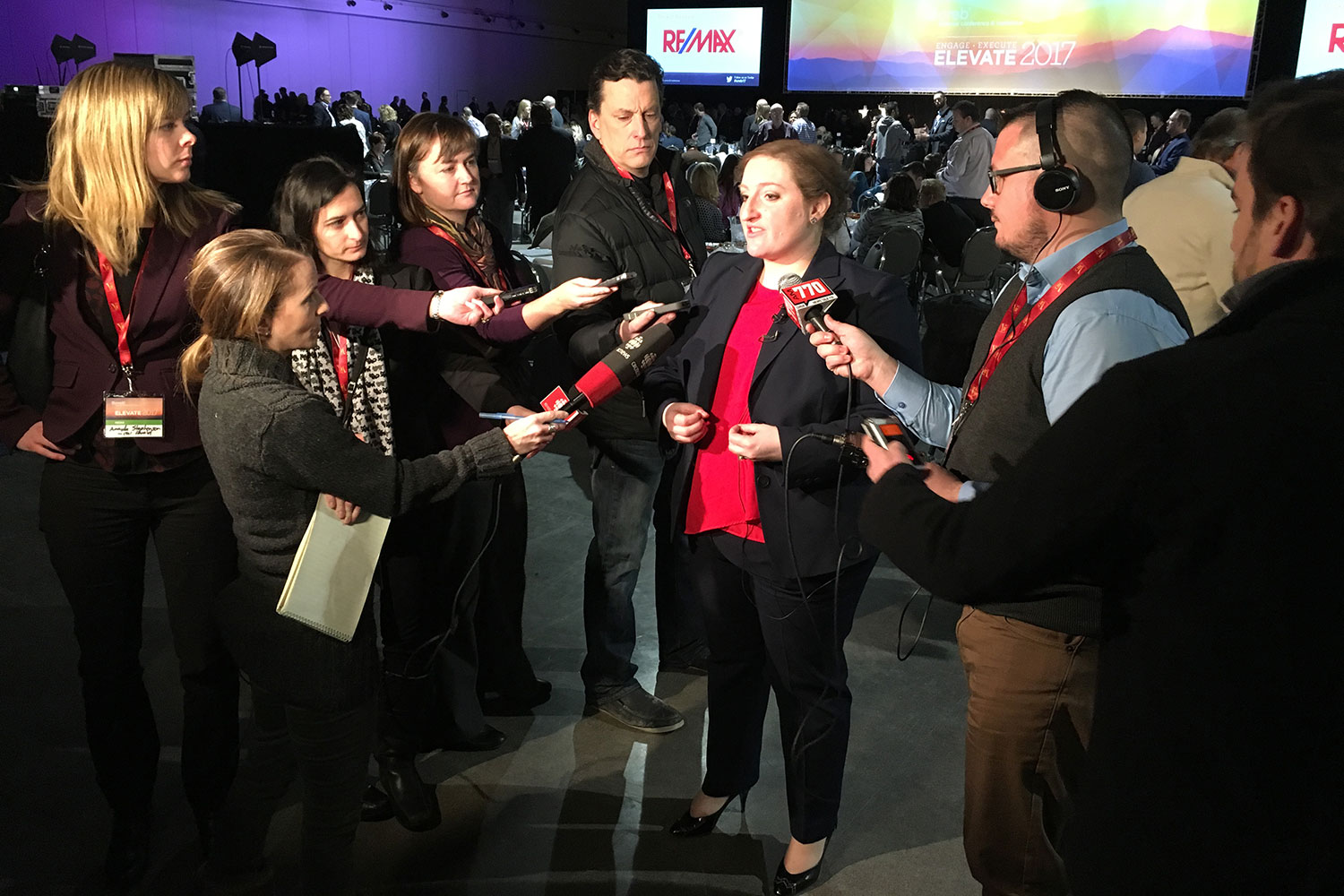 CREB® chief economist Ann-Marie Lurie speaks to the media at the 2018 CREB® Forecast Conference and Tradeshow. CREB®Now Archive
June 06, 2018 | CREBNow
Behind the numbers
A luxury market stats breakdown with CREB® chief economist Ann-Marie Lurie
CREB®Now:
How do statistics for luxury homes fit into the overall housing market in Calgary?
Lurie:
It's usually the media that defines what the luxury market is. What I see as luxury is different from everyone else. To me, this reflects properties that have sold for over $1 million, and these properties account for roughly four per cent of all our sales activity
This is a fairly small share, and equivalent to sales at the lower end of the market (under $200,000), where those sales account for around five per cent of the share.
Ultimately, the average homeowner or buyer is not influenced by activity in the luxury market. It's the tail of the bell curve.
CREB®Now:
What trends are you seeing in the luxury market?
Lurie:
This year, we have seen a recent rise in the supply level compared to demand. This is after briefly returning to a supply-demand balance that is more consistent with longer-term conditions last year. If this trend persists, we could see some downward pressure on prices in the higher end of the market. Year-to-date sales have eased a bit this year, and remain lower than the highs seen in 2014. Most of the sales activity is centred in the $1,000,000 - $1,249,999 segment of the market.
CREB®Now:
?What are the key stats homebuyers and sellers should look at for the luxury market?
Lurie:
They should be looking at months of supply and how they compare to historical periods. The balanced measure of months of supply for this sector would clearly be different from lower-priced properties, as the demand pool is not as deep. However, it can give us some indication if this segment is oversupplied and how that can influence prices.
While we do not measure price activity within specific ranges, we can look to some higher-priced communities for price trends. The reality is it does depend on the area.
At the higher price ranges, there is more uniqueness with properties and they do appeal to a smaller demographic. Using aggregate trends does not necessarily relate to specific properties and I wouldn't read too much into some of the figures released on specific properties.
The luxury life

In 2017, the following Calgary communities had an average sale price of $1 million or higher.
1. Bel-Aire - $1,936,875
2. Britannia - $1,570,763
3. Elbow Park - $1,469,731
4. Elboya - $1,290,118
5. Mayfair - $1,147,000
6. Upper Mount Royal - $1,900,050
7. Rideau Park - $1,121,500
8. Rosedale - $1,285,330
9. Scarboro - $1,086,769
10. Eagle Ridge - $1,487,917
Tagged: Ann-Marie Lurie | bel-aire | Britannia | Eagle Ridge | Economy | elbow park | Elboya | Housing Market | Housing Market | luxury | luxury market | Mayfair | Pop The Question | Rideau Park | Rosedale | Scarboro | Statistics | Statistics | Upper Mount Royal
---
---
Connect With Us