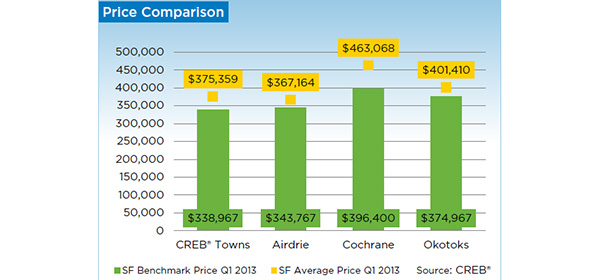 April 08, 2013 | CREBNow
Towns Quarterly Report
Tightening market conditions are supporting price growth in Airdrie, Okotoks and Cochrane, although overall inventory levels of property remain healthy in areas surrounding Calgary.
Property sales in the surrounding areas totalled 865 units after the first quarter of the year, running at a similar pace to the same period in 2012. As in the entire region, the number of new listings has been falling at double-digit rates. Relatively strong demand has placed downward pressure on somewhat elevated inventory levels and reduced the time product is on the market. However, overall inventory levels still remain at healthy levels, meaning the conditions are balanced for buyers and sellers.
Sales activity varies by area. While both Okotoks and Cochrane recorded quarterly gains, Airdire's sales activity declined as inventory contracted. However, there was less new supply in numerous areas.
When considering the average quarterly single-family benchmark price, Cochrane recorded the largest gain when compared to the first quarter of 2012. However, despite the recent pickup in price, the single-family market in Cochrane is the farthest from peak levels.
As the single-family market in the city of Calgary sees tightening supply levels, particularly for homes priced less than $500,000, consumers looking for affordable homes are likely to consider either the condominium market or surrounding areas. This should support sales growth in surrounding communities this year. However, as resale listings fall, consumers may turn to new homes, and such a move could limit sales growth for resale product.
Towns Quarterly Report 2013 Q2 - CREB®
CREB Monthly Housing Summary Statistics March 2013 - CREB®
Airdrie
After the first quarter of this year, sales activity declined by 12 per cent in Airdrie, for a total of 211 units. The decline in sales was matched by a decline in new listings of nearly 13 per cent. As consumers seek out affordable product, many have turned to communities surrounding Calgary. While Airdrie has benefited from much of this demand, that city has witnessed a continued erosion of its inventory levels, ultimately limiting resale sales growth in the first quarter.
Tightened market conditions in Airdrie provided some room for price growth. The unadjusted single-family benchmark home price was $348,300 in March, more than six per cent higher than the previous year and a one per cent increase over the previous month. While prices remain below peak levels, tighter market conditions should support price growth this spring.
Okotoks
New listings experienced a year-over-year drop of 15 per cent in the first quarter of 2013, but sales activity in the town of Okotoks rose by 18 per cent in the first quarter compared to the same time period in 2012. Unlike some of the other surrounding areas, Okotoks' inventory levels have been slightly elevated, providing consumers with choice even though there has been a decline in new listings.
Resale price growth gained momentum in the second quarter of 2012, and levelled off above $374,000 for the remainder of the year. After the first quarter of this year, unadjusted average prices remained similar to averages recorded in the last quarter of 2012. But those prices are more than six per cent higher than levels recorded in the first quarter of 2012. If dwindling supplies for single family homes persist within Calgary city limits, this should help support demand growth in Okotoks and modest home price gains.
Cochrane
Sales activity slowed in March in the town of Cochrane, but strong sales activity in the first two months of the year caused Q1 sales growth to exceed six per cent. The improvement in sales activity is long overdue for this community, which has had excess supply levels for much of the past four years. Overall active listings totalled 191 units in March, nearly 25 per cent less than the same period in 2012. More importantly, this helped push down the months of inventory to levels more consistent with balanced conditions.
The unadjusted single-family benchmark price totalled $401,800 in March, nearly two per cent higher than the previous month, and 12 per cent higher than 2012. While this is significant, it should be noted that prices in Cochrane – with the exception of 2012 – have been declining since 2007. The increase is a signal of price recovery, but the unadjusted benchmark price remains six per cent below the peak pricing in the market.
Tagged: Airdrie Real Estate | Alberta Real Estate | Calgary Real Estate | Cochrane Real Estate | CREB President Becky Walters | CREB® Chief Economist Ann-Marie Lurie | Okotoks Real Estate | Uncategorized
---
---
Connect With Us