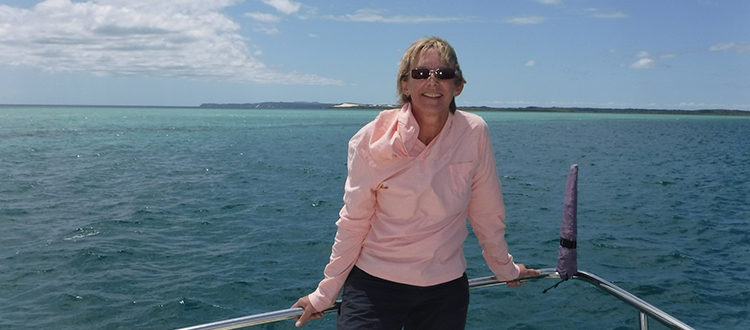 Becky Walters, who retired from real estate in 1995 and moved to Vancouver Island, said it has been "quite an adjustment" leaving the business. Photo courtesy Becky Walters.
July 21, 2016 | Cailynn Klingbeil
55 Years of Real Estate: 2013 CREB® Past President Becky Walters
Former CREB® president Becky Walters remembers how communities rallied in following natural disaster in 2013
Becky Walters remembers 2013 like most Calgarians do – one equally fraught with harrowing tales of devastation and inspiring stories of community spirit following a historic flood that left many communities underwater.
In June 2013, Alberta experienced heavy rainfall that sparked 32 states of local emergency in communities throughout southern Alberta and resulted in billions of dollars in insurable damages.
"It was something that affected the whole city, of course," said Walters, who, six months earlier, had become president of CREB®.
"There were some people who were put out for over a year."
"The market in general felt [the flood's impact] – (especially) in High River and the downtown core in Calgary," Walters said. "Those were areas that were noticeably affected, with no inventory able to be sold, and people who couldn't live in those buildings."
Within the real estate industry, Walters noted some heavily affected REALTORs® were given a reprieve on their fees, "so they could get back on their feet." In High River, where more than half the town was submerged, some REALTORS®' businesses were badly damaged.
Vacancy rates also tightened, as people displaced by the floods sought new accommodation. By October, Canada Mortgage and Housing Corp. reported the vacancy rate had dropped to 1.6 per cent in the city, and zero per cent in nearby towns such as High River.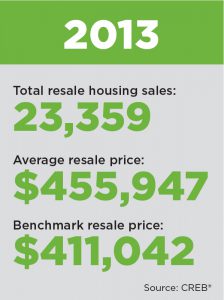 "There were some people who were put out for over a year, but the majority of them were able to get back into their homes within a few months," Walters said.
By year's end, however, the market had bounced back, with both housing sales (23,359) and the MLS® benchmark price ($411,042) in 2013 increasing from the year before – 11 and seven per cent, respectively.
In a statement at the end of the year, CREB® chief economist Ann-Marie Lurie said sales growth exceeded expectations, "pushing above long-term trends."
"Two consecutive years of elevated levels of net migration, combined with an improving job outlook and confidence surrounding long-term economic prospects, supported the demand growth," she said.
Looking back now, Walters describes 2013, as a whole, as "a really good, strong, steady, balanced market. It was a good, strong economy in the city and province."
Beyond the flood, the real estate industry was also impacted with internal challenges in 2013. Rules for reporting disclosure of conditional sales changed, which had a big impact on REALTORs®, said Walters.
"It was such an amazing joy to be involved with someone who found their dream home."
"That was one of the larger, contentious issues that I dealt with in 2013 – the change of how we reported conditional or pending sales," she said. "We'd had things one way for a long time, and when you change things, it's contentious."
In June 2015, Walters retired from real estate, finishing a career that began in 1988. She looks back on her years in the industry with fondness.
"Being able to deal with different people, different scenarios every day, and getting out there and making people's dreams come true, it was amazing," Walters said.
"It was such an amazing joy to be involved with someone who found their dream home. If you've purchased a home yourself, you understand that feeling, when you find that right house. Being able to be attached to that a few dozen times a year, it's euphoric almost. It really is."
Walters said it has been "quite an adjustment" leaving the business – including the phone calls and emails that flowed constantly, seven days a week.
"It's hard to slow down because you were so attached at the hip to your phone and your clients for so many years," she said.
Even though she's retired and living on Vancouver Island, her involvement with the real estate industry hasn't ended.
"I had a phone call today from a REALTOR® asking for help. I still get those calls," she said. "We do that for each other, even though it doesn't necessarily benefit you. You help each other."
"It's that kind of atmosphere. You're all self-employed and vying for the same business, but all there to help each other and make sure you're respected as an industry – that the reputation of the industry is as good as it can be. Everybody tries to help each other out and support each other."
Tagged: 55 years of calgary real estate | Alberta Flood | benchmark price | Calgary Flood | Calgary Real Estate | Calgary Real Estate News | CREB President Becky Walters | CREB® | CREB® Chief Economist Ann-Marie Lurie | flood | High River | listings | migration | past presidents | REALTORS | sales | Uncategorized | YYCRE
---
---
Connect With Us