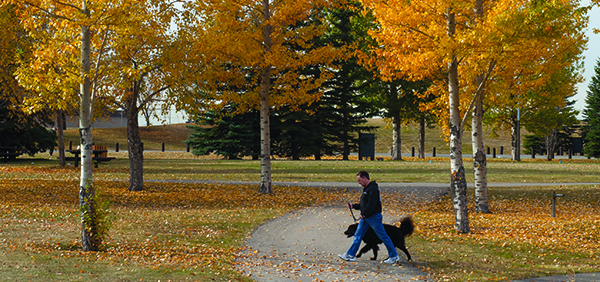 Oct. 16, 2014 | Cody Stuart
Keeping pace
Affordability driving sales growth in Airdrie, Cochrane and Okotoks
Calgary's surrounding communities and their respective residential resale housing markets are continuing their torrid pace in 2014, with 4,449 homes overall exchanging hands for the first nine months of the year, a 26 per cent increase compared with 2013, according to CREB®.
Airdrie, Cochrane and Okotoks all saw double-digit sales growth on a year-over-year basis. "After the first three quarters of the year, sales activity continues to climb at a good pace in surrounding communities," said CREB® president Bill Kirk. "Many of these areas offer a lifestyle choice that appeals to consumers, with home prices that are generally more affordable."
Unlike Calgary, where the year-over-year benchmark price for a single-family home was up by 10.5 per cent in September, price growth in surrounding towns has remained relatively subdued. On average, the year-over-year single-family benchmark price in all surrounding communities was up by only 8.5 per cent for the third quarter to $379,133 compared to $512,800 in Calgary.
In the third quarter, typical single-family home prices in Airdrie, Cochrane and Okotoks were 32, 15 and 18 per cent lower, respectively than in Calgary.
"Low interest rates, rising wages, positive net migration and tight market conditions in Calgary continue to support the demand for growth in the regional resale housing market this year," said CREB® chief economist Ann-Marie Lurie. "As supply levels for homes priced under $400,000 in the single-family market have declined in Calgary, many consumers are considering their options in surrounding areas."
Broken down by community, Airdrie is on pace for a record year after the city posted its best third quarter ever. Sales activity totaled 455 units between July and September, a 16 per cent jump relative to last year, with year-to-date sales increasing by 28 per cent to 1,354 units.
While sales in Okotoks declined by six per cent in the third quarter to 198 units, year-to-date activity remains
15 per cent above the first three quarters of last year, with the decline largely attributed to record levels reported during the same period last year.
And in Cochrane, sales continue to outpace gains in new listings, supporting price gains and pushing inventory levels and months of supply down. Sales during the third quarter increased to 203 units, a 19 per cent increase compared to last year.
Tagged: Airdrie | Calgary Real Estate News | Cochrane | Okotoks | Real Estate | Surrounding Towns
---
---
Connect With Us