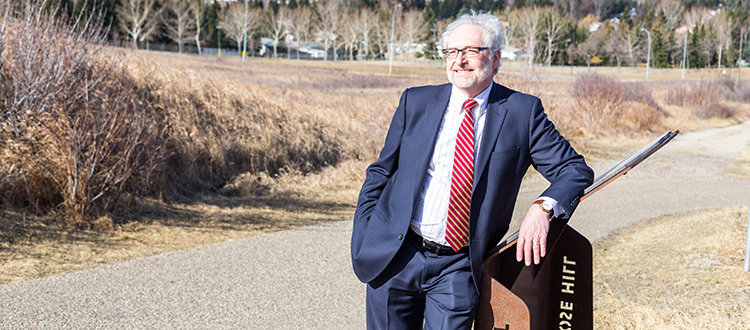 Bill Kirk said despite signs of change on the horizon, Calgary's real estate industry enjoyed a robust year in 2014, with sales increasing by double digits. Photo by Michelle Hofer/For CREB®Now
Aug. 08, 2016 | Cailynn Klingbeil
55 Years of Real Estate: 2014 CREB® president Bill Kirk
Signs of economic hardship started to reveal themselves by the end of 2014, recalled then-CREB® president Bill Kirk
While the true severity of the economic slump currently dominating headlines had yet to been felt in 2014, Bill Kirk said the writing was already on the wall by the end of his tenure as CREB® president.
Oil production in the Middle East had just started to ramp up, prices for a barrel had started to fall and jobs in Calgary were suddenly in question, he recalled.
"By the end of 2014, there was talk of an oil glut," said Kirk. "We knew there would be fallout ... (but) no one knew what would happen.
"We were all surprised at how slowly through 2015 the bad news hit."
That uncertainty by year's end stood in contrast to the start of 2014, in which both the economy and real estate market in Calgary were going strong. By year's end, the benchmark price had increased by 10 per cent to $452,367, while sales jumped by nine per cent to 25,543 transactions.
"It was a very good year," said Kirk, who, before becoming a real estate professional, worked in the airline industry for 27 years. "It was a very busy year and the market was still climbing."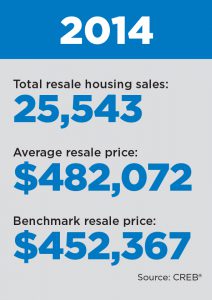 Tight market conditions existed for much of 2014, particularly in the single-family market. Housing demand was fuelled by several factors that year, including an inflow of people to the province, strong gains in employment and tight rental conditions, said CREB® chief economist Ann-Marie Lurie.
Calgary's condo market further fuelled housing demand in 2014, being driven by consumers looking for more affordable housing alternatives. Price advantages also led consumers outside Calgary to satellite communities such as Airdrie, Cochrane and Okotoks, said Lurie.
The MLS® System also went through a notable change in 2014, with residential rental listings being added to the database for the first time. A minimum of 135 fields had to be answered before a listing could be loaded on the system, providing what Kirk described as much-needed "comprehensive details" for renters at a time when the city's vacancy rate hovered around one per cent.
Elsewhere in the industry that year, the provincial government completed a long-overdue overhaul of Alberta's condo law, which had remained virtually untouched since being written
in 1969.
Bill 13, the Condominium Property Amendment Act, was passed in the Alberta legislature in December. Changes included improved protection for purchasers, improved protection for existing owners, enhanced board transparency and accountability, raised standards in the condo management sector and enhanced dispute resolution.
For Kirk personally, one of the biggest issues he remembers addressing in 2014 was the fallout of a news article reporting a so-called "stigmatized property" for sale.
The house, in the northwest community of Brentwood, was the site of a mass homicide three months earlier, in which five University of Calgary students – Lawrence Hong, Joshua Hunter, Kaitlin Perras, Zackariah Rathwell, and Jordan Segura – were fatally stabbed at a house party. (Earlier this year, Matthew de Grood was found not criminally responsible in the stabbing deaths.)
The public listing for the house did not mention the events that had occurred inside, sparking a citywide conversation around stigmatized properties and what real estate professionals should have to reveal. In multiple media interviews, Kirk sought to explain that, without approval from home sellers, real estate professionals are prohibited from disclosing details about stigmatized properties when there defects do not exist. Examples can include a property that was the scene of a major crime, was previously vandalized or a former grow-op that has been remediated.
In the case of the Brentwood property, private notes were written between the real estate professionals that disclosed the home's history.
"I did seven interviews in a row, explaining how it worked and why the premise of duping the public was not true. The REALTOR® did everything they were supposed to do," Kirk said.
Tagged: 55 years of calgary real estate | Airdrie | benchmark prices | Bill 13 | Brentwood Home | Calgary Real Estate | Calgary Real Estate News | Cochrane | Condo Act | Condos | CREB® President Bill Kirk | Economy | employment | Okotoks | past presidents | Rent | rental | renters | sales | stigmatized | Uncategorized | YYCRE
---
---
Connect With Us