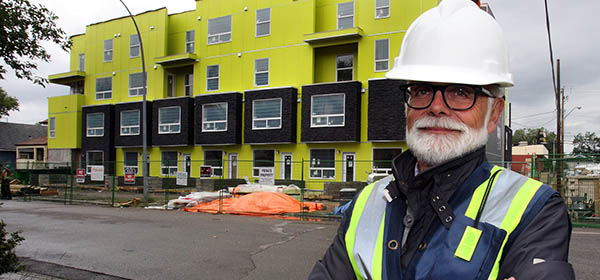 Attainable Homes CEO David Watson stands outside of the not-for-profit organization's Mount Pleasant 1740 project. Watson said local agencies like his are being forced to be more creative in addressing the city's affordable housing needs. Photo by Wil Andruschak, for CREB®Now.
July 28, 2015 | Barbara Balfour
Outside-of-the-box look at affordable housing?
From shipping containers to crowd funding
A continuous decline in affordable housing, along with an increase in the populations who need it, is forcing Calgary agencies to seek creative solutions.
"I'm looking for anything that can help us provide housing in a more economical way," said David Watson, president and CEO of
Attainable Homes Calgary
, a not-for-profit that helps Calgarians at a moderate income level get on the property ladder. "The more ideas we can bring to the table to reduce the costs of houses, the better."
The citywide benchmark price for homes in Calgary in June totaled $455,400, a figure that puts housing firmly out of reach for many vulnerable Calgarians.
Meanwhile, the average rent for a two-bedroom apartment in the city rose by almost six per cent in the 12 months leading up to April 2015, according to Canada Mortgage and Housing Corp.
To address the crisis, Watson's organization is looking at all its options, including repurposing surplus shipping containers from China that are brought in by rail from Vancouver to Alberta. Carstairs-based Blocks Modular, for example, is currently turning the containers into stackable living spaces at a fraction of the cost of traditional homes.
"Those containers are used only once and there's nothing in Alberta to fill them up with to send back to China, so they just get stacked up here," said Watson.
"We had a company in Calgary give us a presentation on what they could do with them; they have already built a two-storey hotel in Ontario, which was fabricated here and transported by truck, at a way better price than if they had used nails and wood."
Watson is referring to
Ladacor
, which operates a plant in Saddleview Industrial Park. The company's proprietary Advanced Modular System made headlines earlier this year when it was used to construct a 60-room Days Inn hotel in northern Ontario.
Meanwhile, other organizations are turning to alternative financing options such as crowd funding to address affordable housing needs. Last month, Pittsburgh-based not-for-profit cityLAB announced an online fundraising campaign to raise $100,000 so it could build a 350-square-foot home in that city for buyers who otherwise can't afford traditional housing options.
It's part of a larger initiative called Smart Change that
cityLAB
describes as "one of a new breed of equity crowdfunding platforms."
While affordable housing crowd funding is not currently being pursued in Calgary, Watson did not preclude it as a future possibility.
"We need to look at other avenues of financing, too, but with the existing market in Calgary, banks can be fairly conservative in terms of trying new things," he said. "They worry about risk and return for investment, which can make substantial progress much more difficult."
Other officials in the industry say crowd funding is not sustainable and furthers a charitable model not suited to what should be considered a universal human right.
"Crowd funding has been successful for emergency-based response campaigns like the tsunami or for personal stories that tug at the heartstrings," said Jeff Dyer, executive director of Accessible Homes, which works with clients with limited mobility and encourages both developers and homeowners to build with accessibility in mind.
"Mental health and drug addiction are hard pictures to put on the front page of a crowd-funding campaign. The reality is, 'Joe' exiting the criminal justice system after a lifetime of trauma and abuse needs housing as much as a little girl who can't go to school because she's homeless.
"Everyone belongs in the community and everyone should have a home – and we're all responsible for making that happen. To do this, we need to move away from a purely charitable model, and work with corporate and government players who realize affordable housing is a societal investment."
Dyer's organization is doing just that as one of nine partner agencies raising $120 million by 2018 to build affordable rental housing for 3,000 vulnerable and homeless Calgarians. The unique collaboration, known as the
RESOLVE
campaign, is the first of its kind in the country.
"Donors and philanthropists were getting the same requests over and over again from groups in the city, and said we should start working together – so that's what we did," said RESOLVE spokeswoman Amy Hurst.
"We work with different vulnerable groups, but put our differences aside to fundraise and share best practices collaboratively. With 3,500 homeless people in Calgary, we realized that something substantial needed to happen."
While the campaign is currently focusing on individual and corporate donors, crowd funding could become a possibility closer to 2018, or once they've raised 80 per cent of their goal, said Hurst.
"We've never done something like that before, but it it's something Calgarians say they want, we could consider it," she said.
"There is some controversy with crowd funding in terms of meeting Canada Revenue Agency guidelines, but we've also seen it move a city like nothing else. Look at the ice bucket challenge – there are elements of it that are quite exciting and can bring a large group together."
Tagged: Affordable Housing | Attainable Homes Calgary | Calgary Homelessness | Calgary Real Estate News | crowd funding | RESOLVE
---
---
Connect With Us