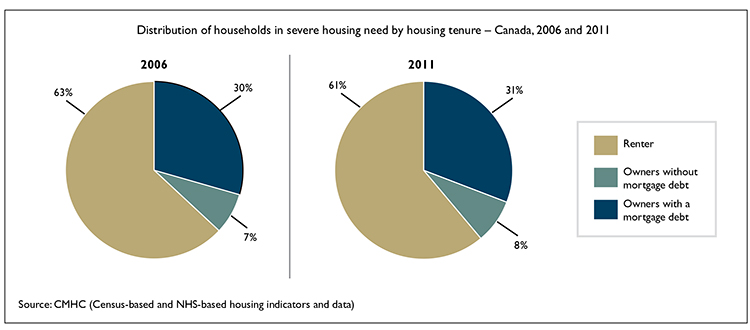 March 11, 2016 | Cody Stuart
5 things about housing needs
CMHC paints sobering picture of in-need housing
Canada Mortgage and Housing Corp. (CMHC) recently released a report on "core housing need" in Canada that paints a sobering picture for those in need in this country.
CREB®Now
takes a closer look at the report, which focuses on households that spend in excess of 50 per cent of their income on shelter.
5.3%
From 2006-11, the incidence of Canadian households in severe housing need increased, reaching 5.3 per cent, or 655,380 households – consistent with 2001 levels. Shelter costs for all Canadian households during this period increased more rapidly than household income before tax, which could partially explain the increase in the number and percentage of households in severe housing need during this period, said CMHC.
4.8%
In Calgary, the percentage of households in severe housing need in 2011 was 4.8 per cent, a 0.8 per cent increase over 2006 levels. Vancouver, which has recently been singled out as Canada's most expensive city with average house prices in excess of $1.3 million, topped
the list at 7.6 per cent, followed by Toronto at 7.4 per cent.
1 in 3
Despite mortgage loan approval criteria to prevent any household from spending 50 per cent or more of its income on shelter costs, slightly more than one-third (39 per cent) of households in severe housing need owned their homes. Of that percentage, 31 per cent were carrying a mortgage, with eight per cent free of mortgage debt. However, the majority (61 per cent) of Canadian households in severe housing need in 2011 were renters, according to CMHC.
$1.9 billion
The federal government is investing more than $1.9 billion in affordable housing over eight years. Provinces and territories are cost-matching the federal investment, with an additional $100 million over two years (2013-2015) from federal government to support new affordable housing in Nunavut.
12.7 per cent
Of the household types living in severe housing need, those whose primary maintainer was a recent immigrant had the highest percentage at 12.7 per cent. In households with just one person, the percentage living in severe need was 10 per cent in 2011. In single-parent households, the percentage spending in excess of 50 per cent on shelter was 9.6 per cent.
Tagged: Affordable Housing | Calgary Real Estate | Calgary Real Estate News | Canada Mortgage and Housing Corporation | CMHC | Mortgage | Uncategorized | YYCRE
---
---
Connect With Us