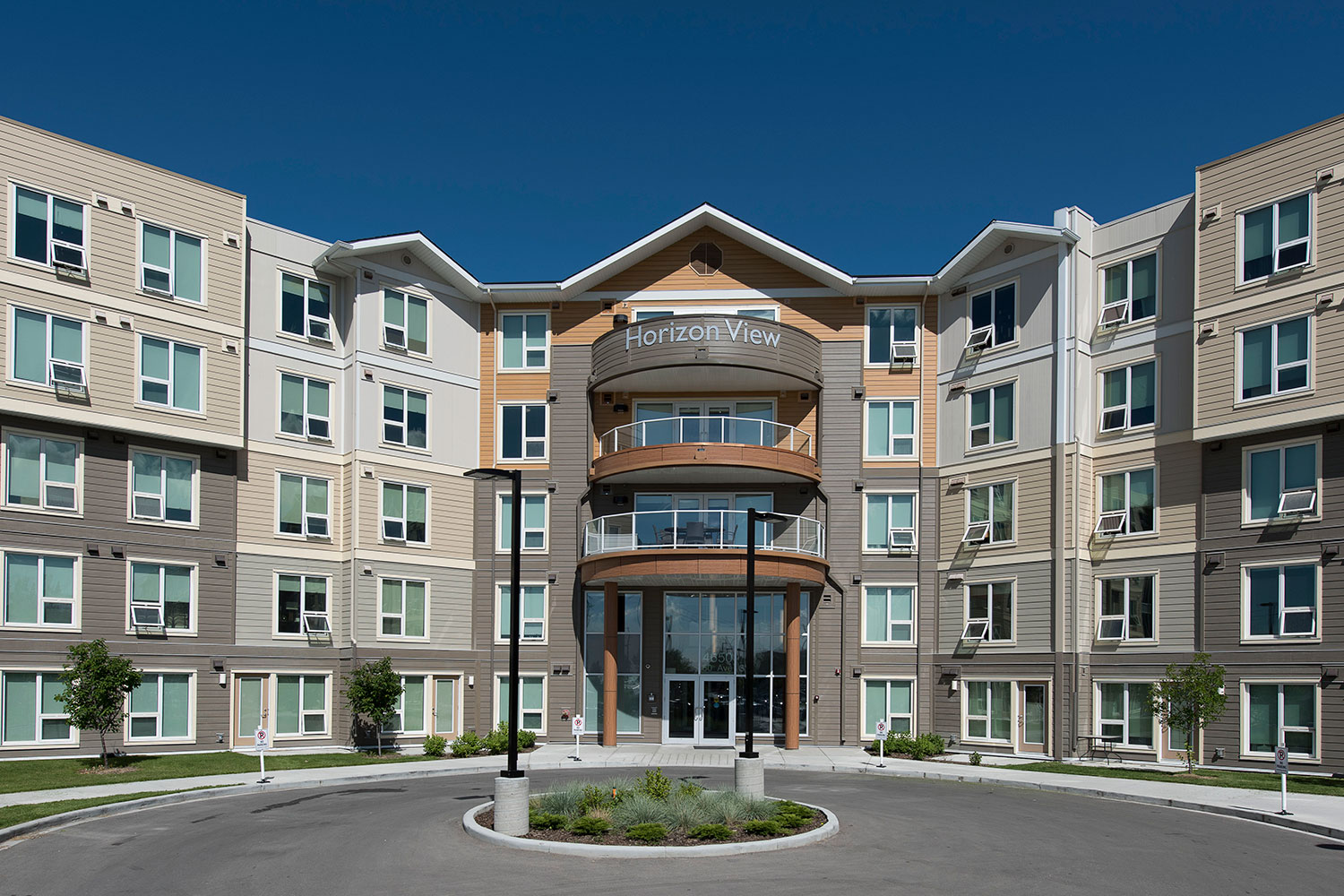 Horizon Housing's 210-unit Horizon View in Glamorgan is Calgary's largest affordable housing development built in the last decade. Courtesy of Horizon Housing
July 27, 2020 | Natalie Noble
COVID-19 pandemic highlights Calgary's need for affordable housing
Now that the phrase "go home and stay home" has become 2020's mantra, the importance of affordable housing in Calgary is greater than ever. After all, what does "stay home" mean for those do not have a home or live in unhealthy conditions?
At least 17,000 rental household dwellers around the city earn under $30,000 per year, spending more than half their income on rent. On top of that, 3,000 people spend their nights in shelters or other transitional accommodations around the city.
"During this pandemic, homelessness and the lack of affordable housing really has come to the forefront," said Martina Jileckova, CEO of Horizon Housing. "We have always known that there is a strong link between housing and health. COVID-19 really underscored this."
Susan Sanderson, co-ordinator of capital development for affordable housing with the City of Calgary, agrees.
"We're always in need for affordable housing, but the COVID-19 pandemic has further highlighted this urgent, ongoing need for safe and secure housing," she said. "We still need an addition of approximately 15,000 more new affordable housing units to continue to help people remain healthy, stay safe and deal with these trying times."
With that in mind, the recent completion of two affordable housing communities in the city could not have come at a better time.
"We have always known that there is a strong link between housing and health. COVID-19 really underscored this." - Martina Jileckova, Horizon Housing
Horizon Housing's 210-unit
Horizon View
in Glamorgan is Calgary's largest affordable housing development built in the last decade. A combination of townhomes; one-, two- and three-bedroom units; accessible and adaptable units; as well as group-home-style pods with 24/7 care address a variety of challenges Calgarians of all ages may be facing.
Leasing is already half complete and expected to finish up by early September. "We're really focusing on building a community," said Jileckova. "As we onboard our new residents, we want to ensure they are building a community based on the principles of respect, care and community."
Jileckova says the Horizon View project was completed on budget and ahead of schedule, in partnership with builder Westcor and the RESOLVE Campaign. It also required collaboration with governments at the federal, provincial and municipal levels.
"It took a community to raise these walls," she said.
To the north, the City of Calgary's
Rosedale affordable housing development
provides 16 one-, two- and three-bedroom homes, as well as barrier-free units to accommodate families and individuals on lower or fixed incomes.
The new community creatively makes use of leftover land parcels from the widening of 16
th
Avenue N.W. The location also meets affordable housing criteria, including proximity to groceries, schools, open spaces and sources of employment.
"Things are going really well," said Sanderson. "We have some families and residents already moving into the units and they'll continue to move in through the coming weeks and months."
The City is especially pleased with the project's commitment to integration between the new and existing communities. Local architectural firm Formed Alliance Architecture Studio (FAAS) played a key role in engaging residents of Rosedale and adjacent communities to design homes that are unique, while still fitting the aesthetic of the streets where they're built.
Tagged: accessibility | affordability | Affordable Housing | Calgary | Calgary Real Estate | Calgary Real Estate News | Calgary Real Estate News | City of Calgary | Coronavirus | COVID-19 | COVID-19 | FAAS | Feature | Glamorgan | Health | homelessness | Horizon Housing Society | Horizon View | housing | Rent | RESOLVE Campaign | Rosedale | Westcor
---
---
Connect With Us