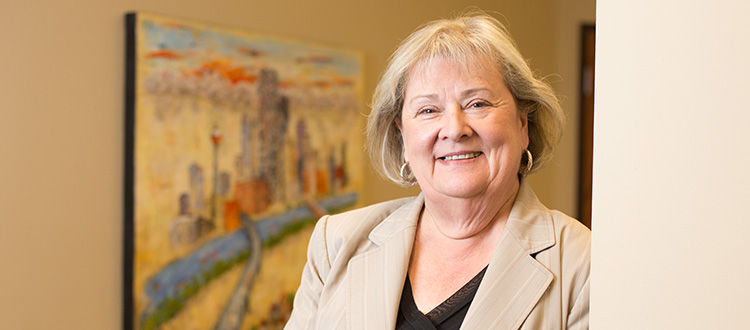 Canadian Home Builders' Association-Alberta CEO Donna Moore said one of the organization's top concerns when it comes to the development of a national housing strategy is to address affordability for first-time buyers.. Photo by Adrian Shellard/For CREB®Now
Dec. 02, 2016 | Barb Livingstone
Future of housing
Stakeholders say Alberta can't be overlooked when creating national strategy
As the federal government moves closer toward a national strategy on housing, key Alberta stakeholder groups say recognition of different local and regional challenges is critical to any policy changes.
"We are encouraged the federal government is doing this, but we are hoping its actions will be localized," said Kevin McNichol, vice-president of strategy for the Calgary Homeless Foundation, leader of the city's plan to end homelessness.
"In Calgary, we have the highest median income in the country, so it might be easy to overlook us. But we also have the lowest rate of affordable housing in Canada."
He added the federal strategy, "can't be 'one-size-fits-all.'"
Over the course of four months this year, Canada Mortgage and Housing Corp. (CMHC) collected Canadians' input on a housing strategy that resulted in a just-released 66-page What We Heard: Shaping Canada's National Housing Strategy.
It details Canadians' priorities of increasing supply, and reducing costs, of affordable housing, as well as improving living conditions for the most vulnerable, including the homeless, seniors, newcomers and Indigenous Canadians.
Consultations included social advocates, academics, planners, private housing providers and more than 7,000 individual Canadians – through online surveys and social media — in all age groups.
Part of the consultation processed included nine stakeholder events in seven Alberta communities.
"The strategy is meant to look at everything from homelessness, all the way to home ownership, across the continuum, "said Michel Tremblay, senior vice-president policy, research, public affairs for CMHC.
The strategy background document points to:
• Housing prices that, over the last 15 years, grew three times as fast as incomes;
• 12.5 per cent of Canadians who in 2011 needed core housing;
• More than 150,000 people staying annually in emergency shelters, and;
• The three-quarters of Canada's rental buildings that are 30-plus years old.
Recommendations include federal spending that incent property owners to provide subsidized housing, supporting young families in first home purchases, rent caps, low-cost financing and investment for social housing and rehabilitation of declining rental properties.
Tremblay said CMHC will continue stakeholder discussions, and then submit a proposed policy paper to the minister of Housing.
The Liberal government plans to release its strategy in early 2017.
Some Canadian Home Builders' Association-Alberta officials are also concerned each region's needs be addressed. The national organization was a consulted stakeholder.
"Our top concern is the rising cost of housing and especially the struggle many young Albertans face when trying to buy their first home," said CHBA-Alberta CEO Donna Moore.
While the issue isn't unique to Alberta, she said the province has the youngest population in Canada with a median age of just 36.3 years
– four years younger than the national average.
The housing strategy should also recognize more than 94 per cent of Canadians live in housing provided by the private sector, said Moore.
"Our goal should be to help more people join that group, rather than increasing the need for public subsidies, through policies that add to the cost of housing and home ownership," she said.
"Reducing access of young families and groups such as new Canadians to homeownership also has negative ripple effects in the rental market and increases the waiting lists for social housing."
CHBA noted all levels of government are already impacting affordability, from recent federal mortgage insurance requirements (implementing "stress tests" on anyone wanting insurance even when they have more than a 20 per cent deposit), a new provincial energy efficiency building code adding up to $5,000 to the cost of a new home and municipalities looking at increasing, or adding, development levies.
The homebuilders' organization has submitted several recommendations to improve affordability, such as:
• Providing 30-year amortization periods for well-qualified first-time buyers for homes under $500,000;
• Easing pressure on municipalities to increase development levies by paying 50 per cent of infrastructure projects;
• Giving tax benefits for building rental properties;
• Reviving the energy retrofit homes program, and;
• Providing renovation tax credits.
Tagged: Affordable Housing | Calgary Real Estate | Calgary Real Estate News | Canada Mortgage and Housing Corporation | Canadian Home Builders Association | CHBA | CMHC | donna moore | homebuilders | household income | Housing Prices | National Housing Strategy | rental | Uncategorized | YYCRE
---
---
Connect With Us