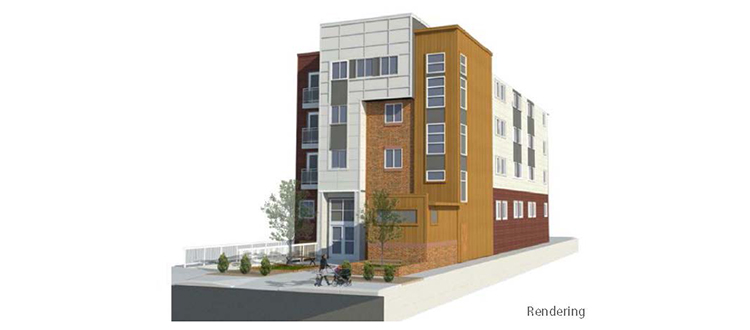 March 11, 2016 | CREBNow
RESOLVE's Stepping Stone Manor nears completion
Beltline assisted-living building first for campaign
Calgarians at risk of homeless will soon have added housing options, with the news that Stepping Stone Manor, a 30-unit assisted-living apartment building in Calgary's Beltine, is near completion.
Representing the first new construction project to be completed through the RESOLVE campaign, the building has funded by donors, provincial grants and built by Cedarglen Living Inc.
"This building has set the momentum for the campaign," said RESOLVE executive director Sheryl Barlage. "The completion of Stepping Stone Manor brings us another step closer to RESOLVE's goal to provide affordable and supported rental housing for 3,000 of our city's homeless and vulnerable citizens."
The building, located at 222 15th Ave. S.W., will offer 30 future tenants stability, security and a place to call home.
RESOLVE's mission is to raise $120 million to building affordable, sustainable housing for 3,000 homeless and vulnerable Calgarians. It has partnered with several agencies across Calgary, including the Calgary Homeless Foundation, Horizon Housing Society and the Mustard Seed.
"Since this project's inception, we have felt extremely welcomed by the Beltline community," said Calgary Homeless Foundation president and CEO Diana Krecsy. "We look forward to giving people a safe and affordable place to call home, where they can work towards living more stable, healthy and vibrant lives."
For more information, visit
www.resolvecampaign.com
.
Tagged: affordable living | assisted living | Beltline | Calgary Homeless Foundation | Calgary Homelessness | Calgary Real Estate | Calgary Real Estate News | Rent | rental | renting | RESOLVE | Uncategorized | YYCRE
---
---
Connect With Us