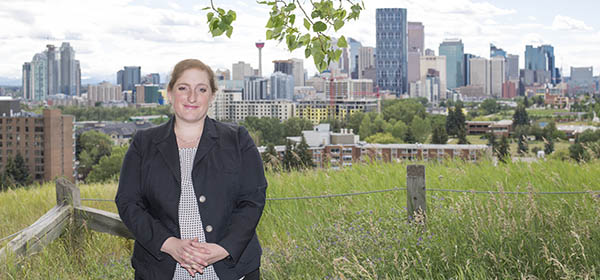 Often-overlooked statistics such as months of supply and sales-to-new-listings can be key indicators of what's really going on in the housing market, says CREB® chief economist Ann-Marie Lurie. CREB®Now file photo.
July 31, 2015 | Cody Stuart
Where we're going . . .
Outside factors will impact housing market through 2016
With the sun in Calgary rising and falling relative to the price of a barrel, it should be no surprise that the city's real estate market will continue to be impacted by economic realities beyond its control, say housing analysts.
Following a first half that can best be described as turbulent, the remainder of 2015 looks to bring more of the same for the city's housing market, with CREB®'s mid-year forecast update suggesting decreases across the board, including moderate price contraction.
"Further job losses are expected in the second half of the year," said CREB® chief economist Ann-Marie Lurie.
"These employment changes, combined with overall weakness and slower-than-anticipated recovery of oil prices, are expected to keep housing demand relatively weak for the rest of 2015.
However, with the initial shock of oil price declines having dissipated, the pullback in sales activity in the second quarter is not expected to be as dramatic as the first part of the year."
Overall, CREB® expects sales in Calgary to pull back to 19,780 for the year. While the decline would represent a 22 per cent drop from 2014, the level of activity would only signal a six per cent drop from the five-year average.
Despite sales declines, CREB®'s outlook only calls for a slight pullback in pricing, with benchmark prices forecast to fall to $448,354 – a drop of just 0.2 per cent when compared with the previous year.
According to CREB® president Corinne Lyall, the lack of a more significant decline in prices has left some Calgarians waiting for the other shoe to drop.
"Some buyers have the expectation that they will get significant price reductions in this market, but that's not always the case," she said.
"In some areas, supply levels are more balanced with demand and that creates price stability. On the other hand, in most situations, it will be the sellers who need to adjust expectations, particularly if they have to compete with a large amount of comparable product in the neighbourhood."
Helping to alleviate pressure on the resale housing market will be a reduction on the number of new homes being built in the city. Year-to-date single- and multi-family starts have contracted by 31 and 24 per cent, respectively.
The value of new residential permits – which serve as an indicator for future construction – also declined by 20 per cent from last year.
Despite the pullback, new home prices have seen minimal declines, dropping by just 0.5 per cent between February and June of 2015, according to Statistics Canada.
"Today's new housing price numbers confirm that even in the face of an economic downturn, Albertans should still have confidence in our province's housing market," said ATB economist Nick Ford. "Even though new home prices have gone down in Calgary, the decline has been small. Looking ahead, it's still apparent that homebuilders see Alberta as a profitable place to conduct business."
Provincially, the Canadian Real Estate Association's (CREA) forecasts an 18.2 per cent drop in resale housing activity, and a 2.8 per cent drop in prices in 2015.
"Ultimately, what happens to prices will depend on supply levels and how much they go up or down against demand," said Lurie. "The duration of this economic downturn and the resulting job loss will determine which direction supply will go in the months ahead."
Tagged: Calgary Real Estate News | Corinne Lyall | CREB® Chief Economist Ann-Marie Lurie | Economy | Housing Market | mid-year forecast | Residential | Statistics | Statistics
---
---
Connect With Us