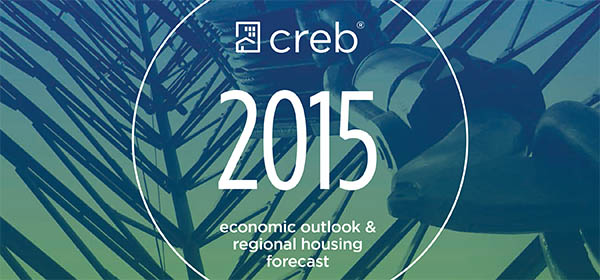 CREB 2015 Economic outlook and regional housing forecast
July 29, 2015 | CREBNow
Housing prices to ease in second half, CREB® forecasts
Prices expected to remain stable
Continued weakness in housing demand will limit downward pressure on supply levels and cause prices to ease in the second half of the year, CREB® said in its 2015 mid-year forecast. Despite this anticipated retraction, Calgary's benchmark prices are only expected to decline by less than one per cent on an annual basis.
"Further job losses are expected in the second half of the year," said CREB® chief economist Ann-Marie Lurie. "These employment changes combined with overall weakness and slower than anticipated recovery of oil prices is expected to keep housing demand relatively weak for the rest of 2015. However, with the initial shock of oil price declines having dissipated, the pullback in sales activity in the second quarter is not expected to be as dramatic as the first part of the year," said Lurie.
Overall sales activity in the city of Calgary is forecasted to total 19,780 in 2015, a 22 per cent decline relative to last year, but only six per cent lower than average activity over the past five years.
Dramatic swings in new listings during the first half of the year caused inventory levels to rise, but by June, they remained below previous highs. Over the second half of the year, inventory levels traditionally ease as we move toward the fall and winter markets. However, this year housing supply levels are expected to remain relatively elevated due to improved selection in the rental markets, completion of projects under construction, and an easing in the rate of decline in resale new listings.
While some price moderation is expected moving forward, it should be noted that it's not going to be the double-digit decline that some have suggested. In part, this is related to the limited supply in the market moving into this next cycle. Also, the forecasted pullback in employment and migration is not going to be as severe as what occurred last time we recorded significant price declines. The City of Calgary residential benchmark price is expected to average $448,354 for 2015, a modest 0.20 decline over the previous year.
"It's a two sided coin when talking about pricing for buyers and sellers," said CREB® president Corinne Lyall. "Some buyers have the expectation that they will get significant price reductions in this market, but that's not always the case. In some areas, supply levels are more balanced with demand and that creates price stability. On the other hand, in most situations, it will be the sellers who need to adjust expectations, particularly if they have to compete with a large amount of comparable product in the neighbourhood."
While slower demand is impacting all sectors of the market, the apartment sector is expected to record the largest pull-back in both sales and price growth in the second half. Challenges in this segment are linked to the rising supply in competing markets. There is more selection is the detached and attached segments, which makes it difficult to attract buyers. Sellers also faced added competition from new apartment units and increased selection in the rental market.
Meanwhile, activity in the detached segments will continue to vary based on price and location. Continued weakness in demand relative to supply levels, particularly in the higher price ranges, are expected to cause aggregate detached benchmark home prices to decline in the second half of this year. However, annual prices are expected to remain relatively unchanged compared to last year. Overall, detached sales are expected to total 12,105 units in 2015, a 19.8 per cent decline over last year.
"It's important for active housing consumers to understand what type of comparable property is available by product type, community and price range," said Lyall. "While some degree of competition exists in every market condition, most sellers in the current environment will need to take extra care in setting realistic expectations to attract a good crop of potential buyers. This kind of smart pricing may encourage buyers who are sitting on the sidelines to consider entering the market if they are in a position to do so."
As with any market forecast, there are several factors that could influence the outlook. On the upside, if there is no further deterioration in the economic climate, it's possible that the pullback in housing demand could be less severe. In this scenario, potential buyers who are in the market may decide to take advantage of higher supply levels and overlook short-term risks in favour of the positive long-term outlook. This possibility could keep market conditions relatively balanced in the second half and prevent any further price declines.
"Ultimately, what happens to prices will depend on supply levels and how much they go up or down against demand," said Lurie. The duration of this economic downturn and the resulting job loss will determine which direction supply will go in the months ahead."
To download a PDF of the full CREB® mid-year forecast update, click
here
.
Tagged: Ann-Marie Lurie | buyers | Calgary Real Estate News | Corinne Lyall | Economy | Housing Market | mid-year forecast | Residential | sellers
---
---
Connect With Us