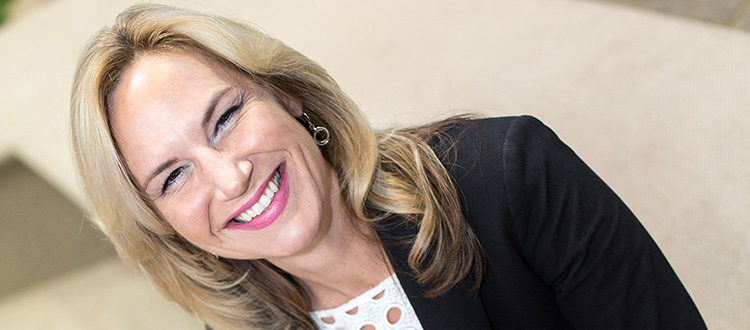 Corinne Lyall said changing market conditions benefited the buyer when she was CREB® president in 2015. Photo by Michelle Hofer/For CREB®Now
Sept. 14, 2016 | Cailynn Klingbeil
55 Years of Calgary Real Estate: 2015 CREB® President Corinne Lyall
Former CREB® president Corinne Lyall focused on different drivers behind housing market in 2015
Corinne Lyall is all too familiar with many of the challenges currently facing homebuyers and sellers in Calgary. She served as CREB®'s president just last year when the economic downturn was arguably at its strongest, is currently past president on the board of directors for the real estate member organization and is broker at her own firm Royal Lepage Benchmark.
Yet her message today is the same as it was when she had the gavel in hand: real estate is personal.
"I tried to have people understand how real estate is affected by the economy, but not in the way they think," said Lyall of her time as CREB® president, noting people make major decisions, such as buying a house or moving, for all sorts of reasons. Often lifestyle choices are at play, not necessarily just economic factors.
Nevertheless, Lyall said she found much of her time in 2015 was spent on trying to help people understand what was happening in the market.
"In the summer of 2014, we started seeing indications of oversupply [of oil]. And by the fall, we were seeing it affecting consumer confidence," she said.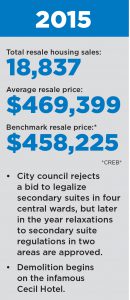 By January 2015, when Lyall took over as president, housing supply was adding up. Sales levels were more than 35 per cent lower than the 10-year average, while new listings increased by 39 per cent city-wide, causing inventory levels to rise.
"There are many reasons for consumers to list their home," Lyall said at the time. "One reason may be that consumers are concerned about what will happen to Calgary's economy and their personal exposure to this risk."
By year's end, sales had declined by more than 23 per cent to 18,830 transactions, while new listings balanced out over the year to end up down more than six per cent to 33,860 units.
"But we didn't see a drop in prices," said Lyall, noting the benchmark price actually was up by one per cent to $454,267.
Noted CREB® chief economist Ann-Marie Lurie at the time: "While aggregate prices trended down in 2015, it was not to the same extent as some had speculated. Supply levels were low moving into this cycle and thus provided some cushion to absorb the inventory gains."
Despite the grim economic outlook, buyers were still plentiful, noted Lyall.
"From 2012 to 2014, we had a large number of people migrate to Alberta," she said, adding vacancy rates were low, and there was plenty of product at that time within the single-family home market under $500,000.
"By 2015, buyers had the opportunity to purchase homes under $500,000. There was more choice and more inventory, and we're still experiencing that."
When she wasn't in front of a microphone in 2015, Lyall was in front of the camera. She joined business and community leaders across Calgary that year in a video message for In It Together, a popular social media campaign created by Jeff Bradshaw on dealing with the downturn.
In the video, Lyall spoke of scaling back in 2008, during another economic downturn, and re-evaluating the business plan for her real estate brokerage. "I think it's just a matter of looking for opportunities when times get tough," she said in the video.
In fact, Lyall, who moved to Calgary with her family from Montreal in the 1970s, has seen Calgary go through many different economic cycles and come out stronger in the end.
"To have those things happen and see the downtown revitalized has been really fun."
In particular, she points to Calgary's downtown, which, though the East Village redevelopment, has emerged to become a beacon of hope.
"It's been interesting the last few years to see the East Village finally grow, to see Calgary being recognized as a cultural capital of Canada, to see (Mayor Naheed) Nenshi declaring it the year of music," said Lyall. "To have those things happen and see the downtown revitalized has been really fun."
Lyall has worked in real estate since she was a teenager, for her mom's company, and received her licence in 1997. In the nearly 20 years she's been a licensed real estate professional, she's most excited about how technology is changing the way people do business.
"If REALTOR®'s embrace (technology) in an efficient way, we can be more productive," she said.
Consumers have similarly gone though many of the same changes in the way technology has altered the buying and selling experience, Lyall added.
"They can find everything they need online," she said "It hasn't replaced the agent, but what it's done is allowed consumers to do a ton of research before they connect with an agent. It doesn't eliminate the need for a professional though, to help them through the largest transaction they'll make."
Buyer's preferences have also evolved. In the last five years, Lyall says she has seen a shift to less need for space.
"People are sacrificing having lots of space for less commuting time, for being in a more walkable area, she said. "The mega mansion of the '90s is less desirable."
Lyall remains optimistic about Calgary's current situation as low oil prices continue to weigh heavily on the economy. Yet she points to one upside she's observed.
"The positive is there are real conversations around how we can diversity the economy. There's language I've never heard used before," she said.
Tagged: 55 years of calgary real estate | benchmark price | Calgary Real Estate | Calgary Real Estate News | Corinne Lyall | CREB® | CREB® Chief Economist Ann-Marie Lurie | Economy | Housing Market | new listings | past presidents | REALTORS | Technology | Uncategorized | YYCRE
---
---
Connect With Us