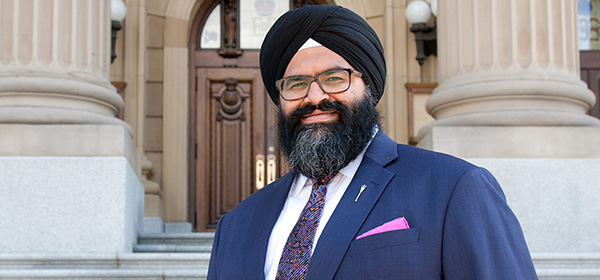 Manmeet Bhullar
Nov. 24, 2015 | CREBNow
CREB® mourns passing of Calgary MLA
The Calgary real estate community mourned the loss of Calgary MLA Manmeet Bhullar Tuesday.
"The Calgary Real Estate Board (CREB®) is very saddened by the sudden passing of MLA Manmeet Bhullar," the member organization said in a posting on its website. "Mr. Bhullar was a great friend to Alberta REALTORS® and a strong advocate for the average Albertan. During his time as Minister of Service Alberta, he took an important leadership role in initiating reforms to the
Condominium Property Amendment Act
for the betterment of the organized real estate industry and the home-buying public.
"Mr. Bhullar will remembered for his humour, passion, intellect and, above all, his dedication to public service. He will be greatly missed by all those who had the privilege of meeting and working with him. CREB® extends its condolences to Mr. Bhullar's family, friends and colleagues."
Bhullar, labelled as a rising star in Alberta's Progressive Conservative caucus, died Monday afternoon after he was struck by a vehicle on the Queen Elizabeth II Highway north of Red Deer, on his way from Calgary to Edmonton. He had stopped on the shoulder of the road to help occupants of another vehicle that had lost control and rolled into the median.


In a separate statement, Premier Rachel Notley praised Bhullar's work in the province. First elected in 2008, he also served as minister of Infrastructure and Human Services.




"It is with a heavy heart that we have learned of the passing of the Member of the Legislative Assembly for Calgary-Greenway, the Honourable Manmeet Bhullar. He was a loyal member of the Progressive Conservative caucus," said Notley.

"This is a terrible tragedy and our first thoughts are for Mr. Bhullar's family and loved ones, as well as his constituents, his caucus colleagues, Members of the Legislature, and the people of Alberta."


Tagged: Calgary Real Estate News | Condo Act | CREB® | Manmeet Bhullar | MLA | Rachel Notley | Service Alberta
---
---
Connect With Us