Marlene Swinton, who served as CREB®'s president in 2001, specialized in condos during much of her real estate career. Looking back, she recalled how the condo sector evolved from being a low-cost housing option to a popular lifestyle choice. Photo by Michelle Hofer/For CREB®Now
Sept. 29, 2016 | Cailynn Klingbeil
55 Years of Calgary Real Estate: 2001 CREB® President Marlene Swinton
Second career was a natural transition for 2001 CREB® president Marlene Swinton
After years of managing her late husband's architecture practice, Marlene Swinton was looking for a change.
"I wanted to do something different and my cousin said, 'why not real estate? You know buildings.' I thought it might be really interesting, so I took a course and I loved it," said Swinton, who went on to fulfill a 27-year-long career in the industry that included a term as CREB®'s president in 2001.
"To me it was a challenge. It was wonderful," adding she also liked that the field offered "equal pay for equal work."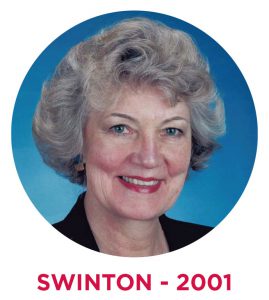 Swinton, now retired, was only the fifth woman to be president of the board when she took the gavel in 2001. Yet it was a sign of things to come, as women headed up the member organization for the next two years (Joyce Travis in 2002 and Rosalee Krygier in 2003). It marked the first time in the board's history women were consecutively at the helm.
A business focus throughout Swinton's career was condominiums. While now popular among homebuyers, Swinton remembers the concept of condo living was once unknown to many Calgary consumers.
"There had to be a process of education," she said, as people learned condos could be a lifestyle choice, instead of just a low-cost housing option.
Other trends happened, too, during Swinton's career: Empty-nesters started moving from the suburbs to downtown condos, while people moving to Calgary from other large urban areas, accustomed to condo living, embraced it here.
Developers also shifted, building condos with more square footage or smarter designs.
"We finally got buildings geared for living," Swinton said.
While progress was made in those areas, regulations didn't always keep up. In 2014, the provincial government introduced Bill 13: The Condominium Property Amendment Act, enhancing protection for condo owners. Yet Swinton did not believe the changes went far enough, arguing there still is a lack of responsibility from developers after the building has been occupied by buyers. If issues arise, buyers have little recourse, she argues.
"They did strengthen the act, but not nearly enough," said Swinton.
Just as the condo market has grown and changed, so too have buyers' preference, noted Swinton.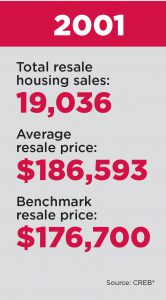 "Buyers are more knowledgeable now, which is wonderful," she said. "Another difference is I've noticed young people buying don't want to renovate. They want to walk in, and it to be perfect."
Such an attitude stood in contrast to Swinton's, whose familiarity with architecture led her to look at the shell of a house and imagine its potential. "One thing I had to learn was not to force my opinion on people, but to quietly suggest what they might do.
"I loved what I did. Making sure your client is cared for, and being knowledgeable – those are the most important things."Swinton remembers a bustling year during her time as president.
"It was busy. Not over the top, but it was a very solid year," she said. "The economy was good and there were lots of positive feelings in the air. It was a good year."
The year will perhaps always be most remembered for terrorist attacks on the World Trade Center and the Pentagon, which killed thousands of people on the morning of Sept. 11. While the horrific events caused economic uncertainty, especially in stock markets, little hesitancy was ultimately seen in Calgary's real estate market, said Swinton.
"We didn't see changes here," she said. "It was a shock, but there were no dramatic changes in the market."
In fact, Calgary's housing market stayed strong throughout the year, as interest rates declined and buyers remained confident.
While CREB®'s move from its long-time downtown location to Manning Road N.E. proved challenging the year before, Swinton remembers 2001 as uneventful, in a good way.
"It was a terrific time to be president. It was such a positive time," said Swinton, who was then a real estate professional with Re/Max Realty Professionals.
Tagged: 55 years of calgary real estate | Calgary Real Estate | Calgary Real Estate News | Condo Act | Condos | CREB® | Homebuyers | past presidents | REALTORS | Uncategorized | YYCRE
---
---
Connect With Us