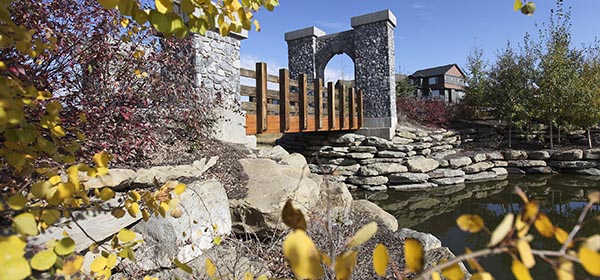 Melcor Developments coverted public space in its King's Hieghts development on Airdrie's east side into canals and bridges for community residents. Photo by Carl Patzel/For CREB®Now.
Oct. 19, 2015 | Carl Patzel
Placemaking in the satellites
Urban planners designing with public places in mind
Placemaking, the popular term coined by urban planners to address the management of public spaces, is slowly weaving into the fabric of Calgary's burgeoning satellite communities.
Local planners say the concept, once reserved for major metropolises, is becoming a focal point in the respective redevelopment of their existing spaces and development of new ones.
"It's a key element for us," said Tracy Corbett, manager of planning and sustainable development at the City of Airdrie. "We hear time and time again in our citizen surveys that parks and pathways come out number one on what people really value about Airdrie.
"There are not a lot of natural amenities – a river or a lake. So you have to work a little harder at creating great place and effective placemaking."
In addition to public art initiatives such as Artist's Alley on Main Street, Airdrie recently expanded a tree planting and flower bed program beyond downtown to include main arteries throughout the city of 58,690 residents.
The City has also continued to upgrade its park system, which now includes Fletcher, Chinook Winds and Nose Creek Park.
City planners are also bringing placemaking into their conversations with developers as they construct master-planned communities such as King's Heights in the southeast.
"Some put a lot of attention in that," said Corbett. "You can see that in King's Heights in how they've done their storm pond and theme. That really adds amenity to that."
The royally named 162-hectare Melcor Developments' community has maintained 30 hectares of green space that includes more than 10 kilometres of pathways that are highlighted by stone archways, benches, picnic table areas, two large ponds and a centralized amphitheatre.
With larger homes and smaller back yards, Melcor cognizantly placed a high value on the role that outdoor amenities play in fostering a sense of community says Trevor Sholdice, regional manager of Calgary West for the developer.
"It is often where neighbours have a chance to meet one another on a neutral and casual level," he said. "It also certainly provides kids with a place to socialize and burn off their abundance of unlimited energy.
"In a world of urban density, open spaces also provide a welcome chance opportunity, on a comfortable scale, for people to exhale and settle for some much needed stress relief."
Airdrie is not alone. Cochrane continues to follow historic guidelines established more than a decade ago that allow the growing town of more than 23,000 residents to maintain its small-town feel through public-place esthetics and community design.
Apart from established attractions such as the Centennial Plaza Legacy Statue and "Trust' Mural Mosaic project, the foothills-situated town has revamped several areas including the popular Riverfront Park, notes Tracy Brooker, manager of recreation culture and the arts for the Town of Cochrane.
"We've tried to use as much natural elements as possible from a beautification standpoint, blending in with the environment," she said.
"As we reaffirm some of our historic values, we look at ways that we can start to work together to meet the emerging needs of the community. That approach is really empowering the people and community to work together."
Currently, Cochrane is working on the Canada 150 Mural Mosaic project, which has local artists, children and residents painting more than 1,500, five-by-five inch tiles. To be completed in the summer of 2016, the 40-by-eight-foot mural will decorate an east-facing wall adjacent to a public gathering area and playground on a new structure near the Cochrane arena.
"Whether it's through an event or an art project, our motivator is to generate some community spirit, have the community come out and participate and interact together. It's a great way to do it through art," said Brooker.
Tagged: Airdrie | Calgary Real Estate News | Cochrane | Parks | pathways | placemaking | Public Art | Satellite communities
---
---
Connect With Us