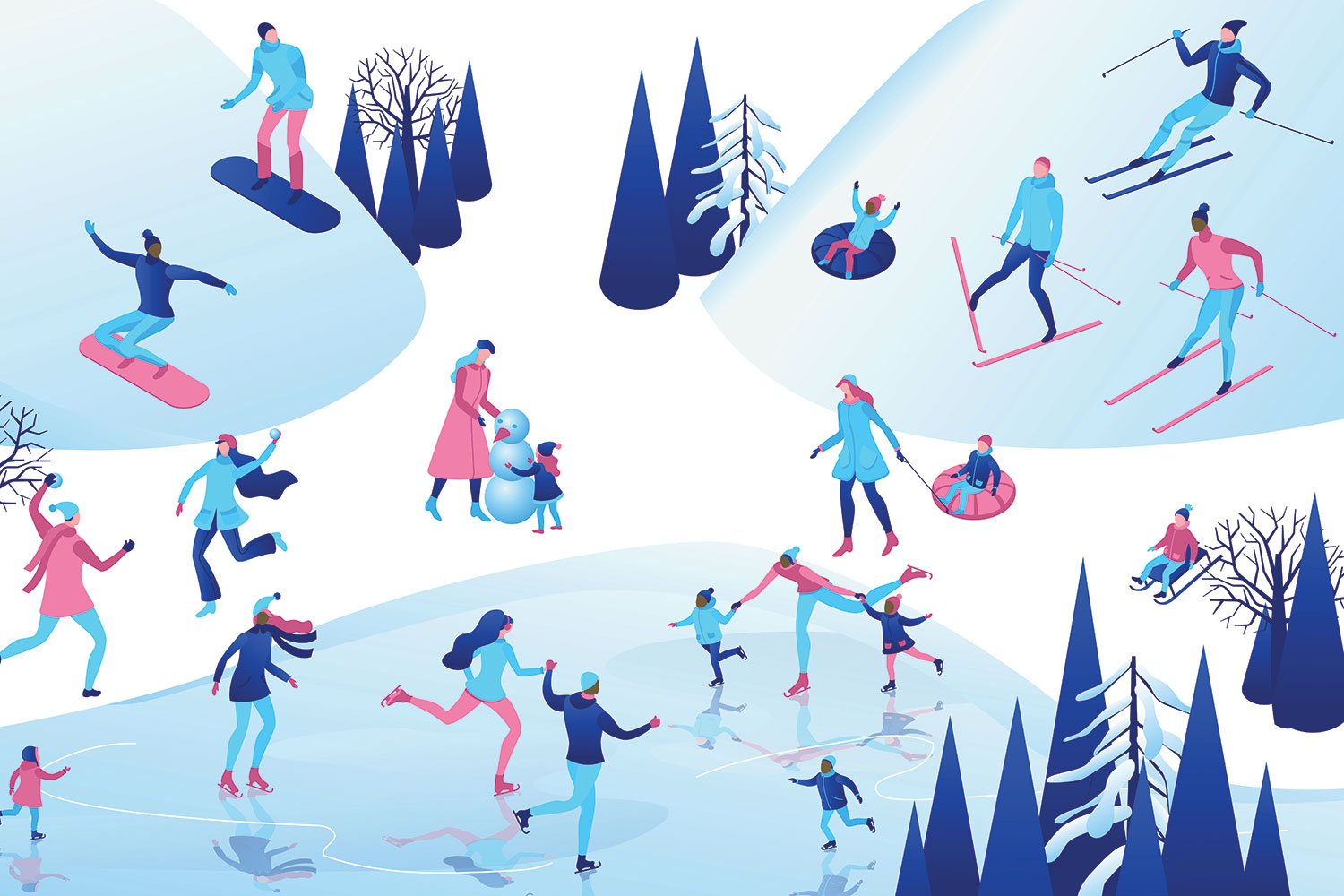 Getty Images
Oct. 07, 2020 | Tyler Difley
Frozen fun: outdoor activities for Calgary's COVID-19 winter
It's still only October, but thanks to COVID-19 and Calgary's fickle weather, it's time to start planning for winter. After a summer full of park picnics, patio meals and backyard hangouts, the arrival of cold weather and the wet stuff will require a pivot to winter-appropriate outdoor activities. And if the rush to snag home fitness gear and bikes this spring/summer was any indication, equipment for traditional winter sports might soon be hard to find.
Here are a few ways you can stay active and social in and around Calgary this winter:
Downhill skiing/snowboarding
I'm sure longtime skiers and snowboarders are already fantasizing about bluebird days in the Rockies this winter, but if you're interested in hitting the slopes for the first time, this could be a great year to start. Several resorts offer discounted season passes if you buy early and a variety of new COVID-19 measures at the hills should keep riders safe and happy.
Where:
WinSport
,
Sunshine Village
,
Lake Louise Ski Resort
,
Nakiska Ski Area
,
Mt. Norquay Ski Resort
and more
Equipment:
Ski Cellar Snowboard
,
Ski West
,
Abom Ski and Board
,
MEC
,
Sporting Life
,
Outlaw Sports
,
Play it Again Sports
,
Sports Rent
,
University of Calgary Outdoor Centre
Cross-country skiing or snowshoeing
If you like the idea of downhill skiing, but you would prefer a slower pace and less potential for injury, cross-country skiing could be for you. You won't have to go far, either, since Calgary is home to several groomed and ungroomed ski areas during the winter that are free for everyone to enjoy. There are also scenic ski areas in and around Canmore, Banff and Kananaskis.
With a minimal learning curve and inexpensive equipment, snowshoeing is also a great winter activity for Calgarians of all ages, whether you're an expert or beginner. Like cross-country skiing, you can snowshoe in any of Calgary's parks, but there are also many beautiful trails to explore in the Rockies.
Where:
The City of Calgary – cross-country skiing and snowshoeing
Family Fun Calgary – Snowshoeing and Cross-country Skiing In & Around Calgary
Travel Alberta – 12 of the Best Winter Hikes and Snowshoe Trips in Alberta
Equipment:
Lifesport
,
Norseman Outdoor Specialist
,
Abom Ski and Board
,
MEC
,
Campers Village
,
Sport Chek
,
University of Calgary Outdoor Centre
,
Outlaw Sports
,
Sports Rent
Winter cycling
Winter weather doesn't necessarily mean you need to put your bike away for the season. You might just need some
additional gear
to outfit your ride for the elements, such as knobby or studded tires. Alternately, you can buy or rent a fat bike that is designed for winter riding in snowy conditions. Calgary's pathway network is especially beautiful in the winter for those willing to brave the cold.
Where:
The City of Calgary – Park Pathways and Bikeways Map
Equipment:
Bow Cycle
,
The Bike Shop
,
MEC
,
Calgary Cycle
,
Ridley's Cycle
,
Sporting Life
,
Sports Rent
,
University of Calgary Outdoor Centre
Skating
Whether you're looking for a carefree, recreational skate or a spirited game of shinny, there is an outdoor rink or frozen lake for you, with countless options across Calgary and surrounding areas.
Where:
City of Calgary – Outdoor Skating Rinks
Banff & Lake Louise Tourism – 8 Memorable Places to Skate in Banff National Park
Equipment:
Source for Sports
,
Sport Chek
,
Canadian Tire
,
Play it Again Sports
,
Outlaw Sports
,
Sports Rent
,
University of Calgary Outdoor Centre
Tagged: Activities | Banff | bike | biking | Calgary | Calgary Real Estate | Calgary Real Estate News | Canmore | City of Calgary | Cold | Coronavirus | COVID-19 | COVID-19 | Cross-Country Skiing | cycling | Equipment | Feature | Gear | ice | Kananaskis | Parks | pathways | Rockies | Rocky Mountains | Skiing | snow | Snowboarding | Snowshoeing | Sports | Surrounding Areas | trails | weather | winter
---
---
Connect With Us