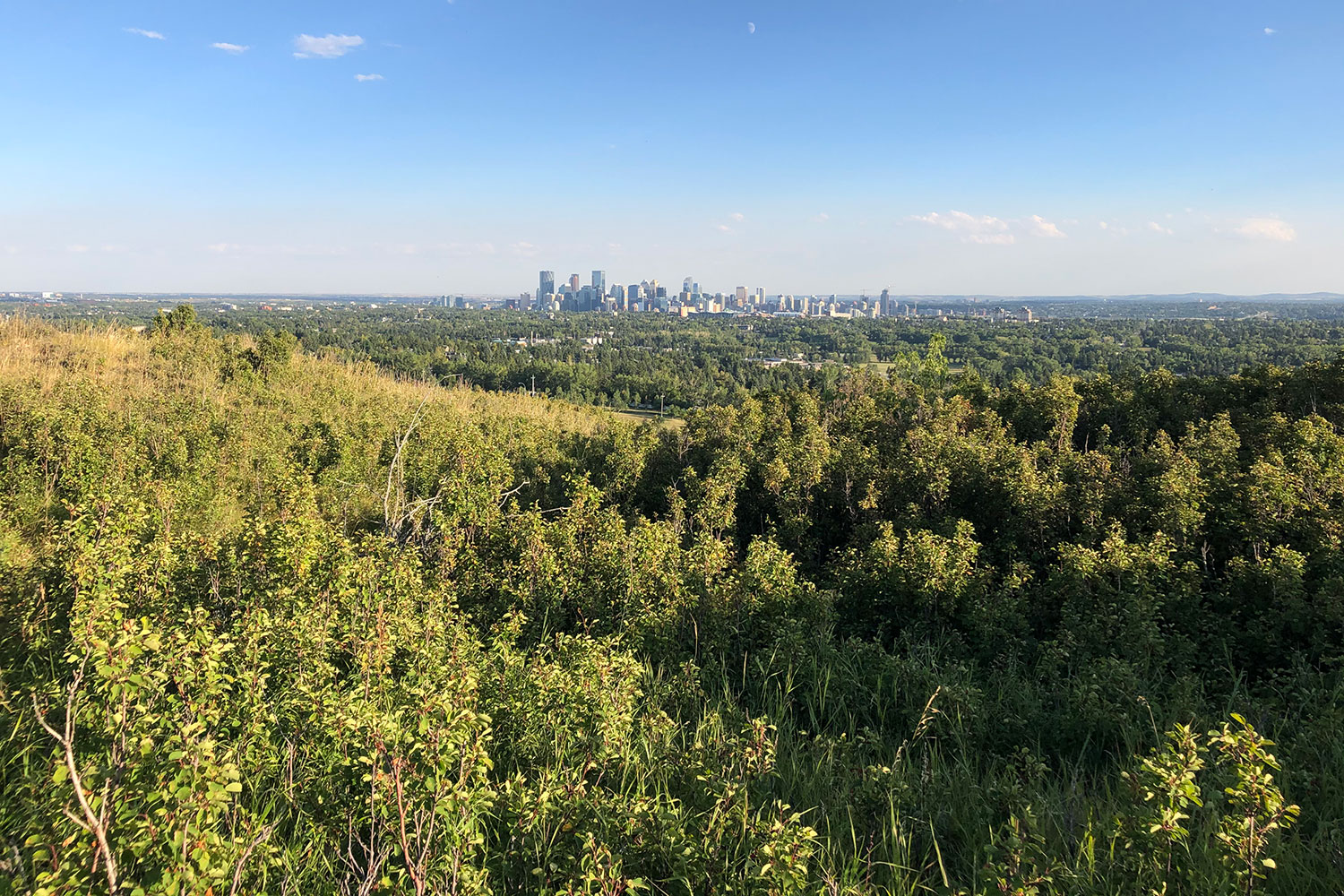 Cody Stuart / CREB®Now
Oct. 08, 2020 | Cody Stuart
Natural attraction: for residents of nearby communities, the allure of Nose Hill Park is hard to resist
Nose Hill Park looms large over Calgary's northwest – an expanse of unspoiled grassland enveloped by the vastness of an ever-evolving city. Nearly unchanged from the days when herds of buffalo roamed the Prairies, the park now serves as a stomping ground for the herds of Calgarians that jog, walk and bike their way around its 300 kilometres of trails every day.
Created in 1980 following a lengthy battle between developers who planned to turn the area into a residential community and area residents who wanted it preserved in its natural state, the park is surrounded by 12 communities and spans more than 11 square kilometres.


That natural and sweeping landscape played a major role in the decision when Stephan Becker went searching for a new neighbourhood to call home. Having moved to Calgary from the Netherlands in 2014 due to the city's ample sunshine and proximity to the mountains, Becker was "quite happy" to find a home just a couple kilometres from the park.

"When we started looking for a home, I always hoped we would find a home that would be in the communities just south of Nose Hill Park," said Becker, who now can be found most evenings running the park's nearly endless trails with his dog, Yoshi. "Just knowing the park from before, I could see myself going (there) on a fairly frequent basis."

For Becker, an extremely active Calgarian, Nose Hill Park provides plenty of room to roam.

"I managed to get myself partially lost a few times now. The fact you have a park so big in the middle of a big city like Calgary and be able to get lost just makes me so happy." - Stephan Becker, area resident

"There are so many things that I just really enjoy and love about the park. Despite going there several times a week, I nearly always find new trails to explore. Often, I just head in one direction, switch my mind off and find myself in a new area trying to find myself home," he said.

"I managed to get myself partially lost a few times now. The fact you have a park so big in the middle of a big city like Calgary and be able to get lost just makes me so happy."

The ability of the park to draw area residents to its slopes is hardly a new trend. As evidenced by the teepee rings still found within the park, indigenous communities lived and hunted on Nose Hill for hundreds of years. By the 1800s, European settlers were using the hill as grazing land for cattle and horses.

Along with the Calgarians that visit the park every day, deer and coyotes can be seen roaming the grasslands and coulees, while smaller animals like porcupines, northern pocket gophers and Richardson's ground squirrels remain well hidden. These smaller mammals serve as prey for the northern harriers and Swainson's hawks that can often be seen in the skies above the park.

For Becker, the abundance of wildlife is just the icing on the cake.

"The fact Nose Hill has so much wildlife, again while being in the middle of the city, is amazing," he said. "I've seen deer, coyotes, porcupines, birds of prey and tons of critters – and I see them frequently. Just stopping for a moment to watch the wildlife and appreciating it is great."

Tagged: Buffalo | Calgary | Calgary Parks | Calgary Real Estate | Calgary Real Estate News | Calgary Real Estate News | European | Feature | First Nation | Grassland | Indigenous | nature | northwest | Nose Hill | Nose Hill Park | Parks | pathways | Settlers | trails | wildlife
---
---
Connect With Us