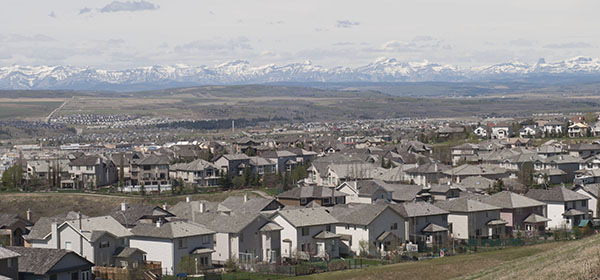 Oct. 23, 2015 | Jamie Zachary
Regional housing prices decline for first time in '15
Higher inventory levels consistent throughout surrounding area
Alberta's economic downturn caught up with the residential housing industry outside of Calgary in the third quarter as price declined for the first time in 2015, says a new report from CREB®.
Despite the slight scale back, prices remained relatively resilient when compared to double-digit declines in sales that sparked a rise in inventory levels.
In its latest surrounding area quarterly summary, CREB® reported benchmark prices from July to September fell by 0.41 per cent from the previous quarter to $433,033. That compares to gains realized in the two previous quarters.
Year-over-year prices in the third quarter, however, remained 2.17 per cent higher.
In Calgary, benchmark prices over the same period increased by 0.49 per cent from the previous quarter to $455,933. Yet that compares to declines during the first two quarters. Year-over-year prices in Calgary during the third quarter were off 0.17 per cent.
CREB® chief economist Ann-Marie Laurie attributed part of the region's relative price resilience to sales activity that still outpaced the long-term average, as well as more balanced conditions in Airdrie, Cochrane and Okotoks' lower-priced detached category.
"Many of Calgary's surrounding communities provide selection for detached homes in price ranges that are still facing relatively tight supply within Calgary," she said.
"In both Cochrane and Okotoks, more than 60 per cent of the detached sales are for less than $500,000. That ratio jumps to 76 per cent in Airdrie. Furthermore, absorption levels under $500,000 in all three markets remains relatively strong."
Overall, a total of 1,269 units exchanged hands in the region from July to September, representing a 20 per cent drop from record-setting levels established during the same time in 2014, according to CREB®. Overall, however, year-to-date activity continued to outperform both the five- and 10-year averages.
New listings, meanwhile, declined year-over-year by a moderate three per cent to 2,229 units, contributing to inventory gains during the quarter. Months of supply in the region increased from 4.3 in July to 5.7 in September.
"While higher months of supply are typical for the surrounding area, easing absorption rates started to place downward pressure on quarterly benchmark prices," said Lurie in the report.
In Airdrie, detached benchmark prices averaged $396,533 between July and September, a 0.15 per cent decline over the previous quarter yet a 1.38 per cent increase compared to last year.
CREB® attributed the relatively flat conditions, quarter-over-quarter, to inventory gains within both the apartment and attached sectors, where levels rose to their highest since 2008. Overall, months of supply increased to 2.54 in the third quarter, which Lurie said was still within balanced territory.
Benchmark prices in Cochrane also remained relatively unchanged in the quarter, averaging $448,433 over the three months. Year-over-year, however, prices in the town were up five per cent from last year.
"The gains ... were relative to price declines witnessed from 2011-13," said Lurie. "Current prices remained at levels consistent with those recorded in 2010."
Year-to-date sales levels in Cochrane declined by 23 per cent between January and September to 464 units, compared to 604 units sold the same time last year. New listings, meanwhile, increased by 19 per cent to 969 units over this period, and caused inventory levels to peak at six months by September.
South of Calgary, sales activity in Okotoks totaled 448 transactions year-to-date, a 28 per cent decline from the same time last year and eight per cent below both the five- and 10-year averages. New listings correspondingly increased by nearly three per cent during this time, causing inventories to increase and months of supply to rise to four months, reported CREB®.
Added inventory placed moderate pressure on price growth. CREB® reported benchmark prices in the detached sector averaged $462,000 a 0.57 per cent decline from the previous quarter yet a 4.31 per cent increase over the previous year.
Tagged: Airdrie | Calgary Real Estate News | Cochrane | CREB® Chief Economist Ann-Marie Lurie | Economy | Home Sales | Housing Prices | listings | Okotoks | Residential
---
---
Connect With Us