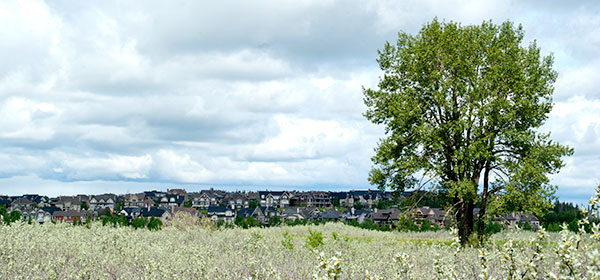 July 19, 2012 | CREBNow
Surrounding Sales Soar
As Calgary rebounds to pre-recession sales activity, communities surrounding the city are seeing even stronger growth.
Year-to-date 2012 sales in Airdrie, Cochrane and Okotoks are at 2,703 units, a 40 per cent increase over the same time last year and well outpacing the 16 per cent increase recorded in Calgary for the same time period.
"Strong sales growth in the surrounding towns is, in part, a result of sufficient supply levels," said CREB® president Bob Jablonski.
New listings are up almost 13 per cent in communities surrounding Calgary and benchmark prices rose by 2.4 per cent in the first half of 2012.
"Outside of lifestyle choices, surrounding towns typically offer potential homebuyers, newer larger homes on larger lots, at prices well below what can be purchased in the city," said CREB® economist Ann- Marie Lurie. "Adding to the demand, this year the single-family market in Calgary has been relatively tight as new supply has not kept pace with the rise in demand.
"However, this is not the case in surrounding towns, which have recorded a rise in new listings, offering potential purchasers more choice."
In May 2012, the benchmark home price within Calgary was $427,500 compared to the average single-family benchmark price of homes in Airdrie ($332,700), Cochrane ($378,300) and Okotoks ($369,867).
In Airdrie, year-to-date sales increased by 31 per cent compared to the first half of 2011. Like Calgary's tight market, the number of new listings in Airdrie declined to below three months of supply. Airdrie saw 352 sales in the second quarter of 2012 compared to 289 at the same time last year with an expected 652 sales by the end of this year.
In the second quarter of 2012, Cochrane reported 179 sales, a record high number for the town of more than 17,000 people.
The record sales activity outpaced the number of new listings in Cochrane, helping reduce standing inventory and dropping the months of supply to more balanced levels. Cochrane went from 141 sales in the second quarter of 2011 to 179 in the second quarter of this year with a forecasted total of 272 by the end of this year.
In Okotoks, year-to-date sales are up 8.7 per cent compared to 2011's numbers. Like Cochrane, increased sales activity relative to new listings helped reduce standing inventories. Single-family home prices are increasing in the town of more than 24,000 with benchmark pricing increasing to $378,100 compared to May's $369,867 and a 6.2 per cent increase over 2011's numbers.
"The recovery of town activity, including price appreciation, has lagged city activity," said the CREB® Towns Quarterly Report. "However, it appears the town market has gained traction in terms of both sales and price growth, reinforcing the belief the entire Calgary region is returning to normal levels of activity."
Lurie anticipates the pace of growth in communities surrounding Calgary will continue for months to come.
"As far as if growth levels will balance out, that depends on a lot of factors," she said. "However, if the single-family market continues to remain tight and prices continue to rise at current rates, I would anticipate the demand growth in the surrounding towns will not ease over the next few months as long as new listings keep pace."
Despite the hot market in Calgary and area, home sales in Canada decreased 1.3 per cent from May to June while the number of newly listed home increased 1.4 per cent.
"Canada's housing market lost a little altitude in June, but it's still flying pretty high," said Wayne Moen, Canadian Real Estate Association (CREA) president. "That said, sales activity and average prices bucked the national easing trend in a number of markets, which underscores that all real estate is local. Buyers and sellers should talk to their REALTOR® to understand how the housing market is shaping up in their area."
Compared to June 2011, not seasonally adjusted activity was down 4.4 per cent this June, the first yearover- year decline in national activity since April 2011.
"Homebuyers didn't rush their purchases before the most recently announced change to mortgage regulations came into effect," said Gregory Klump, CREA's chief economist. "That's a big change compared to what we saw as a response to previously announced changes. It will take some time before the compound effect of previous and recent changes to regulations on Canada's housing market becomes apparent."
Have you moved to surrounding communities? What drove your decision?
Tagged: Airdrie | Calgary Community | Calgary Real Estate | Calgary Real Estate News | Cochrane | Growth | Home Sales | Okotoks
---
---
Connect With Us