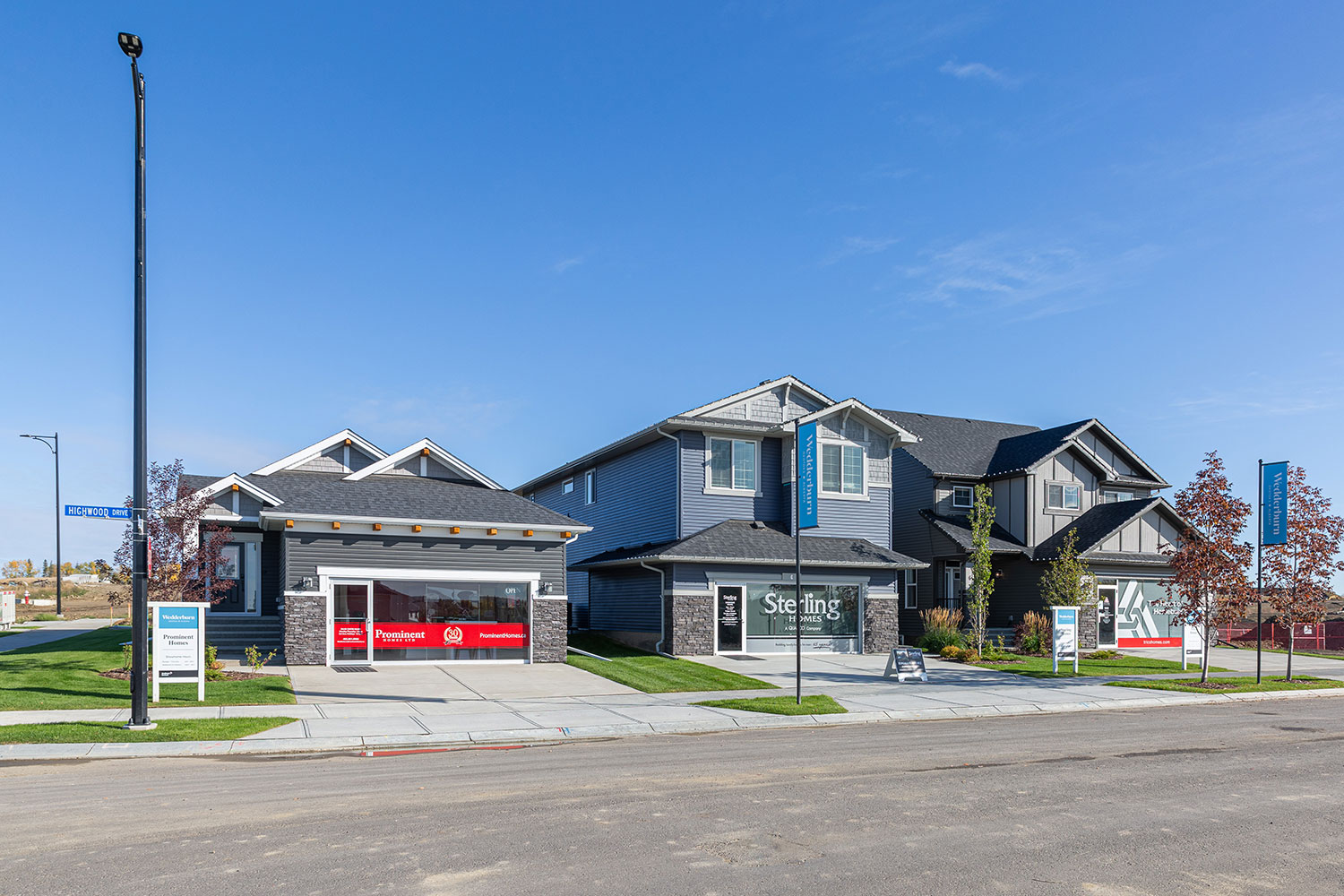 A showhome parade in Anthem United's new Wedderburn community in Okotoks. Courtesy Anthem United
March 13, 2020 | Jim Zang
Okotoks growth: Alberta's largest small town continues to buck downward housing trend
Ten minutes south of Calgary in the town of Okotoks, homebuyers and builders continue to buck the regional trend of declining housing starts.
In fact, the growing town of just over 29,000 people (based on the 2018 civic census) saw an increase in housing starts in 2019 that is expected to continue into 2020, according to the Canada Mortgage and Housing Corporation.
While some construction continues in a couple of established communities – namely, Drake Landing, Rancher's Rise and Cimarron – most of the action these days is focused around Anthem United's two new communities on the northwest end of town, D'Arcy and Wedderburn.
"D'Arcy offers homebuyers a choice of five different product types and a mix of lots, including walkouts with a view. It's hard to find a better value in the Calgary region," said Steve LePan, development manager for Anthem United.
"D'Arcy launched in May 2018 and now offers fully landscaped playgrounds and parks, including a seasonal skating rink and a large storm pond with pathways that enjoy unobstructed mountain views.
"Coming soon to D'Arcy is Gateway Village, a commercial site that will be developed by Anthem Properties and will offer residents all their everyday conveniences within walking distance. The first stores are anticipated to open in 2021."
The 280-acre community will have approximately 2,200 homes and 6,500 residents at final build-out, which will be reached in seven to 10 years. There are 14 showhomes across the five product types – townhomes, paired, laned, front-drive and villas. The builders include Morrison Homes, Sterling Homes, Trico Homes and Partners Development Group. Prices start in the $340,000s.
Anthem United has also started work on Wedderburn, just across Northridge Drive from D'Arcy to the east, with three showhomes open from Prominent Homes, Sterling Homes and Trico Homes. Like D'Arcy, Wedderburn is named for the prominent local family who used to farm the land.
The 160-acre community is currently offering front-drive homes on large lots (40 to 48 feet), as well as both two-storey and bungalow homes, with prices starting from the $470,000s. At final build-out, the community will be home to 3,200 residents.
Tagged: Anthem United | Calgary | Calgary Real Estate | Calgary Real Estate News | Calgary Real Estate News | Cimarron | D'Arcy | Drake Landing | Gateway Village | Morrison Homes | New Communities | Okotoks | Partners Development Group | Prominent Homes | Rancher's Rise | Sterling Homes | Surrounding Areas | Trico Homes | Wedderburn
---
---
Connect With Us