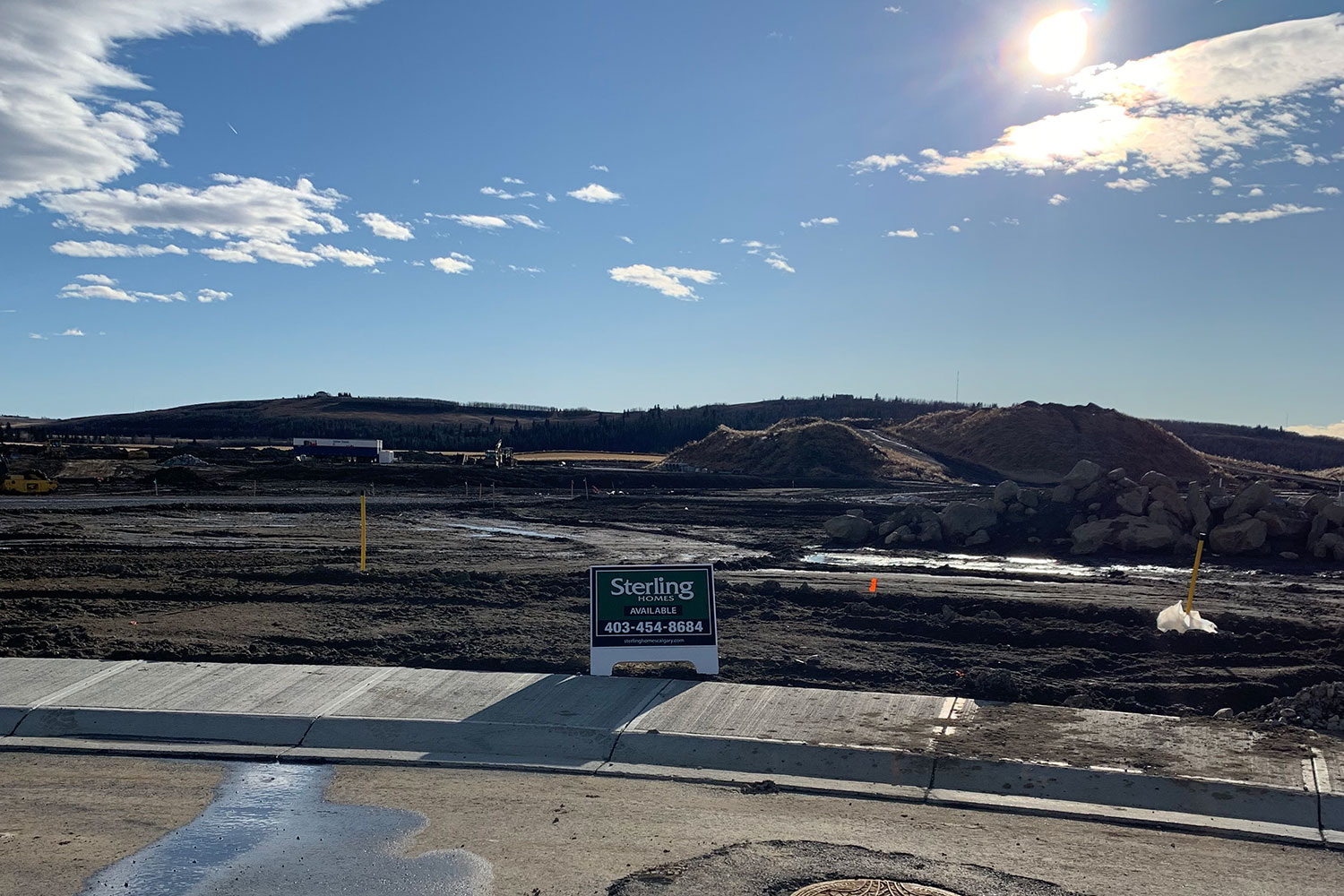 Courtesy Sterling Homes
April 03, 2020 | Gerald Vander Pyl
Lay of the land: lot choice adds another variable to new-build purchase process
When you buy a home, you're also buying the lot, so it's important to make sure you pick the right lot for your needs.
"Lots vary so much throughout the city," said Kelsey Clarke, a district area sales manager with Trico Homes. "For example, zero-lot-line lots versus traditional lots, front-drive lots versus laned lots, double-car-garage lots versus triple-car-garage lots."
Clarke says buyers need to consider lot choice in conjunction with choosing a model of home. For example, do you want a lot suitable for a walkout basement or a non-walkout basement?
Consider location, including how major of a road the lot is located on, which will determine the amount of traffic going past the home.
Clarke says different lot shapes have advantages and disadvantages. A pie-shaped lot is a good choice for a large backyard, while a corner lot is great for added windows and natural light, but keep in mind it also means extra snow shovelling in winter if there are sidewalks.
"Sometimes (a buyer) says, 'I want this lot,' and we'll make the house work."- Sarah Carefoot, Sterling Homes
Cost is another consideration, she says, with "starting price" lots being more affordable than "amenity" lots that might back on to green space or a community pond.
"There are lots of factors to consider," said Clarke, adding that the best lots in any new development go first, "so if you have your eye on a community, get in there quickly."
Sarah Carefoot, an area manager with Sterling Homes, says the depth and width of a lot will determine how much backyard your home will have.
Carefoot says topography considerations go beyond walkout versus level lots, with various amounts of slope in between that might allow larger lower-level windows in a home, even if a walkout door is not possible. It could also mean a rear deck with 10 steps down to the ground, which you may or may not want.
"One thing to consider is you're going to get a zero-lot-line lot for a lower price than a traditional lot," said Carefoot, adding this also allows you to max out the size of the home on the lot.
When it comes to location, Carefoot poses several questions to buyers: do you want to be close to a park, playground or school? Is there multi-family housing nearby that might result in busy street parking? If a lot backs on to green space, that might mean having a chain-link rear fence, so are you OK without a more private fence?
She says a south- or west-facing backyard is great for afternoon sun, but it might result in your house being hotter.
Some home designs work best on certain types of lots, but builders do have the flexibility to flip floor plans and modify them to meet many needs.
"Sometimes (a buyer) says, 'I want this lot,' and we'll make the house work," said Carefoot.
Tagged: Calgary | Calgary Real Estate | Calgary Real Estate News | Feature | homebuilders | Homebuyers | House & Home | How To | How To | Lot | Lots | new builds | New Communities | New Communities | new homes | Sterling Homes | Trico Homes
---
---
Connect With Us