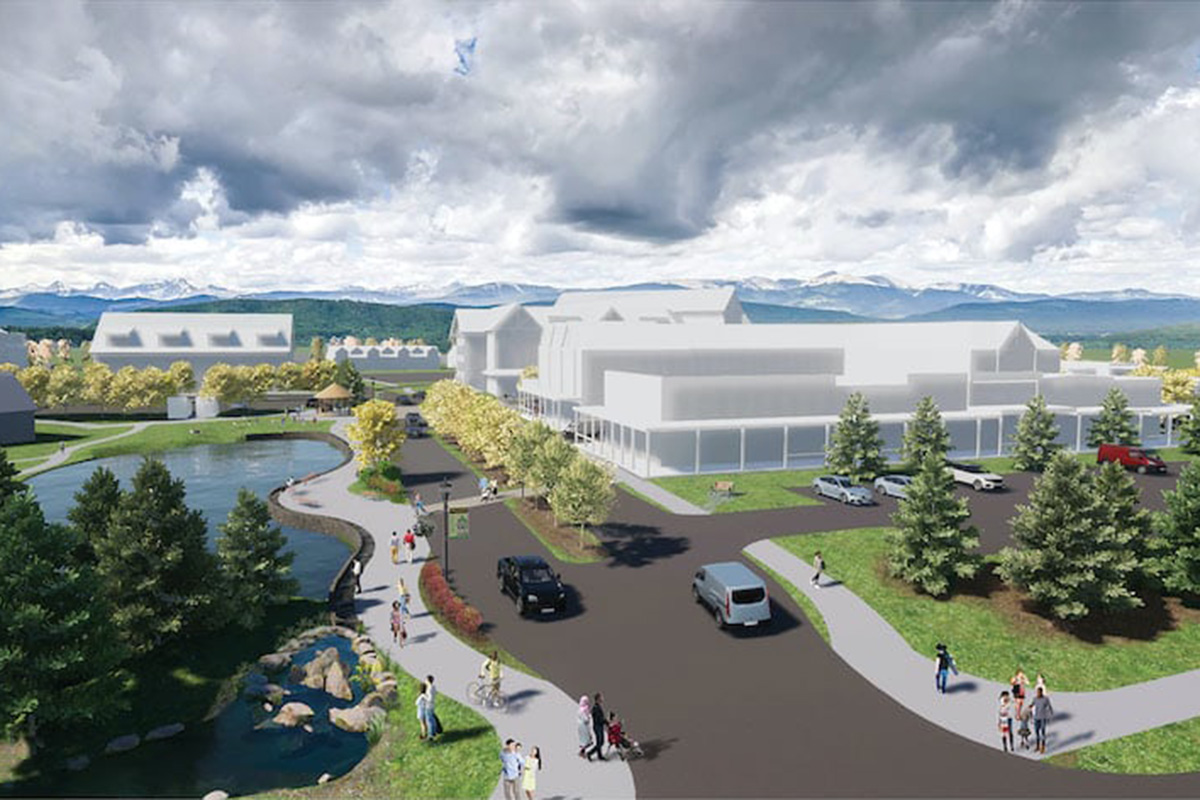 Courtesy of Gateway Developments
July 13, 2021 | Geoff Geddes
Locals hope ambitious new development will mark beginning of Bragg Creek resurgence
A recently approved mixed-use development is set to expand the pool of rental and ownership housing in Bragg Creek.
Gateway Village will be built in the heart of the hamlet on a 12.6-acre parcel of land adjacent to the Elbow River, with the Rocky Mountains serving as a scenic backdrop.
"The first phase will be a mixed-used commercial area integrating the existing Old West Mall and the proposed Steak Pit restaurant," said Dick Koetsier, owner of Gateway Developments, the developer behind the project.
"From there, we will add a residential component, hotel and open-space amenity that includes a series of gathering spaces, water features, the river square and amphitheatre."
The development will offer about 140 condominiums for sale and another 30 as rental units. Suites will be around 1,000 square feet, with two-bedroom and one-bedroom-plus-den floor plans available, and all residents will have access to underground parking.
Koetsier hopes to get started on the commercial area next summer, with construction scheduled to take two or three years, while the residential side is roughly five years from completion. Due to high costs for building materials, prices for the condominiums are a "moving target," but the goal is to be competitive with similar properties in Calgary and surrounding communities.
"We've had a ton of support from the community and county, and we received unanimous approval for our master site development plan," said Koetsier.


"Right now, there is not enough product on the market in this area for rent, and multi-family-type units are unheard of. There is also a need for more open space and areas where people can walk around and be along the river."

For many in the area, Gateway Village is viewed as part of a resurgence for Bragg Creek.

"We're seeing more excitement with our residents these days and a real coming together of the community," said Kathleen Burk, president of the Bragg Creek Chamber of Commerce. "There is an open and honest dialogue between communities and developers and a responsible approach to redevelopment."

The chamber itself has switched gears of late, with more of a tourism-management approach that includes initiatives to bring more people to the area and make Bragg Creek a destination community.

"Developments like Gateway Village support our efforts," said Burk. "More people coming in can contribute to more sales, as long as businesses have the support to leverage that traffic."

As far as the Koetsier is concerned, the project's completion can't come soon enough.

"I wish we could have all of this built already, but it's a long process," he said. "We are moving forward, though, and eventually we'll see great things start to happen here."

Tagged: Bragg Creek | Bragg Creek Chamber of Commerce | Calgary | Calgary Real Estate | Calgary Real Estate News | Calgary Real Estate News | Condos | Development | Feature | Gateway Developments | Gateway Village | hamlet | mixed-use | multi-family | New This Week | rental | Surrounding Areas | tourism
---
---
Connect With Us