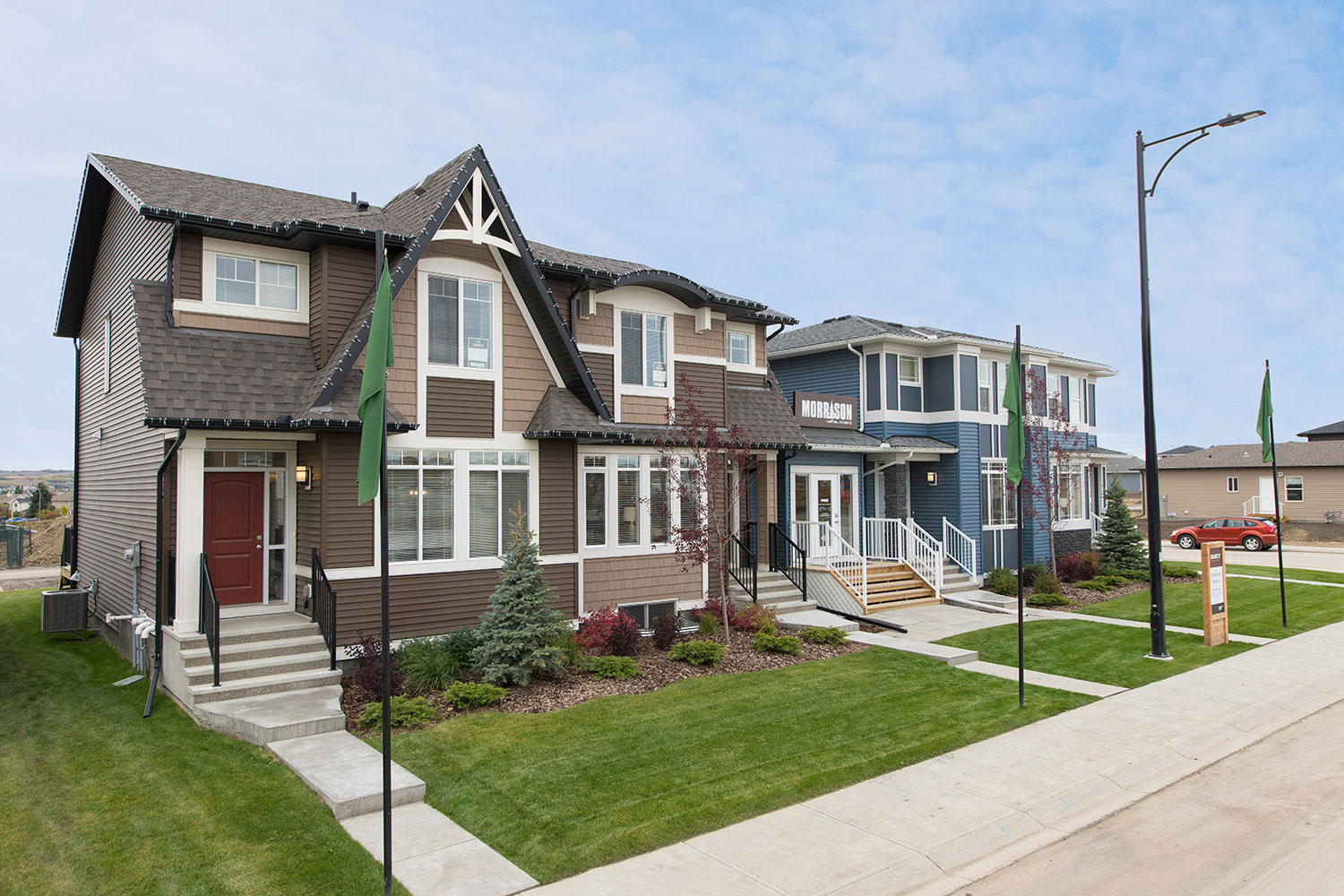 Laned showhomes in Anthem United's new Okotoks community D'Arcy. Courtesy Anthem United
Aug. 14, 2019 | Andrea Cox
Okotoks: Housing diversity grows with influx of new-home offerings
Known for its forward-thinking environmental initiatives and long-term sustainability plans, Okotoks is once again showcasing some outside-the-box thinking.
This fall, the Town of Okotoks is launching an on-demand transit system. The curb-to-curb service will encompass the entire town. There are no routes or schedules. Instead, residents can request service via an app, by phone or online.
There are also several exciting initiatives in the works when it comes to housing, from new communities to a collection of tiny homes.
"The town of Okotoks really has its wings spread in all available types of housing," said Anna Zajac, a REALTOR® with MaxWell Canyon Creek who has been working in the Okotoks community for 15 years.
The town possesses a strong sense of community, as well as excellent schools, unparalleled options for recreation, accessible amenities and nature, and affordable real estate.
"Like other places, the town of Okotoks has had its challenging times, yet current sales are improving and inventory is declining." - Anna Zajac, REALTOR®
"Here, it seems easier for neighbours to connect, develop community pride and friendships, and to call it home," said Zajac.
She says the most sought-after properties are two-storey, detached homes with three or four bedrooms and a bonus room.
In July, 47 of the 58 sales in the community were detached, two-storey, single-family homes. In the same month, the median price hit $425,000, up $11,000 from the same period last year.
"But it's not only young families that are interested in this diverse town. In the month of July, statistics show strong interest by those that prefer the single-storey style," said Zajac, attributing the demand to the 55-plus segment of buyers, who are often looking for a lock-and-leave lifestyle.
The new master-planned communities of D'Arcy and Wedderburn, designed and developed by Anthem United, will be home to 7,000 residents upon completion. The two communities are adding the full spectrum of housing offerings to the Okotoks area, from villa product by Morrison Homes to urban townhomes with no condo fees by Partners Development Group.
The villa homes range from 1,248 square feet to 1,454 square feet, with all five models offering a main-floor master suite and additional bedrooms on the lower level. Villa pricing starts in the $490,000s. The townhomes, which start in the $330,000s, offer a detached, two-car garage and a fully landscaped and fenced yard.
Other home styles in D'Arcy and Wedderburn include paired, laned and front-drive garage homes. D'Arcy will also be home to an eco-village comprised of 42 tiny homes.
"This seems to have the interest of purchasers with certain life values and budgets as priorities," said Zajac.
"Like other places, the town of Okotoks has had its challenging times, yet current sales are improving and inventory is declining. The market continues to favour the buyer."
Tagged: Anthem United | Calgary | Calgary Real Estate | Calgary Real Estate News | D'Arcy | Feature | Housing Market | Housing Market | New Communities | Okotoks | Surrounding Areas | Surrounding Areas | Wedderburn
---
---
Connect With Us