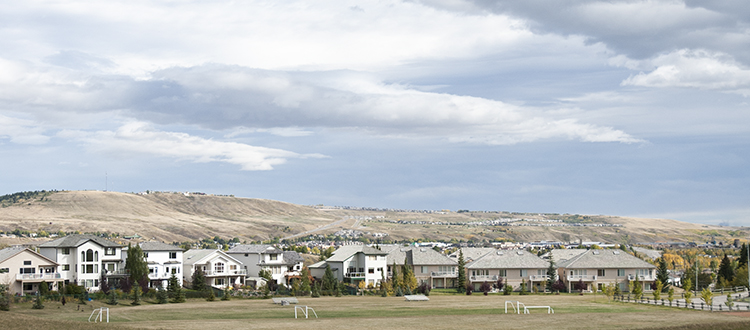 Cochrane bucked the regional housing trend in April, reporting no change in sales levels compared to the same time last year. CREB®Now file photo
May 09, 2016 | Cody Stuart
Regional rundown
Sales dip in Airdrie and Okotoks while Cochrane activity on the rise
Calgary's regional resale residential housing market didn't fare much better than its larger urban counterpart in April, posting sales declines almost across the board, according to CREB®.
Year-to-date sales in Airdrie eased by nearly eight per cent over last year's levels to 405 transactions, but remained higher than long-term averages, the board recently reported in its monthly regional roundup.
Benchmark prices in Calgary's neighbour to the north decreased by three per cent from last year to $363,400, and overall remained more than two per cent below the highs recorded in 2015.
Detached homes accounted for 72 per cent of sales in Airdrie last month. Overall, the city's housing market represented six per cent of regional sales in April, with Calgary accounting for 78 per cent, according to CREB®.
Year-to-date sales activity in Okotoks, meanwhile, continued to remain well below long-term averages for this time of year, down almost six per cent from the same period last year. However, CREB® reported detached sales in the higher end of the market continued to improve, preventing any significant year-over-year price changes. Benchmark prices in the town decreased by less than half a per cent from last month, and unchanged from the same time last year, to $433,800.
The Foothills region accounted for five per cent of total sales activity in the region in April. Okotoks, with 57 sales, represented 54 per cent of the activity in Foothills, followed by High River's 20 sales that accounted for 19 per cent.
Cochrane bucked the regional housing trend in April, reporting no change in sales levels compared to the same time last year with 54 transactions. CREB® attributed the slight bump to gains in the $300,000-$400,000 detached segment – much like in Calgary, buyers may have been attracted to falling prices in the town, as detached price declines neared six per cent.
Overall, benchmark prices in Cochrane declined by slightly more than three per cent from March, and six per cent from the same time last year, to $419,500.
Sales activity in Chestermere, meanwhile, remained unchanged from April 2015 with 33 transactions. While the benchmark price increased by three per cent from March, it decreased by nearly five per cent from the same time last year, to $471,800.
The city accounted for 23 per cent of Rocky View region's activity in April.
Tagged: Airdrie | benchmark price | Calgary Real Estate | Calgary Real Estate News | Chestermere | Cochrane | CREB® | detached | MD of Foothills | Okotoks | sales | Uncategorized | YYCRE
---
---
Connect With Us