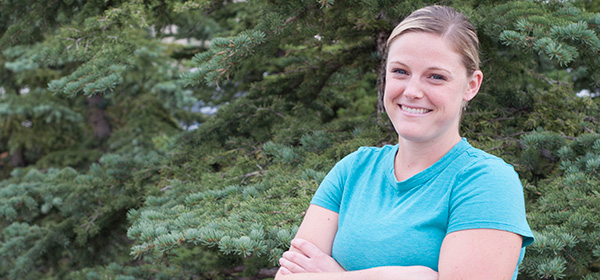 Sept. 06, 2013 | Cody Stuart
An Opportunity to Upgrade
For a seller's market, Calgary is certainly seeing it's fair share of new buyers.
Following a month that saw MLS® sales in the city increase by 17 per cent from the previous year, August saw 2,196 sales in the city, an increase of 27.5 per cent in comparison to the same month in 2012. While much of the improvement came in the higher end of the market — with records set for luxury home sales, highest median and average sale prices, there were also those entering the market for the first time.
"I was encouraged by the current interest rates and heard they were going to increase soon so it was a good time to get into the market," said firsttime homeowner Heather McCauley, who purchased in Citadel in August.
Despite a month that saw year-over-year benchmark prices for single-family homes, condo apartment and condo townhome increase by 7.42, 8.81 and 7.30 per cent, respectively, McCauley said she wasn't deterred in her decision.
"The housing prices didn't really affect my decision, mostly because it was a timing issue and I wanted to buy sooner rather than later. I have learned through the process that the market is tight right now, so was expecting to pay according to that trend."
Prior to purchasing her home, McCauley rented the top floor of a house for five years. The decision to buy rather than rent came in part as a result of increasing rental prices.
"My landlord had slowly increased the rent over the past several years and it has gradually become more expensive than paying for (what) a mortgage would be – that was the initial driving factor to start to look at buying."
In a report from
BMO Capital Markets
, senior economist Robert Kavcic examined the costs associated with buying versus renting in Canada. Despite recent price increases, Kavcic said similar increases in Calgary's rental market have helped keep buying an attractive option.
"Calgary's market looks pricey, but well below levels seen at the height of the energy boom, and resurgent rent growth has helped offset recent price gains," he said.
Released in April,
Canada Mortgage and Housing Corporation's latest rental market update
showed Calgary had the lowest vacancy rate in the country at 1.2 per cent and was tied with Toronto for the second highest average rent for a two-bedroom apartment at $1,202.
While the June flooding that followed the release of the report has likely driven vacancies even lower, those looking to purchase in August were greeted with increased selection, as listings rose by 7.39 per cent over the previous year.
Following the floods, some had predicted a slowdown for Calgary's housing market, however according to CREB® chief economist Ann-Marie Lurie, activity has actually been spurred on in the city, providing some frame of reference for recent price increases.
"Price appreciation typically reflects the level of supply and demand in the market," said Lurie. "Tight market conditions have supported stronger-than-expected price growth in the city, but this price appreciation needs to be taken into context.
A clear driver in the Calgary market, and one of the main reasons the city and province have seen significant population increases over the last year, is the city's rather rosy outlook.
In a report released by
TD Economics
, the bank predicts Calgary will lead all metropolitan centres in Canada in 2014 with 4.1 per cent GDP growth.
Even taking into account recent hikes in mortgage rates brought about by Canadian bond yields, Lurie said Calgary's economic prospects should continue to make the city an attractive place both to buy and sell a home for the foreseeable future.
"While recent increases in lending rates may require purchasers to adjust their expectations, Calgary remains a relatively affordable Canadian city. Our affordability, combined with a positive economic outlook is expected to support demand growth for the remainder of the year."
CREB® Monthly Housing Summary
Tagged: BMO Capital Markets | Calgary Real Estate News | Calgary Rental Market | CMHC | CREB® Chief Economist Ann-Marie Lurie | Home Buyer | Monthly Housing Summary | TD Economics
---
---
Connect With Us