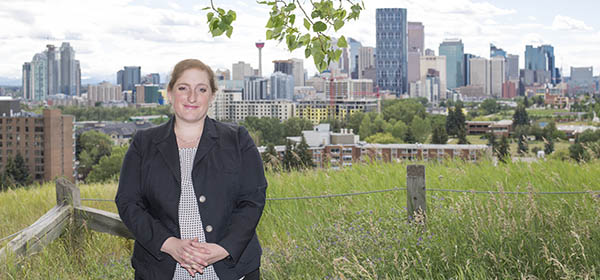 Often-overlooked statistics such as months of supply and sales-to-new-listings can be key indicators of what's really going on in the housing market, says CREB® chief economist Ann-Marie Lurie. CREB®Now file photo.
Oct. 09, 2015 | CREBNow
A buyer's market?
Conditions shift in September, according to CREB®
Housing statistics from September confirm that unbalanced conditions in some areas of Calgary's resale residential market are starting to push the entire sector into buyers' territory, according to CREB®.
Driven by excess inventory in the apartment sector, the overall market's sales-to-new-listings ratio — a key indicator of a buyer's market — declined further in September to 47 per cent, according to the board. That means less than five out of every 10 new listings sold during the month.
In August, the ratio hovered around 60 per cent, which was firmly in balanced conditions, according to CREB® chief economist Ann-Marie Lurie.
In September, total sales declined by 32 per cent to 1,448 units, while new listings declined at a more moderate 4.8 per cent to 3,061, according to CREB®.
As a result, unadjusted benchmark prices eased to $456,100, a 0.26 per cent decline compared with last year.
It represented the third consecutive month of small year-over-year declines.
"Overall sales activity relative to new listings caused a softening in absorption rates, which resulted in inventory gains and ultimately placed moderate downward pressure on pricing," said Lurie.
She added months of inventory supply, or available inventory, is also indicative of the market's health, with anything over three months and sustained over a prolonged period seen as a buyer's market.
In September, months of supply pushed up to 3.82, a 79 per cent increase from the same time last year.
"Right now, [Calgary's months of inventory supply] is at 3.82, which is in buyer's territory," said Lurie. "However, most of this is due to the change in both the apartment and attached sectors. Furthermore, the elevated months of supply needs to persist for several months prior to it demonstrating all the traits associated with a buyer's market.
The apartment sector has had three consecutive months of buyer's market conditions. In previous months, it was at still within the balanced range."
The apartment sector reported 4.95 months of supply in September, a 100 per cent increase from the same time the year prior. Sales in the sector declined by 40 per cent to 259 units, while new listings dropped by just 5.2 per cent to 656.
The sales-to-new-listings ratio, meanwhile sat at 39 per cent.
The is the second time Calgary's resale residential housing market has dipped its toes into a buyer's market, with months of supply rising to 5.31 months in January and 4.57 in February.
"We saw those months of supply pushing up," said Lurie, adding there were also price declines evident – another sign of a buyer's market. But in March, things started to improve to 3.21 months and as low as 2.32 in June."
Lurie cautions the benchmark of a buyer's market varies across Canada and across housing types.
"It does vary depending on the city. What a buyer's market is in Calgary versus Toronto can be very different," she said.
The Canada Mortgage and Housing Corp. (CMHC) won't comment on whether Calgary's in a buyer's market right now. Yet Richard Cho, principal of market analysis in Calgary, points to other statistics that the Crown corporation uses to gauge the state of the market.
"We have the House Price Analysis and Assessment [HPAA] framework to help us identify problematic housing conditions," he said. "We examine four areas of risk: overheating, acceleration in house prices, overvaluation and overbuilding."
The most recent August data places Calgary at "moderate risk" for overvaluation; though overall Calgary's market is still ranked as "low risk" for the other factors, despite rising house prices outpacing "the gain in personal disposable income, thus contributing to a moderate risk of overvaluation."
"In a seller's market, we may see more than one of these risk factors at work," he said, adding factors such as supply, active listings sales and days on market "are indicators we would look at when trying to determine whether the market is a buyer's, seller's or balanced market."
Lurie notes market cycles tend to be relatively brief; it was a seller's market as recently as early 2014.
She adds a buyer's market, when it happens, affects sellers in different ways.
"Ultimately, it really depends on when the seller actually purchased their home and the price they purchased it at, and where the market sits at today," said Lurie.
Tagged: buyer's market | Calgary Real Estate News | CMHC | CREB® Chief Economist Ann-Marie Lurie | Home Sales | Housing Market | Housing Market Prices | Residential | Richard Cho
---
---
Connect With Us