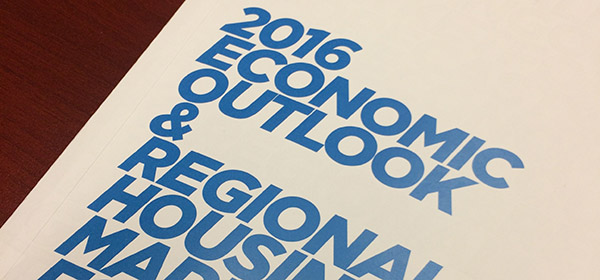 Aug. 12, 2016 | Jamie Zachary
Five things about CREB®'s Mid-Year Forecast
Breaking it down by the numbers
Earlier this year,
CREB®Now
published a feature on five things you needed to know about CREB®'s 2016 Economic Outlook & Regional Housing Market Forecast. With the REALTOR® organization recently updating the document, we revisit those insights on what's to come:
17,321
After originally forecasting 18,416 sales in 2016, CREB® is now predicting Calgary's activity to fall to 17,321, a 3.8 per cent drop from last year. By sector, revised estimated peg detached to decline by five per cent, while attached and apartment will be down by eight and 19 per cent, respectively. Meanwhile, CREB® chief economist Ann-Marie Lurie said the year began by favouring buyers, but is exhibiting more balanced conditions in areas such as the detached sector.
$440,812
Following a long period of uninterrupted growth prior to 2016, CREB® expects the annualized benchmark price to fall by 3.8 per cent this year to $440,812. That's compared to the 3.4 per cent drop first predicted in January. Broken down by sector, CREB®'s revised forecast is still predicting a 3.2 per cent decline in the detached sector, but a 4.2 per cent (versus 3.5) in attached and 5.6 per cent (versus 4.2) in apartments.
21,191
Year-to-date new listings have totaled 21,191 units, a two per cent decline over the previous year, and 11 per cent below 10-year averages for the city. That's also 32 per cent below the same period where record highs were recorded in 2008 at 31,049 units. Earlier this year, CREB® forecasted new listings to increase by 1.5 per cent to 34,379 units.
31,427
After posting consecutive years of 36,000-plus newcomers to the city, Calgary's net migration has recently gone in a different direction. The City of Calgary's civic census, released last month, noted net migration went from 24,900 in April 2015 to a net outflow of 6,527 people in April 2016, a 31,427 change in the number of net migrants. The last time the outflow of migrants surpassed the inflow was in 2009.
4.3%
Canada Mortgage and Housing Corp.'s rental market survey in October 2015 reported that purpose-built apartment vacancies rose to 5.3 per cent. Meanwhile, the recent civic census pegged vacancy rates between April 2015 and April 2016 at 4.3 per cent, or 20,800 units. The City based its vacancy rate on the percentage of all dwellings available to be occupied that were not currently occupied, regardless of whether they were available for rent.
Tagged: Apartment | attached | benchmark price | buyers | Calgary Real Estate | Calgary Real Estate News | Canada Mortgage and Housing Corporation | CMHC | CREB® | CREB® Chief Economist Ann-Marie Lurie | detached | forecast | mid-year forecast | net migration | new listings | Population | Rent | rentals | sales | sellers | Uncategorized | YYCRE
---
---
Connect With Us