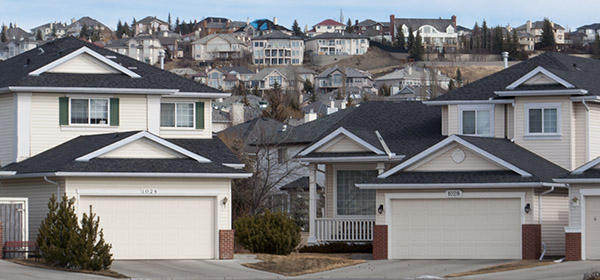 CREB®Now Archive
Dec. 01, 2015 | CREBNow
Housing market conditions favour buyers: CREB®
Weak sales activity relative to inventory places downward pressure on prices
Persistently high inventory levels within Calgary's residential resale housing market, combined with weak sales activity, contributed to buyers' conditions in November, according to CREB®'s
monthly housing summary
, released Tuesday.
Monthly sales totaled 1,263 units, a 28 per cent decline from last year and nearly 20 per cent below the 10-year average.
Meanwhile, the amount of new listings in the market increased by five per cent over last November, and moved five per cent above 10-year average.
The combination of both soft sales and elevated listings caused months of supply to rise above four months. It represents the third consecutive month that housing supply in the city has remained near four months, which is an indicator that supports buyers' conditions.
"The housing market is reflecting the realities of the economic conditions," said CREB® chief economist Ann-Marie Lurie. "Calgary has continued to post job losses in the energy sector, unemployment levels are high, wages are down and recovery expectations have changed. All of these factors have contributed to the weak demand we have seen throughout the year."
CREB® president Corinne Lyall pointed out that inventory levels still remained 27 per cent below the November highs recorded in 2008.
"Furthermore, price declines have not been as steep as those recorded during the last downturn," she said.
The unadjusted benchmark price in November declined to $450,700, a 0.5 per cent drop compared to last month and two per cent from last year.
Calgary's detached housing sector faired the best in November as months of supply increased to only 3.4. Nonetheless, the unadjusted benchmark price declined by 0.6 per cent compared to October, and 1.52 per cent from November 2014, to $510,700
In the attached category, buyers' conditions emerged as months of supply increased to 4.8. As a result, the unadjusted benchmark price declined to $352,400, a 0.5 per cent drop from last month and 1.5 per cent from last year.
The apartment sector continued to be the hardest hit of the three sectors. Months of supply increased to 6.9 in November, causing benchmark prices to slide 0.5 per cent from October to $287,000. Meanwhile, year-over-year prices were off by 4.6 per cent.
Despite weaker absorption rates for most of 2015, residential benchmark prices have only recently started to decline – while average and median prices have dropped more dramatically. Lurie attributed that to slower activity in the higher-priced segments of the market, which can skew average and median prices.
Benchmark prices represent changes for similar-type homes, minimizing the impact caused by changes in distribution.
"It is not a surprise that the average price has recorded a steeper decline than the benchmark price," she said. "Last November, detached sales in the city over $700,000 totaled 159 units or 15 per cent of the market sales. This November, there were only 103 sales representing 13 per cent of the market sales."
Lyall said knowing the difference between indicators such as average, median and benchmark prices is important for sellers.
"There is no question that this can be a challenging market," she said. "However, because of these circumstances there is a greater need for market intelligence."
Tagged: apartments | attached | benchmark prices | buyer's market | Calgary Real Estate News | Corinne Lyall | CREB® Chief Economist Ann-Marie Lurie | detached | Home Sales | inventory | Monthly Housing Summary | months of supply | Residential
---
---
Connect With Us